Let's be honest, you didn't start learning the ukulele to play "Mary Had a Little Lamb" or "She'll Be Comin' Round the Mountain." But too often that's what you're stuck doing as a beginning ukulele player. It's boring, and it's a little bit discouraging.
Learning instruments should be fun, and none more so than the ukulele. After all, the ukulele is one of the easiest instruments to learn. And some of the coolest songs out there are also easy songs to play on the ukulele, even if you're a complete beginner.
With just a few simple chords and basic strumming patterns, you can be playing popular tunes and fun songs on the ukulele in no time. In fact, you can play many fun ukulele songs with only four easy chords.
In this post, we go over a bunch of fun and easy songs to play on your ukulele, with just a few chords. And at the end, you can check out a mega list of even more easy ukulele songs for beginners (including uke chords and Youtube tutorials). With this page, you'll be jammin' on your uke in no time!
Jump to Songs
Don't Have a Ukulele Yet?
No worries! Check out our useful guides for help choosing the right uke for you:
These Four Chords Will Help You Play a Ton of Fun Songs on the Ukulele​
The four chords you should start off with are C, A minor, F, and G. Here's how to play them: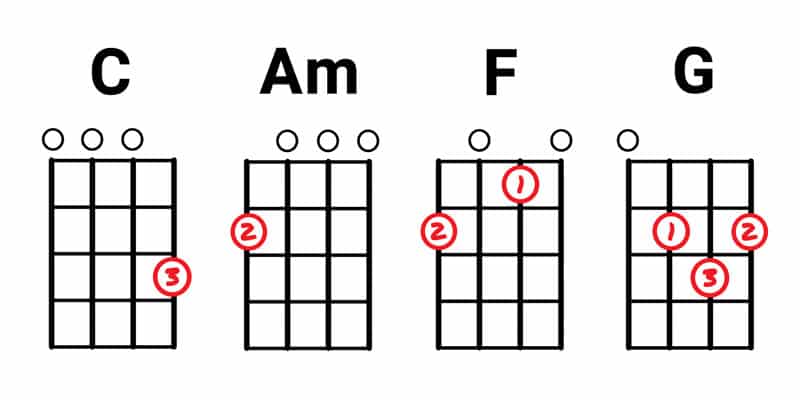 Three major chords and a minor chord. They look easy, right? C and A minor only use one finger, F uses just two fingers, and the G chord is a simple shape that many uke players find easy to make. If you're a guitar player, you may notice that it's the same shape as the D chord on your guitar.
With just these four chords, you can play a long list of 2, 3, and 4 chord ukulele songs. And we're talking about popular, well known songs that you'll actually want to play.
What About Strumming Patterns?
Many of the video tutorials for these songs below include tips on strumming patterns. But you can make your ukulele strumming as simple or as complex as you're able to.
If you're just starting out, try simply strumming one downstroke for each downbeat (when you tap out the rhythm of the song with your foot, a downbeat is when your foot hits the ground).
If you're a little more experienced, you can try this syncopated strumming pattern that includes some upstrokes and strums on the upbeat (the numbers represent the downbeat and the '&' symbols represent the upbeat):
1 & 2 & 3 & 4
D – D U – U D
​That should be enough to get you started playing these songs, but check out this great guide over at Ukulele Hunt for more strumming patterns and advice on strumming the ukulele.
Songs Using Only C, Am, F, and G​
These popular songs for ukulele use only the C, Am, F, and G chords. We've included a video tutorial and links to the easy ukulele tab for each song to help you get started playing them today.
Let it Be – The Beatles (C, Am, F, G)
The Beatles are one of the most widely recognized bands in history, and "Let It Be" is among their more popular songs. And it uses a simple chord progression that's easy to play on the ukulele.
"Let It Be" is a fun song to jam on as a beginner ukulele player. The progression remains practically the same the whole way through the song, so you don't have to worry about changing up the progression part way through the song. And best of all, your friends can sing along right away!
Click here for the full chords.
I'm Yours – Jason Mraz (C, G, Am, F)
This early 2000s earworm by Jason Mraz is a super popular choice for beginner ukulele players, and with good reason. Unlike some of the other popular ukulele songs for beginners on this list, "I'm Yours" prominently features a ukulele on the actual record. This means that your version will sound very similar to the original. The strumming pattern is simple and consistent. You should be able to pick it up quickly just by listening to the song.
"I'm Yours" features a simple chord progression that is one of the most common in popular music – I, V, VI, IV progression. And the original song is in the key of C, which makes it easy to play for beginning ukulele players.
Click here for the full chords.
All Along the Watchtower – Bob Dylan/Jimi Hendrix (Am, G, F)
"All Along The Watchtower" was originally released by Bob Dylan in 1967. Just six months later, Jimi Hendrix recorded the song and it became a smash hit. Regardless of which version you are more familiar with, this is a great beginner ukulele song to make your own (and with just three chords to boot).
The song repeats the same three-chord progression all throughout the verses and chorus. Instead of steady four bar changes, the G chord is more of a leading tone at the end of a phrase switching between the Am and the F. If you're struggling with making the G chord stand out, practice just popping your fingers into the chord shape and popping off to try to get used to a quick switch.
Click here for the full chords.
Counting Stars – One Republic (Am, C, G, F)
OneRepublic has been turning out radio hits for almost two decades now. They continue to innovate and reimagine their sound to keep up with current pop standards. "Counting Stars" is a fun, uptempo song to bring to the ukulele because it offers a really different sound than the original recording.
Ukulele lends itself to lighter pop songs really easily, but it can be fun to reinvent songs for the ukulele as covers. Since "Counting Stars" is built on a lot of production in the original recording, stripping it down to just the ukulele is a fun challenge. The song uses the same four chords in C that we've used for a lot of other fun ukulele songs for beginners, but you get to really try your hand at making this one your own.
Click here for the full chords.
Riptide – Vance Joy (Am, C, G, F)
Vance Joy has a great library of songs to cover on the ukulele, but his best known is definitely "Riptide." This stripped down pop hit is fun to play because of the unique rhythm of the strums and chord changes. The chords are again our simple Am, C, G, and F chords so you can really focus on nailing the strumming pattern, since the chord shapes should come easy.
Singing along to this one can be a bit trickier, if that's your thing. The rhythm of the strumming and the vocals are just different enough that it can take a bit of extra work to get used to. Try practicing just the strumming along with the recording for a while, and then maybe try singing along with the recording if you find yourself struggling.
Click here for the full chords.
Down on the Corner – Creedence Clearwater Revival (C, F, G)
"Down On The Corner" by Creedence Clearwater Revival is a really fun and easy three chord ukulele song to groove on. The chords are simple for beginners, but the strumming pattern provides a bit of a challenge. But once you nail the pattern, it is a blast to strum out.
The groove is quick and involves some palm muting to really nail it. Palm muting is a common technique that you'll want to get comfortable with. It helps create a percussive sound to the uke, and allows a lot of variety within the same strum patterns. All you are really doing is using your palm to push down on the strings in rhythm to "mute" the sound of the uke. Once you get the hang of this technique, it will take your playing to the next level.
Click here for the full chords.
I Still Haven't Found What I'm Looking For – U2 (C, F, G)
Legendary Irish rock band U2 has a deep catalogue of music to explore. Bono and The Edge have been churning out new music for decades now, and they don't really seem to be slowing down. Theyhave plenty of tracks you can adapt to a ukulele successfully, but their popular 1987 hit "I Still Haven't Found What I'm Looking For" is an excellent choice for beginners.
This laid back Grammy-nominated song can be played with just three chords all the way through, and they are once again our familiar friends, C, F, and G. U2 is known for their sort of sweeping buildup and pullbacks in intensity in their music. Try experimenting with how you can adjust your strumming to make this song capture that same buildup and pullback with just the uke.
Click here for the full chords.
Whistle – Flo Rida (Am, F, C, G)
"Whistle" by Flo Rida is another contemporary pop hit built on the same four chords as many of our other tunes. Am, F, C, G will take you a long way in playing pop music. You can have a lot of fun jamming on this song and changing up your strumming pattern between the verses and chorus.
Try practicing your finger picking on the verses to pull things back, and then turn up to bigger strumming on the chorus. All you have to really do for the finger picking on this one is roll your thumb down the strings one at a time in rhythm. Practice it slowly, making sure to give equal weight to each of the strings. No need to worry if you can't whistle either! Try the melody on some "Doo doo doos."
Click here for the full chords.
Soul Sister – Train (C, G, Am, F)
"Hey, Soul Sister" by Train is quite possibly the most successful pop song to not just feature a ukulele, but to be entirely driven by the ukulele. Just hearing those first few strums immediately sends you back to 2009 shouting along with the "heys." Best of all, the song is fairly beginner friendly.
The original recording is actually in the key of E major, and presents a few trickier chord shapes than the familiar ones in C. But, the song transposes easily to make it more accessible for beginner ukulele players. Just know that if you are trying to play along with the original recording, then the C, G, Am, F, chord progression will sound different than the chords on the record.
Click here for the full chords.
Someone Like You – Adele (C, G, Am, F)
Adele is well known for her-piano driven pop ballads, but that doesn't mean you have to be a pianist to play her songs. Although this is a great easy ukulele song, "Someone Like You" features a haunting melody that offers a unique challenge for ukulele players. The original recording is built up of repeating sequences of notes called arpeggios. These arpeggios are when the notes of a chord are played individually from one to the next.
As you get more comfortable with these chords, you can experiment with finger picking arpeggios on your ukulele to more closely mimic the style of this song. But you can also have fun making it your own and playing it with your own unique strum pattern.
Click here for the full chords.
Cane Fire – Peter Moon Band (Am, G, F)
Peter Moon was a famous Hawaiian musician known for his diverse musical styling including Hawaiian, reggae, samba, jazz, and swing music. He may not be as big as The Beatles, but he was a master of the ukulele, and as such, his music is great for beginning ukulele players to study.
"Cane Fire," is a soulful power ballad from the 1980s that sounds really complicated when you listen to it, but can be broken down to simpler components so that even a beginner can enjoy it. The whole song can be played with just three simple chords, but as you get more confident with it you can start to experiment with both the palm muting technique and the variations on the chords to change the tones.
Click here for the full chords.
One Love – Bob Marley (C, F, G, Am)
Bob Marley and the Wailers are reggae superstars, and their songs sound great on a ukulele. "One Love" is a feel good classic with a bouncy reggae sound you can totally capture on the uke. The chords are again simple, so you can really focus on the style of the song.
Capturing the light and bouncy quality of the track is what is most important for playing an easy ukulele cover of this song. Try using a palm muting technique to replicate the guitar's bounce on and off the beat. The palm muting also helps create a percussive effect between strums so that you can try and capture the feeling of the steel drums in the background.
Click here for the full chords.
Just the Way You Are – Bruno Mars (C, Am, F)
Bruno Mars is a modern day superstar with a crazy diverse catalogue of music. His debut album, "Doo-Wops & Hooligans", was made of a mixture of pop ballads and contemporary hip hop, including this smash single, "Just The Way You Are." It catapulted him to international popularity in no time, and it is still a favorite amongst beginner musicians.
This song is catchy and simple for any level of musician. It can be played with just three chords from start to finish. This is a fun song and easy ukulele song to experiment with the tempo too. You can speed things up for a distinct pop feel or slow it down to capture a more melodic ballad.
Click here for the full chords.
Four Five Seconds – Rihanna (C, F, Am, G)
"Four Five Seconds" by Rihanna, Kanye West, and Paul McCartney was a surprising collaboration project that really found its footing in the mainstream for a bit. This sorta acoustic, pop, hip hop tune is a light and fun one to play on the ukulele anytime.
This easy ukulele song for beginners uses just four simple chords, with slight variations between the verse, chorus, and bridge. You can keep a simple downstroke strumming pattern on the verses, but then add in some upstrokes on the chorus to pop things out a bit. In the bridge you'll change the chord progression just a little bit by omitting the C major chord, so stay mindful of those changes.
Click here for the full chords.
All of the Stars – Ed Sheeran (F, C, Am, G)
Ed Sheeran is one of the most widely recognized contemporary singer songwriter pop artists in the world. He is best known for his detailed storytelling in his lyrics, often alongside acoustic guitar grooves that make for modern day classics every time. "All Of The Stars" is another prototypical Sheeran love song that is a fun and easy swing for beginner ukulele players.
Like many of Sheeran's songs, this one has a pulled back verse that builds into a dramatic chorus and then pulls back again for the next verse. You can experiment with single strumming or fingerpicking on the verses to leave room for a more intense chorus when you get there.
Click here for the full chords.
Little Talks – Of Monsters and Men (Am, F, C, G)
Of Monsters and Men is a cool, Icelandic, indie rock group that managed to break into the mainstream with this 2012 hit. The original recording juxtaposes brassy blaring horns and relaxed single strum guitar sections to create an interesting journey for the listener and a great opportunity for a musician.
On the ukulele, you can have a lot of fun playing with the different dynamic levels of this song. Try leaning harder into the chorus sections and pulling back on the verses. This easy ukulele song is great for practicing your dynamics and intensity. Once you get more comfortable with it, you can even try capturing that horn melody with some more complex fingering.
Click here for the full chords.
Stay With Me – Sam Smith (Am, F, C, G)
Sam Smith rose to stardom largely thanks to this powerful and emotional pop ballad. A lot of the power in this song comes from the vocals, which means that it is fairly manageable for beginner uke players who also fancy themselves a singer.
There are a lot of ways you could approach this one. You could go for a sort of single strum pattern throughout, or you could try and up the intensity with a little bit more of a rolling strum pattern. Whatever you decide to do, you can really get into your feelings on this one and let the emotion guide your playing.
Click here for the full chords.
Red Red Wine – UB40 (C, F, G)
"Red Red Wine" was originally written and released by Neil Diamond in the 1960s. UB40 recorded a reggae cover of the song in the 1980s that went on to great success, particularly in the UK. Much like Bob Marley and The Wailers' songs, this is another light and bouncy one that is tons of fun on the uke.
This ultra simple three chord ukulele song can be learned in no time. Practice bouncing on and off the chords to achieve that really light sound like the recording. You can also experiment with different strumming patterns, like alternating between a down, mute, up/down, mute sort of pattern. Something like that should amplify the bouncing feel.
Click here for the full chords.
Octopus's Garden – The Beatles (C, Am, F, G)
Many Beatles records make great ukulele covers. The catalogue runs deep and some are a bit more intense, but "Octopus's Garden" is exactly the kind of relaxed pop ballad that sounds excellent on a ukulele.
The ukulele lends itself naturally towards light and joyful tunes. This song is definitely both of those, with more than a touch of whimsy thrown in. It keeps things interesting by switching up the chord progression between the verse and the bridge and the chorus, but still manages to be a simple song. This is a strong choice for someone who wants to keep things light while working on getting used to changing themes.
Click here for the full chords.
Blowin' in the Wind – Bob Dylan (C, F, G)
"Blowin' In The Wind" is a Grammy Hall of Fame song that has been covered dozens of times in many different styles. This classic "protest song" is led by an acoustic guitar and can be easily brought over to your ukulele.
In the original recording, Dylan does a lot of complicated finger picking on the guitar. Once you start to get more comfortable with the chord shapes, you can experiment with some finger picking of your own and find a groove that works for you. It doesn't have to be exactly like the original, just something that you feel effectively captures the spirit of the song, and most importantly, is fun to play on the ukulele.
Click here for the full chords.
One Day – Matisyahu (C, G, Am, F)
"One Day" is a bold pop ballad that feels very distinctly 2009. It is a little bit hip hop, a little bit indie, a little bit reggae, and features a lot of drama in the feel good build up from verse to chorus. And in true pop standard fashion, it is made up of a standard I, V, VI, IV chord progression making it super beginner friendly.
The song's variety comes entirely from the rise and fall of intensity, so this is where you should focus your efforts. Play around with different ways to build and pull back on the song to capture this. This song is a lot of fun to play around with on the ukulele.
Click here for the full chords.
Have You Ever Seen the Rain – Creedence Clearwater Revival (Am, F, C, G)
This 1970's rock classic is a beautiful and haunting song that many people believe to be about the Vietnam War. Though John Fogerty has since said that it was more about the turmoil happening within the band and the imminent departure of his brother from the group.
Whatever the song is actually about, it is an awesome classic rock tune to cover on your ukulele. The original is emotional and a bit shouty, so try adapting it to be a bit more relaxed. The ukulele doesn't lend itself as naturally to aggressive tones, so this is a fun one to play with really changing the original style into something new. It can still be equally as haunting, just in a bit of a different way.
Click here for the full chords.
Stand By My – Ben E. King (C, Am, F, G -OR- G7)​
Just about everyone is familiar with "Stand By Me" by Ben E. King. The popular chorus has been played and sung along to for decades and is a popular cover for beginner musicians. The original record is guided heavily by the bass track, but you can easily adapt it to a fun ukulele riff.
This song is built on a classic 60's pop rock structure. The I, VI, IV, V chord progression was hugely popular with artists of that time and this song fits it perfectly. The chord changes walk down to the next chord using leading tones at the end of the second bar. This is something to work up to, but you can get started with just the easy chords right away. The G chord works just fine, but if you're looking to spice things up, you can add in a G7 chord instead.
G7 another easy ukulele chord that's good to know. It's a simple variation on the G chord shape: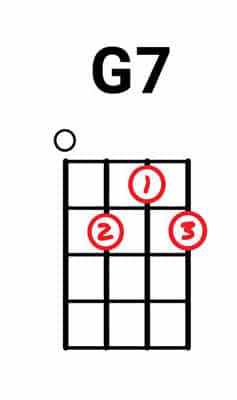 7th chords add a jazzy feel to any tune. But, you can always play a normal G chord instead.
Click here for the full chords.
Songs Using a Few More Easy Chords
These next songs are also easy to play, but they throw a few new chords into the mix. Learn these chords, and you'll be able to play some of the best songs to play on the ukulele.
Those chords are E minor, D, D7, and A. Here's how to play them:​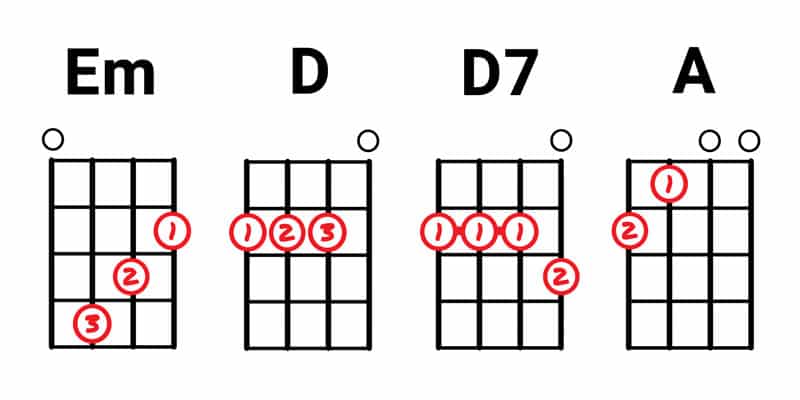 The D7 chord uses a barre, which means that you lay your first finger straight across the strings. This might take a little practice, so if you're having trouble playing it you can always play a regular D chord instead.
And now for the songs!
I Will Wait – Mumford and Sons (Am, G, C, F, Em)
Mumford and Songs quickly gained recognition for their banjo folk rock style and have gone on to tremendous success. But you don't have to be a banjo player to enjoy strumming away at their tunes. "I Will Wait" is a fun challenge for beginner ukulele players.
This song involves five chords instead of the usual four or three on the list. The Em chord shape might take a little bit of time to get used to, but it is definitely manageable with some practice. The real trick to focus on in this song is crafting a strum pattern that captures that uptempo folk feeling and nailing those sharp chord changes.
Click here for the full chords.
Love Me Do – The Beatles (G, C, D)
Another Beatles classic for you to try your hand at, this is a great three chord ukulele song for beginners. "Love Me Do" features a very memorable harmonica riff alongside some otherwise fairly simple instrumentals. You can nail this song with just three major chords, G, C, and D.
The D chord may be a new one for you, but it is super simple. Depending on the size of your fingers you may find it easier with one or two fingers. Try it different ways and focus on which way captures the best sound. It may not always be the most comfortable at first, but the sound is what's important. After some more practice, it'll start to feel more natural.
Click here for the full chords.
Hallelujah – Leonard Cohen/Jeff Buckley (Am, C, Em, F, G)
Who could forget this timeless piano ballad? "Hallelujah" has become a standard for the contemporary ukulele player because it is beautiful and just complex enough to stay interesting. You can play with some simple strumming, or take things to the next level with some simple finger picking.
The song switches between a couple of different progressions, but they all are built on the same five chords. If you're struggling to keep the progressions separate, try practicing them as separate pieces and then putting them together.
Click here for the full chords.
Otherside – Red Hot Chili Peppers (Am, F, C, G, Em)
When you think of easy ukulele songs, the Red Hot Chili Peppers probably may not be the first band on your mind. But they've got a couple of songs that sound great and are super fun to play on the uke, including "Otherside." This five chord ukulele song is an awesome way to transition your uke playing into a grungier rock sound.
This is also an awesome song for duets, if you've got a friend who plays music. You can pick up on simple vocal harmonies just by listening to the song, and depending on what instrument your partner plays, you can have a lot of fun with the instrumentation once you've got the basic progression down.
Click here for the full chords.
Heartache – One Ok Rock (C, F, G, Dm)
"Heartache" by One Ok Rock is a low key pop rock hit that translates perfectly for the beginning ukulele player. You can play it as uptempo or as slowed down as you want and it still sounds nice. The chords fall into a simple and repetitive I, IV, V, VI pattern, so once you lock that in, you don't have to think too hard about them.
Try experimenting with playing this song with just single strums in the beginning and then increasing your intensity as you play. These pop rock power ballads are all about storytelling, and it is tough to build tension and excitement if you start the song at super high intensity without leaving yourself somewhere to build up to.
Click here for the full chords.
Let it Go – Frozen (Em, C, D, Am, A)
Every ukulele player should have a few Disney classics in their repertoire. This way you are always ready to entertain and impress a crowd of kids and families. While "Let It Go" from Frozen quickly became a bit overplayed, it is still a supremely popular and widely recognized tune that is a lot of fun on the ukulele.
This is another one that plays with dramatic build up and storytelling. Try to experiment with how you can turn up the intensity at the chorus and pull back on the verse to introduce some variety. This is a bit of a simplified version here, so that big dramatic middle section might sound a little different with just a uke, but you can totally make it work for you. Don't get hung up trying to sound exactly like the full orchestration.
Click here for the full chords.
Sweet Home Alabama (D, C, G)
Rockabilly is another style that may not be top of mind on the ukulele, but this classic is easy, and tons of fun. "Sweet Home Alabama" is an iconic piece of American music and it is the same three chords for the entire song.
The piano and guitar riffs of the original recording are a big part of the appeal, but there's no reason you couldn't bring your own ukulele flair to it. Once you get really comfortable with the chords for this one, you can play with adding some taps on your ukulele body for a pseudo percussion effect.
Click here for the full chords.
Margaritaville – Jimmy Buffet (A, D, D7, G)
Jimmy Buffett and the ukulele go together like Hawaiian shirts and the beach or cheeseburgers and french fries. His easy going, relaxed style translates excellently to the simplicity and joy of the ukulele. There are plenty of great places to start, but perhaps best of all is the tremendously popular "Margaritaville."
Playing "Margaritaville" on your ukulele takes you away to an island beach with a cold drink in your hand. Best of all, the chords are simple and remain constant throughout. So you can sing and sway and lose yourself in the music with all your friends. Try and accent the difference between the D and the D7 so you can really hear that subtle but important chord change.
Click here for the full chords.
Brown Eyed Girl – Van Morrison (G, C, D, Em)
"Brown Eyed Girl" by Van Morrison is a true rock classic that has managed to stand the test of time. The song first debuted in 1967 and holds a spot in the Grammy Hall of Fame. Something about that "Sha-la-la-la" riff is just so catchy and enticing.
It is also amazing that such an acclaimed and memorable song is also such an easy song to play on the ukulele. Another four chord ukulele song for any beginner to knock out of the park. This time we're following the I, IV, V, VI chord progression in the key of G. The Em can cause some stumbles with getting each finger in the right place quickly, so be sure to practice punching that chord on and off to get used to it.
Click here for the full chords.
I Won't Back Down – Tom Petty (Em, G, D, C)
This 1989 Tom Petty anthem is a simple and effective song that can be stripped down to a powerful ukulele cover. The strumming pattern is a fun groove, but it is a little more complicated than some of the other tunes on this list.
To really nail this song, you need to feel comfortable with your muting abilities. The verses alternate between two different themes, one using the C major chord and the other omitting it, so be sure to keep track of which section you are on. Then things change up again for the chorus, but still make use of these beginner chords.
Click here for the full chords.
Hakuna Matata – The Lion King (C, F, G, D, G7, Am)
If you only learn one Disney song on your Ukulele, make it this one. "Hakuna Matata" from Disney's The Lion King is an absolute classic. The song, performed in the movie by Timon, Pumbaa, and Simba, is a snappy little earworm that never fails to lift people up.
This one is a bit more involved than several others on the list, featuring a total of six different chords and a few different themes. Practice each theme carefully, and then string them all together. It can be challenging to remember which progression comes up with which theme, but take it piece by piece and you'll have it in no time. You can have a lot of fun playing with the intro and the bridge as well, taking your time through those spoken parts.
Click here for the full chords.
Leaving on a Jet Plane – John Denver (G, C, D)
John Denver is an awesome story teller who managed to create interesting and memorable songs using very simple structures. "Leaving On a Jet Plane" falls neatly into Denver's iconic style and is friendly for beginner ukulele players. You also get to practice your D chord shape.
A neat and consistent strumming pattern will help you ease into the cool and rhythmic vibes that Denver creates in the original recording. You can practice the strumming pattern independent of the chords by just placing your fingers over the frets and focusing exclusively on the strumming pattern. Lots of beginner uke players ignore practicing their strumming and just focus on chord shapes, when really both are equally important.
Click here for the full chords.
2 Bonus (Slightly More Complicated but Still Easy) Songs for the Ukulele
These last two songs are a little more complicated to play, but they're also some of the most fun songs to play on the ukulele.
Wagon Wheel – Old Crow Medicine Show/Darius Rucker (G, D, Em, C -OR- A, E7, F#m, D)
This fiddle-led country classic is a ton of fun to play on the ukulele. "Wagon Wheel" bounces along so easily that it's hard to play without a smile on your face. The chord progression alternates between the first line and second line, so just keep close attention to which part you are on so you don't get confused.
Most tutorials will tell you to play Wagon Wheel using G, D, Em, and C like you would on a guitar. And that's perfectly fine to do, but it's actually much easier to play on the ukulele using the chords A, E7, F# minor, and D.
We've already gone over most of those chords, but here's how to play E7 and F# minor: ​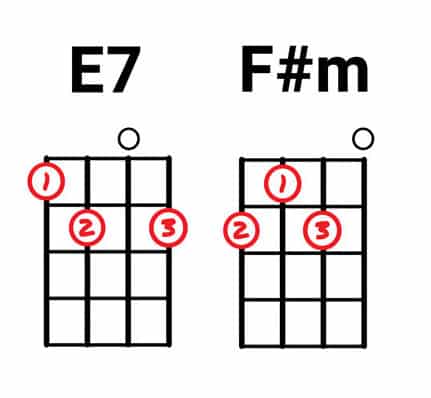 However you decide to play it, Wagon Wheel is a great song that's a lot of fun to play on the ukulele!
Click here for the full chords.
Over the Rainbow – Israel Kamakawiwo'ole (Am, C, D, Dm7, E7, Em, F, G)
This is one of the most famous songs for ukulele out there, and it's the song that starts a lot of people out on their ukulele journey.
And it's actually not that difficult to play. Over the Rainbow uses all the chords we've gone over so far, with the addition of D minor 7. Here's how to play this chord: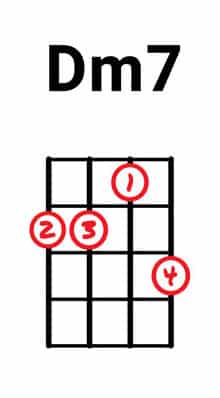 This is a great song to tie everything together and reinforce all the new chords you've learned. And get ready to have a blast playing all the easy ukulele songs on this list!
Click here for the full chords.
Mega Song List (with uke chords, tab, and Youtube tutorials)
Song
Artist
Chords
Tutorials
Let it Be
The Beatles
C, Am, F, G
Chords
Youtube
I'm Yours
Jason Mraz
C, G, Am, F
Chords
Youtube
All Along the Watchtower
Bob Dylan/Jimi Hendrix
Am, G, F
Chords
Youtube
Counting Stars
One Republic
Am, C, G, F
Chords
Youtube
Riptide
Vance Joy
Am, C, G, F
Chords
Youtube
Down on the Corner
Creedence Clearwater Revival
C, F, G
Chords
Youtube
I Still Haven't Found What I'm Looking For
U2
C, F, G
Chords
Youtube
Whistle
Flo Rida
Am, F, C, G
Chords
Youtube
Soul Sister
Train
C, G, Am, F
Chords
Youtube
Someone Like You
Adele
C, G, Am, F
Chords
Youtube
Cane Fire
Peter Moon Band
Am, G, F
Chords
Youtube
Heartache
One Groove
C, F, G
Chords
Youtube
One Love
Bob Marley
C, F, G, Am
Chords
Youtube
Just the Way You Are
Bruno Mars
C, Am, F
Chords
Youtube
Four Five Seconds
Rihanna
C, F, Am, G
Chords
Youtube
All of the Stars
Ed Sheeran
F, C, Am, G
Chords
Youtube
Little Talks
Of Monsters and Men
Am, F, C, G
Chords
Youtube
Stay With Me
Sam Smith
Am, F, C, G
Chords
Youtube
Red Red Wine
UB40
C, F, G
Chords
Youtube
Octopus's Garden
The Beatles
C, F, Am, G
Chords
Youtube
Blowin' in the Wind
Bob Dylan
C, F, G
Chords
Youtube
One Day
Matisyahu
C, G, Am, F
Chords
Youtube
Have You Ever Seen the Rain
Creedence Clearwater Revival
Am, F, C, G
Chords
Youtube
Stand By Me
Ben E. King
C, F, Am, G7
Chords
Youtube
I Will Wait
Mumford and Sons
Am, G, C, F, Em
Chords
Youtube
Love Me Do
The Beatles
G, C, D
Chords
Youtube
Hallelujah
Leonard Cohen
Am, C, Em, F, G
Chords
Youtube
Otherside
Red Hot Chili Peppers
Am, F, C, G, Em
Chords
Youtube
Let it Go
Frozen
Em, C, D, Am
Chords
Youtube
Sweet Home Alabama
Lynyrd Skynyrd
D, C, G
Chords
Youtube
Margaritaville
Jimmy Buffet
A, D, D7, G
Chords
Youtube
Brown Eyed Girl
Van Morrison
G, C, D, Em
Chords
Youtube
I Won't Back Down
Tom Petty
Em, G, D, C
Chords
Youtube
Hakuna Matata
The Lion King
C, F, G, D, G7, Am
Chords
Youtube
Leaving on a Jet Plane
John Denver
G, C, D
Chords
Youtube
Wagon Wheel
Old Crow Medicine Show/Darius Rucker
G, D, Em, C -OR- A, E7, F#m, D
Chords
Youtube
Over the Rainbow
Israel Kamakawiwo'ole
Am, C, D, Dm7, E7, Em, F, G
Chords
Youtube
You're Beautiful
James Blunt
C, G, Am, F
Chords
Youtube
Love Yourself
Justin Bieber
C, G, Am, Dm, F
Chords
Youtube
Island in the Sun
Weezer
Em, Am, D, G, C
Chords
Youtube
Hey There Delilah
Plain White T's
C, Em, Am, G, F
Chords
You Are My Sunshine
Johnny Cash
C, C7, G, F
Chords
Fireflies
Owl City
Am, C, Em, F, G
Chords
Sweater Weather
The Neighbourhood
Am, F, Em, G, D
Chords
No Woman No Cry
Bob Marley
C, G, Am, F
Chords
Drive
The Gaslight Anthem
C, Am, F, G, A
Chords
YMCA
The Village People
Am, C, D, D7, Em, G
Chords
Home
Edward Sharpe and the Magentic Zeros
A, Bm, D, Em, G
Chords
Call Me Maybe
Carly Rae Jepsen
Am, C, F, G
Chords
Wonderwall
Oasis
Am, C, G, D, F
Chords
Hotel California
The Eagles
Am, E7, G, D, F, C, Dm
Chords
Bad Romance
Lady Gaga
Am, C, Em, F, G
Chords
Pumped Up Kicks
Foster the People
A, D, Em, G
Chords
Wish You Were Here
Pink Floyd
A, Am, C, D, Em, G
Chords
Hurt
Johnny Cash
Am, C, D, F, G
Chords
All of Me
John Legend
Em, C, G, D, Am
Chords
Someone You Loved
Lewis Capaldi
C, G, Am, F, Dm
Chords
Bad Moon Rising
Creedence Clearwater Revival
D, C, G
Chords