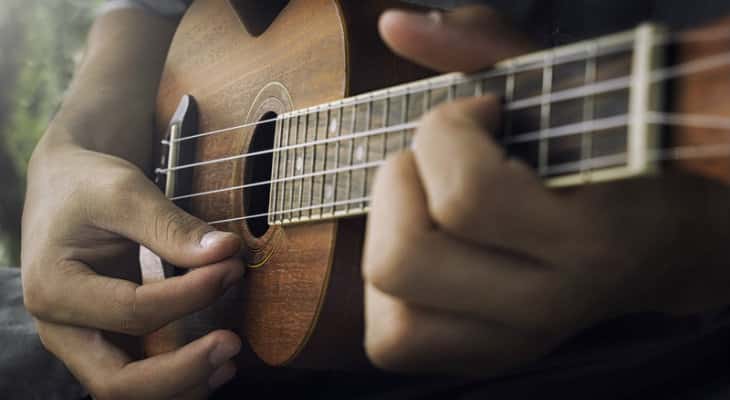 Best Soprano Ukulele Reviews: 2017 Buyer's Guide
The ukulele has become incredibly popular among musicians of all levels because it's fun to play and it's adaptable to a wide range of musical styles. The ukulele is a firm favourite for musicians of various abilities and techniques and it works great in relaxed or formal settings. The best ukuleles are incredibly versatile and are suitable for both traditional and contemporary music.
Soprano ukuleles are the most popular and traditional ukulele size. They are smaller and higher pitched than other sizes, and they have that classic, happy tone that most people associate with the ukulele. There are plenty of soprano ukes out there to choose from, but which ones are the best? Read our reviews of the top 5 to find out.​
The Mexican-built Martin S1 is authentic both in its build and sound quality, making it a delight to look at as well as to play. Sporting an all-solid genuine mahogany body, this is one of the best all-around ukuleles out there. The full and rich sound of this super-portable marvel is astounding.
Its mahogany neck firmly dovetails into the body, while its rosewood fingerboard is broad which improves its playability, especially if you have large hands or fingers. A rosewood bridge, inlaid rosette and traditional cedar linings, and bone saddle and nut also underlines its features.​
Cordoba ukuleles are well-known for their quality, and this one is no different. Though small in build, the 25SK packs a powerful, well balanced, and articulate tone that is aided by its solid acacia top and solid acacia back.
The beauty of this handcrafted ukulele exemplifies the allure of its traditional heritage. The thoughtful detail that went into the fretboard, rosette, and bridge also make it unique.
The intonation is very good all along the neck and it has a very consistent tone once you tune it. Its small build makes it easy to carry around and it's so much fun to play you won't want to put it down.​
Soprano ukuleles are the smallest in the ukulele lineage, and the Fender U'Uku's name betrays its identity, having been derived from the Hawaiian word for "tiny". But the name notwithstanding, you will be blown away by its warm beautiful tone. It also has a great-looking and stylish design, making it one of the best soprano ukuleles under $200.
The solid mahogany body gives this ukulele a vivid and balanced tone. The three-piece mahogany neck is straight with a 12-fret rosewood fingerboard, which has accurate intonation up and down the neck. It also features a black body and fingerboard binding, open-gear chrome tuners, smooth natural satin finish and quality Aquila strings.​
Luna Guitars Pineapple Soprano ukulele is an amazing blend of unique design features that make it stand out from other ukuleles. The combination of quality and features make this one of the best soprano ukuleles under $100. It has a sturdy all-mahogany body that is formed into the shape of a pineapple, making it easy to hold and fun to play.
The body has an attractive grain pattern and features the tattoo series' signature traditional tattoo designs. The intonation is excellent on all four strings up and down the neck, stays in tune very well, and will give you a balanced, warm tone to announce its presence wherever you go.​
The Martin OXK Uke is well-known for its top notch quality. It's back, sides and top are made of high pressure wood laminate (HPL), a feature that sets it apart from other all-laminated instruments. For a soprano ukulele, the tone is unbelievably warm and full, while the intonation is also accurate and consistent.
The koa-like finish accentuates its looks and the texture on the laminate neck makes it easy to handle. Also contributing to its durability is a robust stratabond stem dovetailed to the body, sitka spruce bracing and mahogany end-blocks. The sturdiness and durability of this uke make it a great soprano ukulele to travel with.​
Conclusion
All of the instruments that we explore in our soprano ukulele reviews are great choices, and you really can't go wrong with any of them. All of the ukuleles on this list sound great and are fun to play, and you'll find yourself picking them up to strum again and again.
So whether you are looking for something that is easy to play and looks great, or an instrument that is portable and durable, you won't be disappointed with any of the ukes on this list. Picking up a good soprano ukulele is a great start on your musical journey with this awesome instrument.​
Product images sourced from Amazon.com.