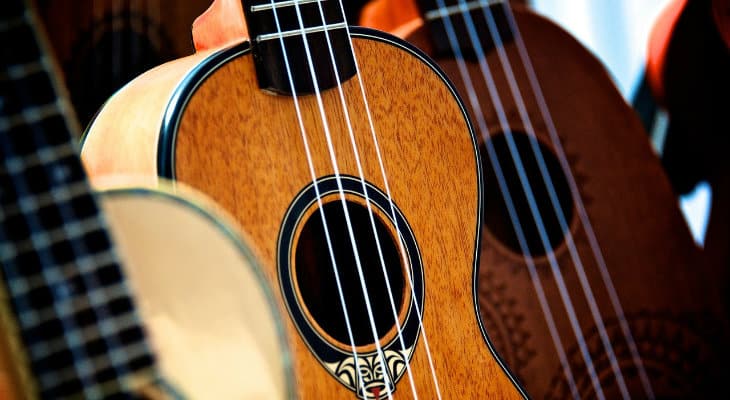 The Best Ukuleles in 2017: Buyer's Guide and Ukulele Reviews
So you're looking for a quality ukulele? Well you've come to the right place. This in-depth ukulele buyer's guide goes over the different types, brands and models of ukuleles so you can wade through the sea of choices.
The ukulele first appeared in the 1800s and has grown more popular in recent years as a wide variety of artists have added the ukulele sound to their music. It's a great first instrument because it's relatively easy to learn and play. But if you're an experienced musician it's also a great way to expand your musical horizons.
If you're looking for a good ukulele, there are plenty of models to choose from in all different sizes and types, from cheap plastic toy models to expensive solid wood options. But with all the options out there, finding the best sounding ukulele can be a challenge.
Whether you are new to the ukulele or you are an experienced player who is looking to upgrade your instrument, this article will help you find the perfect ukulele to fit both your interest level and budget.
Best Ukulele Comparison Table
| Image | Model | Body / Neck | Sizes | Price | Rating |
| --- | --- | --- | --- | --- | --- |
| | | Mahogany / Mahogany | Soprano, Concert | $ | |
| | ​ | Mahogany / Mahogany | Soprano, Concert, Tenor | $$ | |
| | | Mahogany / Mahogany | Soprano, Concert, Tenor | $ | |
| | | Mahogany / Mahogany | Concert | $$ | |
| | | Koa / Mahogany | Tenor | $$$$ | |
| | | Koa / Koa | Soprano, Concert, Tenor | $$$$ | |
| | | Agathis / Mahogany | Soprano, Concert, Tenor | $ | |
| | | Koa / Stratabond | Soprano | $$$$ | |
| | | Burch / Polycarbonate | Concert | $$$$ | |
| | | Spruce, Rosewood / Rosewood | Concert | $$ | |
Different Types of Ukuleles
There are several different kinds and sizes of ukuleles to choose from, and each has its own strengths and unique tone. I've described each type below to help you choose the best ukelele for you.
Soprano Ukuleles​
Soprano ukuleles are the smallest size of ukulele and have the highest pitch. Soprano ukuleles are considered to be the standard size at 20 inches and tend to be what most beginners start with. Because of its size, it has a smaller range of notes that it can play and it tends to have a very distinct, happy sound.
​Concert Ukuleles
Concert ukuleles stand at 23 inches and have a slightly larger fretboard that makes them easier for some people to play. If you're a beginner, this is a great size to start with. Concert ukuleles usually have between 15 and 20 frets and can play a broader range of notes. The tone is deeper and fuller than soprano ukes, but still has that signature ukulele sound.
​Tenor Ukuleles
Tenor ukuleles stand at 26 inches long and are often the choice for professional and well-known ukulele players due to their distinctive sound. The tenor typically has between fifteen and twenty frets and has a wider body, bigger frets and a deeper sound than soprano or concert ukuleles. Tenor ukuleles are especially good for people with bigger hands or who are transitioning from larger instruments such as the guitar.
​Baritone Ukuleles
Baritone ukuleles are the largest size of ukulele and can be 30" plus in scale length. They are tuned differently also - they share the same tuning as the top four strings of a guitar (DGBE). But, if you prefer standard ukulele tuning, you can also buy Baritone ukulele strings in GCEA tuning. Baritones are popular among guitar players because they can don't have to learn new chord shapes. In spite of its larger size and its guitar tuning, the baritone still has more of an overall ukulele sound than a guitar sound. Baritone ukuleles produce the lowest tones of all the ukuleles.
​Specialty Ukuleles
Specialty ukuleles include the banjolele, guitarlele and other non-standard ukes such as Kala's popular U-Bass. The banjolele is an instrument with four strings, a small body that is similar to the banjo, and a fretted ukulele neck. The guitarlele is a cross between a standard ukulele and a guitar. It is tuned like a guitar and sounds closer to a guitar than a ukulele. The U-Bass is meant to be played like a bass.​
The Best Ukulele Brands​
There are plenty of good ukulele brands out there, but the brands below are the most common. They all have solid ukuleles for beginners and also offer some top notch professional-quality ukes. There are also other brands out there like Pono and Kanilea that offer only very high-end ukuleles.
Kala​
Kala Ukulele was started in 2005 by Mike Upton and has its main office located in California. Despite being a newer brand, Kala is now one of the most well-known brands of ukuleles in the world. It may be the best brand of ukulele for beginners and intermediate players looking to get serious about playing the ukulele because they provide high quality instruments at very affordable prices.
Cordoba​
Started in 1997, Cordoba is a guitar company based in California that specializes in nylon string acoustic guitars. Cordoba provides lightweight, responsive instruments and they have a wide variety of ukuleles across the soprano, concert, tenor, and baritone sizes. Cordoba ukuleles are well-known for their quality. They have a large fan base of well-known musicians including Bon Iver, One Republic, Leonard Cohen, and the Decembrists.
Luna​
Luna Guitars was co-founded by Yvonne de Villiers, who was an accomplished stained-glass artist. She was inspired by her bass playing mother to begin making guitars that were both beautiful and unique. Luna was founded on Yvonne's belief that customers should be seen as more than just a sales transaction but part of a larger community. Since 2005, Luna ukuleles have been known for their unique looks and high quality.
Lanikai​
Lanikai was founded in 2000 and is distributed by Hohner, a company well known for producing quality folk instruments. Lanikai is a popular brand for ukulele players and is one of the best ukelele brands because they offer a wide range of both entry level and high end models at a reasonable price point.
Mahalo​
Mahalo produces typically inexpensive ukuleles that were originally made in China and now Indonesia. They tend to have bright colors and inexpensive price tags which make them a popular option for children and beginners who are just getting started with the ukulele.​
The Top 5 Ukuleles
The ukuleles we review here are the best all-around choices that we've found. They offer a great combination of quality construction, tone, playability and value. There are certainly higher-end ukuleles out there, but you'll pay a lot more for them. One of the best things about the ukulele is that anyone can pick up a great-sounding instrument without spending a ton.​
The Kala Satin Mahogany Soprano Ukulele is lightweight and very affordable which makes it the top ukulele for beginners who don't want to compromise quality for price. The body and neck are made of mahogany, and it has a full bodied tone with a very rich sound.
The intonation is excellent right out of the box, and it holds a tune very well with its chrome diecast tuners. This is an excellent little uke for beginners and more advanced players alike. You really can't go wrong with the Kala KA-S, and you'll be hard-pressed to find a better ukulele for the price.​ The Kala Satin Mahogany series also comes in a concert size.
The Cordoba 15CM features mahogany top, back and sides, which give it a uniquely rich and complex tone. This ukulele is completely handmade, the build quality is second-to-none, and it includes some features found only on much more expensive ukuleles.
The 15CM has a sleek satin finish, abalone rosette, silver tuners with pearl buttons, and it comes stock with premium Aquila strings. It looks very classy, but still has that simple classic look that you expect from a traditional ukulele. This ukulele is a great option for both beginners and experienced players. The Cordoba 15 series is also available in soprano and tenor sizes.​
The Luna Tattoo Series Concert Ukulele looks awesome. It features an ornate tattoo design based on a Hawaiian turtle, which is known as a symbol of endurance. The fret markers are stylized sharks teeth and the tattoo is engraved in the wood rather than printed. This ukulele has a very unique look.
But looks are not all this uke has going for it. It also has a great sound, with that deep, rich tone that's a signature of mahogany instruments. This ukulele is also affordable, and is a great option for beginners and experienced musicians alike.​ The Tattoo also comes in soprano and tenor sizes.
The LU21-C is one of Lanikai's most popular and affordable ukuleles. It's full tone, solid intonation, and top notch design make it a good quality ukulele. The mahogany top, back, sides, and neck help produce its rich tone and full sound. It also looks great, with gold hardware and an attractive satin finish.
The construction of this ukulele is also top notch, and it has excellent intonation and stays in tune. The LU21-C is perfect for both beginners and experienced players as it offers high quality at a very affordable price.​ The LU-21 also comes in a soprano size.
A top rated ukulele from Fender? Absolutely! This uniquely-styled koa ukulele features head-turning looks and beautiful sound straight from the iconic guitar maker. Nohea is the Hawaiian word for "lovely," and this ukulele definitely lives up to its name.
The Hawaiian koa wood body and mahogany neck produce a very warm, bright and well-balanced. Tone. The Telecaster-style headstock gives this uke a rock 'n' roll look. This ukulele is also very well-made, has accurate intonation and stays in tune. We wouldn't expect anything less from a company like Fender.​
Rounding Out the Top Ten:
Ukulele Buying Guide
Choosing the best ukulele to buy can be a difficult task, especially if you are new to playing. There are many different sizes, woods, types, and brands on the market and finding the right one can be a confusing process, especially if you are a beginner.
The first thing you should consider when you are shopping for a ukulele is your level of interest in playing and how much you are looking to invest in an instrument. What's your ukulele price range? Do you want an expensive professional instrument or are you looking for a good cheap ukulele?
The great thing about the ukulele is that it's possible to find a high quality instrument for anywhere between $50-$200, so there is no need to spend a lot of money when you are just starting out as you can always upgrade later.
Read our ukulele reviews to familiarize yourself with the different types of ukuleles and think about the size and sound you are looking for. Top quality ukuleles often come premium strings, but you can easily upgrade the sound of any ukulele by adding some good ukulele strings. It's also helpful to research the different types of wood that ukuleles are made out of. Mahogany will have a different than Koa, for example.
The information below will briefly explain some of the different types of ukuleles, popular brands, and some of the top models from each brand. This will give you a head start on getting the information you need to make the most informed purchase.​
Ukulele Shapes​
We've gone over the different ukulele sizes, but they also come in several different shapes.
The guitar shape is the most common shape for ukuleles. It looks similar to a guitar and the curved portion of the upper body (called the upper bout) is usually smaller than the lower portion (the lower bout). The narrow area between the two bouts is called the waist.​
The pineapple shape has a rounded back and profile body. It debuted in the 1920s and is usually credited to Samuel Kamaka for coming up with the design. The novelty of the pineapple shape was that it made the ukulele become more distinctive and not just look like a tiny guitar. This allowed musicians to begin to take the ukulele more seriously and branch out to try new things.​
A cutaway shape is when the right-hand shoulder has been cut back to making playing on the top frets of an instrument easier. Cutaway ukuleles are usually found in music stores and are found more often on concert, tenor, and baritone instruments than on the soprano.​ This shape is also very common on acoustic-electric ukuleles.
Types of Ukulele Tonewood
When you are choosing what kind of tonewood to go with, your main consideration should be much you are willing to spend and the sound you are looking for. The main types of tonewood used to make ukuleles are koa, mahogany, spruce, cedar, maple, and rosewood.
Mahogany is one of the most common woods used for musical instruments. Mahogany is a hardwood but is much less dense than rosewood. Mahogany ukuleles produce a warm and rich tone.
Koa is a native Hawaiian wood that produces a bright, beautiful tone. It has traditionally been the standard tonewood used for ukuleles.
Spruce is a softwood and tends to be more popular with guitars but is becoming increasingly popular with ukuleles as well. It is known for producing a bright and loud tone.
Rosewood is often used in acoustic guitars but is becoming more common in ukuleles. It produces mid-range and low overtones. Rosewood is usually paired with a softwood top.
Ukuleles can also be made out of maple, mango, cedar, and cherry wood. And you might also find ukuleles made from plywood, which means they were made from a cheaper, laminated wood. A ukulele made from solid wood will almost always give a brighter and more complex tone than ukuleles made from plywood.
Conclusion
With the growing popularity of the ukulele as an instrument there is a flood of different models on the market, some good some not-so-good. There's also a lot of information out there, and wading through everything can get overwhelming.
This ukulele buying guide should give you a good handle on what to look for and what ukuleles might be the best choice for you. Any of the ukuleles we shout out here will make a great instrument, no matter if you are picking up the ukulele for the very first time or have been playing for years.
Ultimately, the goal is to find the ukulele that is the right fit for you and your lifestyle and will provide you with years of enjoyable playing.​
Product images sourced from Amazon.com.