The ukulele has become a hit among young and experienced musicians alike. The instrument has four strings and a unique tone, and it mainly comes in four sizes: soprano, tenor, baritone and concert. Although the soprano ukulele is the most commonly used size, the concert-sized ukulele has gained a great deal of popularity in recent years.
Concert ukuleles have a wider fretboard than soprano ukes, which makes it easier to play for people with larger hands. They also have a slightly warmer and deeper tone than sopranos and the longer neck lets them hit a wider range of notes.
There are a lot of concert ukuleles on the market out there, some good and some not-so-good. Price range, sound quality, type of wood used, construction and overall playability are all factors to consider when picking out a ukulele. To help you find the best ukulele for you, we've compiled this list of the top instruments out there.
Top Concert Ukuleles: Our Picks
​1. Cordoba 15CM Concert Ukulele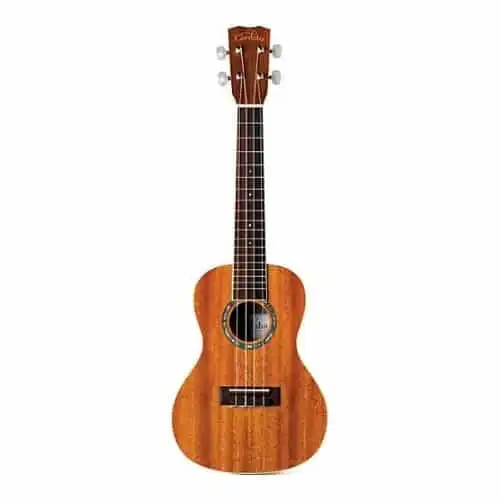 The Cordoba 15CM is an excellent choice for a quality concert ukulele. Cordoba has been making ukuleles since 1997 and they have developed a strong reputation as makers of quality instruments that sound great. The Cordoba 15CM is one of their most popular models due to its solid construction, great sound, and traditional appearance.
The 15CM features an all-mahogany body, and the rosewood fingerboard has a total of 18 frets. This instrument is made entirely by hand, and features an abalone rosette and elegant satin finish, things you just don't find on ukuleles in this price range. Because of its good quality and affordable price, this is a great ukulele for beginners and might also be the best concert ukulele under $100.
Hear it in Action:
2. Luna High Tide Koa Concert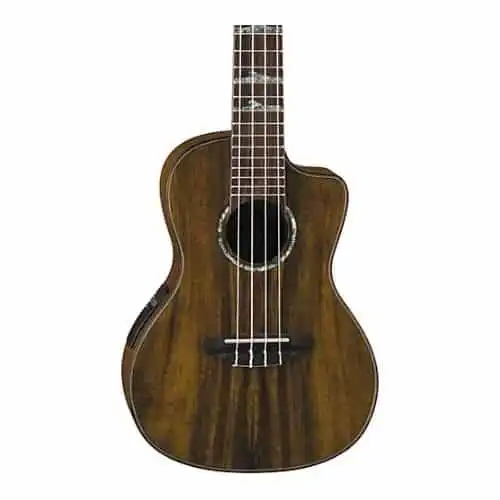 If you're looking for a premium ukulele at a sub-premium price point, then the Luna High Tide Koa Concert is a ukulele worth your time. Every part of this concert-sized instrument (15-inch scale), from the koa top to the walnut fretboard with rising waves inlays (abalone), is meant to please the eye. 
That being said, this ukulele isn't just eye candy – it sounds amazing too. Even with the cutaway which makes for easy access to the higher frets on the C-shaped mahogany neck, the High Tide Koa Concert has a full, deep tone. This is reflected in Luna's preamp system, which comes with a built in EQ for quickly dialing in your live sound.
The High Tide perfectly combines high end design with economical materials that result in a beautiful, easy to play, and lush sounding instrument for any kind of gig.
Hear it in Action:
3. Kala Satin Mahogany Concert Ukulele (Kala KA-C)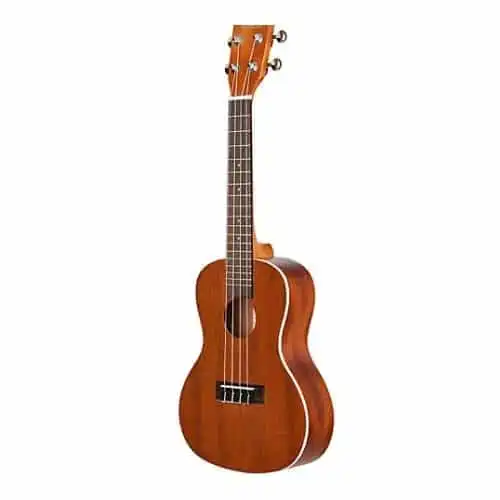 The Kala Satin Mahogany Concert Ukulele (Kala KA-C) is proof that you can buy a top notch ukulele at an affordable price. Kala is a comparatively new ukulele maker, but they have become very popular and have gained a great reputation for their great quality and innovative ukuleles.
This great uke features mahogany construction, a rosewood fingerboard and bridge, and geared tuners. It has a deep and mellow tone, great intonation and it stays in tune. While this ukulele is suitable for beginners, it's good enough to grow with you as you improve as a player. The Kala KA-C is a great concert ukulele for players of all levels.
Hear it in Action:
4. Kala KA-SMHC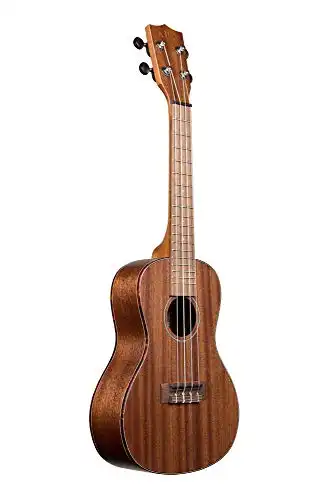 Kala brings their impeccable build quality and beautiful aesthetics to their concert size ukuleles with the Kala KA-SMHC.  It is made of all solid mahogany on the top, back, sides, and neck, along with a walnut fretboard that contrasts perfectly against the dark wood of the rest of the instrument. 
The use of solid tonewoods throughout the KA-SMHC gives it a present midrange with just the right amount of warmth to round out your string attack. This makes it a versatile instrument that's perfect for strumming or melody playing. This is helped by the uke's concert size, which serves as a balanced middle ground between tenor and soprano ukes.
As is typical with Kala, you get a uke that can last for decades with the proper care, that performs at a level beyond its price point. Not to mention, it looks absolutely stellar.
Hear it in Action:
5. Fender Grace VanderWaal Signature Ukulele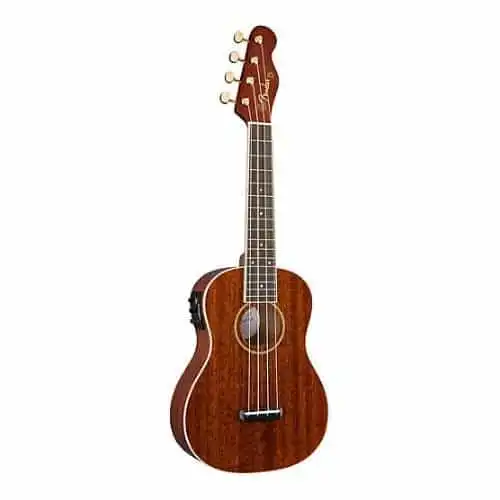 Fender is well known for their guitars, but they also make great ukuleles, especially when it is a custom model like the Fender Grace VanderWaal Signature Ukulele – a top notch ukulele that Grace VanderWaal actually plays.
The is a distinctive concert ukulele, with some unique features such as the Fender style headstock with Grace's heart signature on the back, gold hardware, and offset input jack. The body is constructed of laminate Sapele, a resilient material that emulates mahogany in terms of tone and look, with a dark, glossy walnut finish.
This ukulele was made to do what Grace does best: perform live. This is achieved with a Fishman Kula preamp system, as well as a built in Fishman Tuner. Fishman preamps are extremely reputable and work well under a wide array of applications.
The Grace VanderWaal Signature Ukulele is practical and ready for the road, but is reflective of its artists' name with its fun and unique style, making it an inspirational companion for songwriting, too.
Hear it in Action:
Conclusion
All of the ukuleles on this list are top quality, and you really can't go wrong with any of them. But each of them is unique in their own way and have their own tone and feel. The reviews and videos above should give you an idea of which one is best for you.
The ukulele is a wonderful instrument and it's quite fun to play. It's also one of the easiest instruments to learn and it's very affordable compared to other instruments. If you want something that's a little larger and deeper than a soprano uke, a good concert ukulele may be the perfect instrument for you.