From its easy-to-handle size to its happy sound, the ukulele is just a fun instrument to play. And compared to the guitar, it's fairly easy to learn. Ukuleles only have four strings, and the narrower neck makes chord changes easier and smoother. The more basic and often used chords are also located in the first five frets, and you can play a whole bunch of popular songs on the ukulele with just a handful of easy chords.
This makes the ukulele a great instrument for beginning musicians. While other instruments may require some sort of formal training, the ukulele doesn't need much to make it sound good. Even just strumming a few simple chords on a ukulele is fun and awesome. The punchy tones of the ukulele ensure that any song, regardless of technique, sounds entertaining at the very least.
There are many different sizes, ukulele types, and brands of ukuleles out there, so what's the best ukulele for beginners?
Well, it depends on you. In general, we recommend concert ukuleles as the best ukulele size for beginners. But if you have smaller hands, you should definitely go for the soprano ukes. People with very large hands probably find a tenor to be a better fit.
Concert ukes are a happy medium. I usually switch between a soprano and concert size, because I find tenors to be too bulky and the wider frets means I have to stretch my fingers more.
In this article, we've put together a list of the best beginner ukuleles, pulled from among our top picks for best ukuleles overall. Using this list, you should be able to find a good beginner ukulele that works for you.
Top 5 Best Beginner Ukuleles: Our Picks
1. Kala KA-C Satin Mahogany Concert Ukulele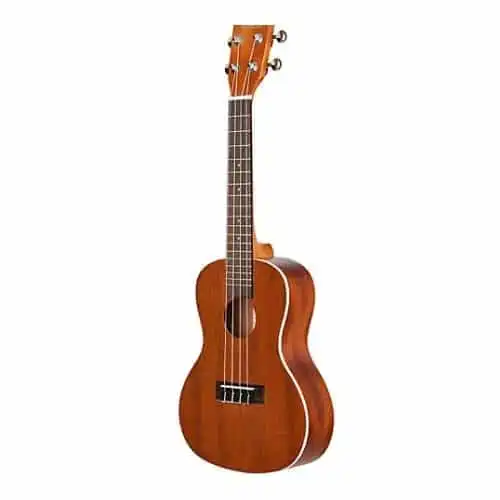 Kala is a popular manufacturer of ukuleles, and no list would be complete without including one of their ukes. The Kala KA-C Satin Mahogany Concert ukulele is a beautiful instrument. The body and neck are made of a rich mahogany, while the fretboard is made with rosewood. The KA-C also comes with premium Aquila Nylgut strings, arguably the best brand of ukulele strings.
This ukulele also comes in a soprano-sized version, the Kala KA-S, for those of you looking for something smaller or closer to the original ukulele. However, the soprano may not have as full a sound as the KA-C, given its size.
Hear it in Action:
2. Cordoba 15CM Concert Ukulele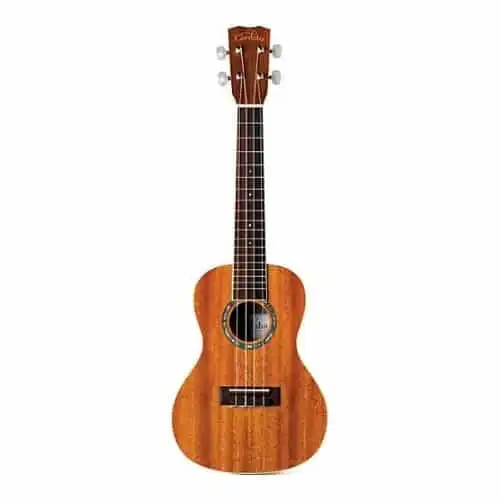 The Cordoba 15CM is a concert-sized ukulele from Cordoba, and it's a great ukulele to start off with. It features a full mahogany body adorned with ivoroid binding and a beautiful abalone rosette. This ukulele is completely handmade, and the quality of the construction definitely shows.
The details of the 15CM aren't the only highlights of this ukulele. 15CM also has a beautiful tone. The sound is very punchy and showcases the Hawaiian vibe nicely. The overall quality and sound rivals that of ukuleles many times its price. If you want great sound at a great value, this one of the best beginner ukeleles.
Hear it in Action:
3. Protege by Cordoba U1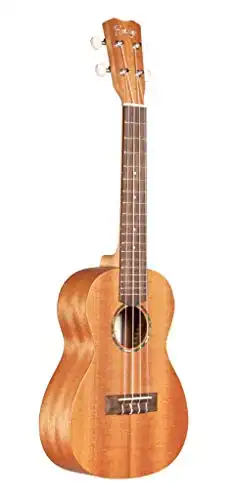 Cordoba makes some of the finest ukuleles you can buy, and the ukes in their budget Protege line are no different. The Protege U1 concert ukulele is an all-mahogany uke that brings high-end quality to the affordable ukulele space. Featuring rosewood bridge and finger board, mother-of-pearl rosette, and a beautiful satin finish, this little uke looks like it costs many times what it does.
And the U1 doesn't just look good – it sounds good too. This ukulele can go toe-to-toe with intermediate ukuleles in terms of sound, and it's the easiest uke to play of any in the budget class. For quality construction, great sound, and looks that will turn heads, you can't go wrong with the Cordoba Protege U1.
Hear it in Action:
4. Kala MK-S Makala Ukulele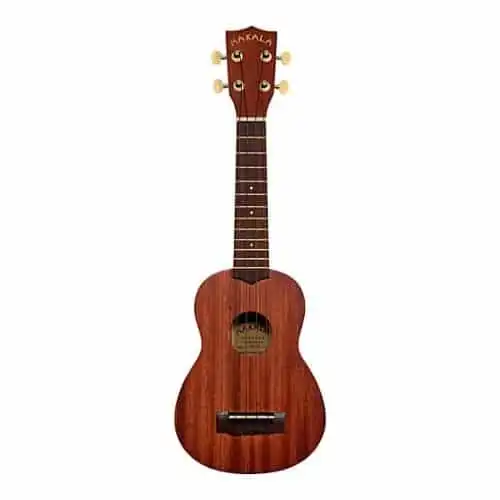 Makala is Kala's budget-friendly line of ukuleles, but these ukes still pack a punch. Because of the lower price point, the Makala line of ukuleles won't be the most stylish, but they do offer superb quality, sound and playability, especially when compared to other ukes in this price range.
The Makala MK-S ukulele is a very straightforward instrument with wonderful sound quality and solid construction. It's definitely much higher quality than the plastic off-brand ukuleles that litter many chain music stores. Because of its quality and lower price point, the Makala Soprano is a good ukulele for beginners. This ukulele also comes in concert and tenor versions.
Hear it in Action:
5. Luna Tattoo Mahogany Concert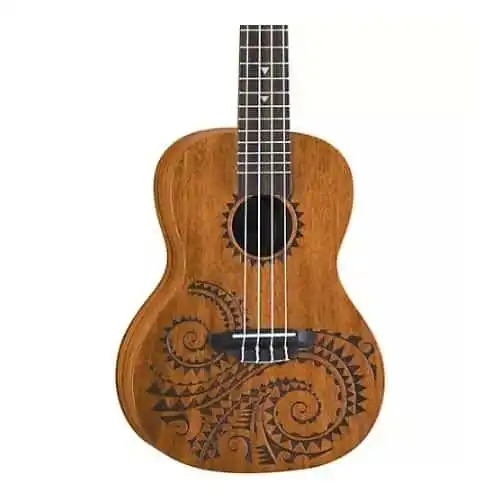 Luna Tattoo ukuleles are incredibly unique and beautiful. The Luna Tattoo ukuleles feature laser etched tattoos depicting nature-inspired symbols such as stones, waves, fish, and turtles. The tattoo is symbolic of Hawaiian culture, and celebrates the origins of the ukulele. The Luna Tattoo Mahogany Concert's tattoo design is inspired by waves, and it also features shark teeth fret markers. 
But looks isn't the only great thing about this ukulele. The Tattoo Concert features a spruce top, and packs a bright and rich tone at a reasonable price. This uke is easy for beginners to play, and it also holds a tune pretty well (a common problem among ukuleles). This is a great uke that performs as well as much more expensive instruments – and rivals them in looks, too!
Hear it in Action:
Conclusion
There are many ukuleles out there for all different budget and skill levels, but these are five of the best beginner ukuleles available. These brands and models combines quality, tone, playability and affordability into packages that are perfect for beginners.
The ukulele is a blast to play, and it's easier and cheaper to get started than with other instruments. Buy one of the ukuleles on this list, and you can be making fun, great-sounding music in no time!