Few musicians have managed to reinvent themselves the same way Eddie Vedder has over his varied career. Best-known as the frontman and one of the guitarists of the American grunge rock band Pearl Jam, Vedder showed a totally different side of himself, both musically and personally, when he released his 2011 album Ukulele Songs.
Eddie Vedder has released several great songs where the ukulele takes center stage, earning the respect of ukulele players and fans alike. This has inspired fans worldwide to pick up a uke for the first time and has left many others wondering what ukulele Eddie Vedder plays.
Eddie Vedder plays a range of ukuleles, but his current favorite seems to be the Mya-Moe Striped Myrtle Tenor Classic Ukulele. This article discusses Vedder's musical career and the ukes he uses.
Who is Eddie Vedder?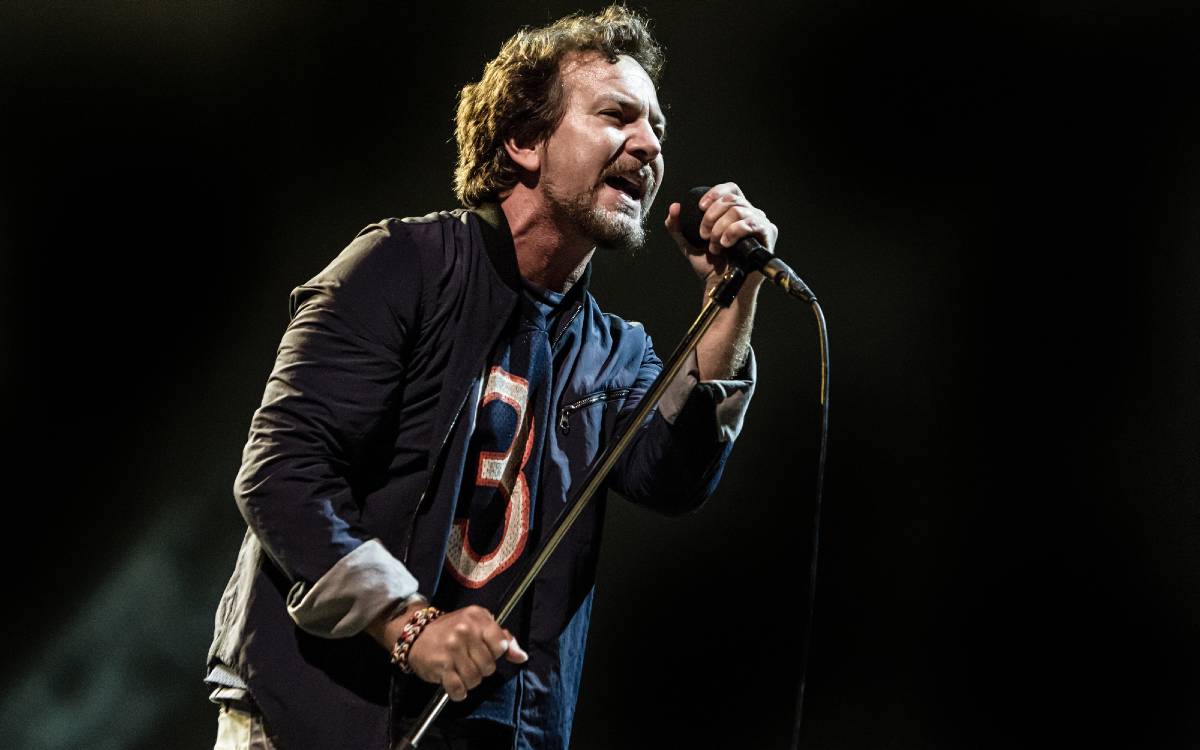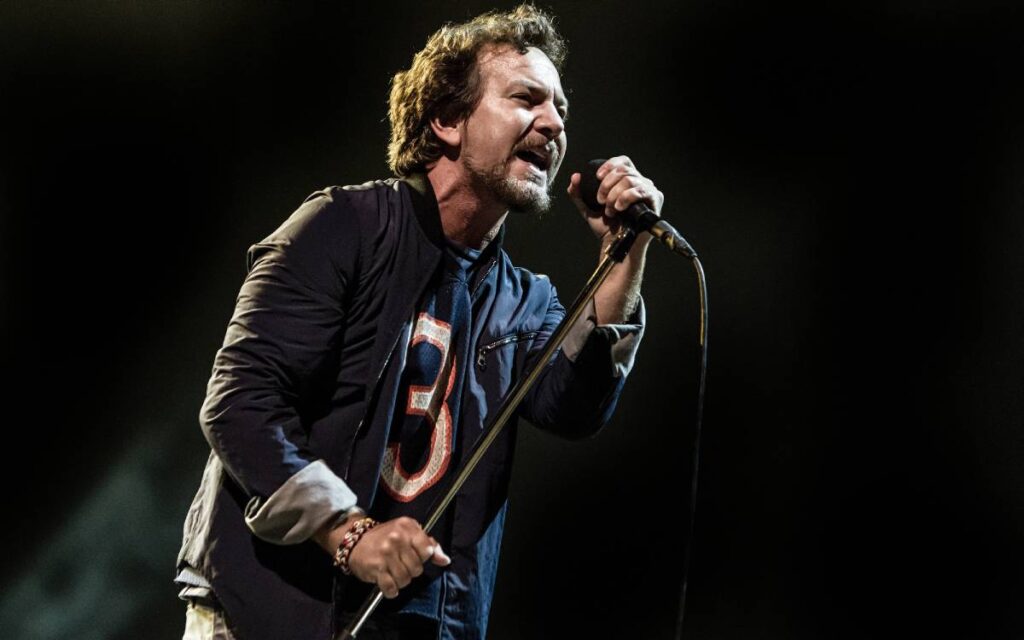 Eddie Vedder was born in Chicago, Illinois, and grew up in a busy home surrounded by foster siblings. Vedder's family relocated to California when Vedder was 12, and he received a guitar shortly after for his birthday. Vedder began turning to the instrument as an outlet and experimented with songwriting as he grew older.
Pearl Jam
Eddie Vedder lived in California when he first heard of the band that would later become Pearl Jam. A friend played Vedder the band's demo tape, and he promptly recorded some vocals for the tracks and mailed them to Seattle, where the band was based. The band was impressed by Vedder's lyrics and unique baritone voice, so they invited him to join the group.
Pearl Jam was formed officially in 1990 and released their debut album Ten the following year. The album went on to be one of the best-selling albums in an alternative genre of that decade, and Pearl Jam saw a meteoric rise to stardom. This was due in no small part to the explosion of the Seattle grunge scene, which Pearl Jam was a part of.
Since the group's formation, Pearl Jam has recorded, released albums, and toured throughout the 1990s, 2000s, and 2010s. Pearl Jam's most recent album, Gigaton, was released in 2020. Eddie Vedder has also worked actively as a solo musician throughout this period.
Ukulele Songs Era
Vedder's first solo album was his soundtrack for the film of the same name, Into the Wild. A few years later, Eddie Vedder released Ukulele Songs, primarily based on Vedder's ukulele playing and vocals. The album marked a new emotional and artistic direction in Vedder's work, with a closer, more intimate feel than Pearl Jam's music. Still, Vedder managed to employ the ukulele in a way that feels somehow familiar and appropriate.
After releasing Ukulele Songs, Vedder embarked on a solo tour of parts of the US and Europe to promote the album. Since then, Vedder has continued to record and perform as a solo artist and a member of Pearl Jam. Vedder's ukuleles still make up a large part of his sound and approach as a solo artist.
What Ukulele Does Eddie Vedder Play? A Guide to Vedder's Ukuleles
As mentioned above, Vedder has several ukuleles that he likes to employ for live performances and studio recording. Vedder seems to have a penchant for unconventional instruments; he opts for ukes with more than the standard four strings or other less-than-typical characteristics.
One thing worth noting about Vedder's ukulele collection is that he predominantly plays tenor ukes. This is noteworthy because soprano ukuleles are easily the most popular, widely-used type of uke out there. Vedder may prefer tenor ukes because they have a deeper, richer sound that complements his vocals. Also, fingerpicking and certain strumming styles are easier on tenor ukes due to the wider string spacing.
Mya-Moe Striped Myrtle Tenor Classic Ukulele
The Mya-Moe Tenor that Eddie Vedder plays seems to have been made custom for him, so there isn't much information available online about the instrument. Still, what we do know is that the uke was made by Mya-Moe, a boutique luthier based in Glenview, Illinois.
This is just one of the custom ukuleles that Vedder has in his collection. The Mya-Moe is made from myrtle with an ebony fretboard and oil finish. In addition, it's an acoustic-electric uke, meaning that it comes with pickups. This is crucial for live performances when it can be challenging to hear a small instrument like a ukulele over other instruments, especially if you're playing a melody line.
In addition to the tenor uke they built for Vedder, Mya-Moe has also crafted ukuleles for Dave Matthews, and Marcus Mumford of Mumford and Sons fame.
DeVine Tenor Ukulele
Eddie Vedder's tenor ukulele by DeVine Guitars is another great instrument made by a boutique luthier. However, as with the Mya-Moe, this uke was custom-made, making it tricky to find much information about it.
What we do know, however, is that the DeVine appears to be one of the ukuleles that Vedder played on Ukulele Songs. The DeVine sounds warm and clear and lends itself well to playing chords and accompaniment. If you want to hear it for yourself, then make sure to give Ukulele Songs a listen.
Kamaka Tenor Ukulele
Yet another tenor in Vedder's collection, Kamaka describes this ukulele as having a full-bodied sound. This makes it an excellent choice to go alongside Vedder's singing, so it's not surprising that he's a big fan of the Kamaka.
Martin Tenor Ukulele
Martin has a reputation for making high-end acoustic guitars, but it's also one of the most established ukulele brands and expert luthiers for ukuleles. Vedder's Martin is a tenor ukulele made of koa wood, arguably the most traditional choice of wood for ukuleles.
According to the manufacturer, this little dream of an instrument has a bright, bubbly sound, which would make it a nice counterpoint to some of the other, darker-sounding ukuleles in Vedder's collection.
Kamaka 6-String Ukulele
Vedder's Kamaka 6 string is one of his less conventional instruments, as it's essentially a cross between a guitar and ukulele. This guitalele has 6 strings, with the top and bottom strings being tuned to the same note in different octaves.
Interestingly, this 6-string ukulele was designed in 1959 by Sam Kamaka Jr to commemorate Hawaiian statehood and Hawaii's last reigning monarch, the late Queen Liliuokalani. Later, in 1978, the White House was presented with a Kamaka 6-string ukulele as Hawaii's 'regional gift.'
Ceniza 5 String Ukulele
Handcrafted in Oahu, Vedder's 5-string Ceniza ukulele is made from top-quality Hawaiian koa wood and features even, rich resonance throughout the lows, mids, and highs. In addition to the body of the instrument, much of this ukulele's hardware, like its fretboard and bridge, are made from koa as well, giving this uke a rich and unique character.