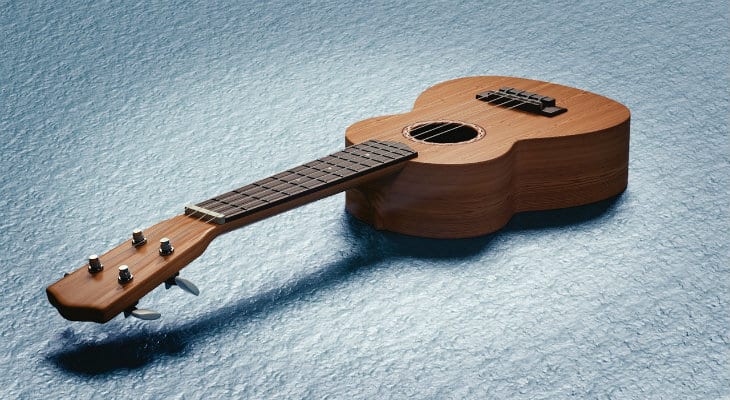 Best Ukuleles Under $100: 2017 Guide to the Best Cheap Ukuleles
I know for some beginners who have yet to buy their first ukulele, actually pulling the trigger seems daunting. Maybe you want to go the cheapest you can possibly go because you're not sure if you're going to enjoy it. If you're looking for the best cheap ukulele, I have one tip to give: Don't be too cheap.
It's great to have a budget that you want to work with, but you also don't want to purchase something that's more of a toy than an actual instrument. If you're looking to go really cheap, you'll definitely find several ukuleles that go for as little as $15-$20. But you'll sacrifice a lot in quality, and ultimately you have to ask yourself if it's really worth it.
If you go way too cheap on a uke you may be compromising on construction, sound and playability. Trust me. I've seen shoddy craftsmanship from brands I've never heard of before. Even if you slap on good strings, a poorly made ukulele won't sound nearly as good as a quality ukulele. And if your ukulele doesn't sound good or if it's too hard to play, you might end up getting frustrated and giving up on the instrument altogether.
But there are some great inexpensive ukes out there. The ukulele is a unique instrument in that they can have that rare balance between quality and affordability. If you pick the right one, you can get a good uke without breaking the bank.
With so many low-priced options out there, it can be a bit of an ordeal trying to narrow it down. In this article, we've put the cap at $100 and worked our way down to create a list of the best ukuleles under $100.
Makala is the budget-friendly line of the popular Kala brand of ukuleles. The Makala MK-S, in particular, is a good, solid soprano ukulele, and is especially good for beginners. The MK-S plays well and sounds fantastic. The tone is incredibly warm and rich, especially for this price range.
The MK-S is made with agathis, which is very similar in tonal properties to mahogany, but it's much less expensive. Which is how Kala can get away with selling a ukulele like this for so little. It also features a mahogany neck and rosewood fingerboard and bridge. The MK-S is devoid of any frills or decorations, another cost-saving measure. But with its simple looks and great tone, the MK-S doesn't mess around.
2. Mahalo U-30 Painted Soprano Ukulele
Mahalo is known for their entry level ukuleles, and they have many great budget options. The Mahalo U-30 is a great low-priced ukulele and has many great features that will suit beginners and intermediate players alike. Sturdy maple construction gives it a bright and twangy tone, and it offers fantastic playability.
From deep blue to baby pink, this fun ukulele comes in a variety different colors to choose from, and it even comes with a matching gig bag. One downside of this uke is that it comes with subpar strings, so you may want to restring this uke with some good ukulele strings for a quick upgrade.
The OU2 from Oscar Schmidt is a gem. Don't let the price fool you, this ukulele packs a good punch. The sound is brilliant with that twang most associated with the Hawaiian sound. This uke is made with mahogany and built with the utmost care. And with Oscar Schmidt's rigorous inspection process you know you'll always get an quality instrument from them.
As with many ukuleles in this price range, the OU2 comes with generic black plastic strings. It's a good idea to change these out for better strings. Once you do, you'll have a solid ukulele that sounds great and is fun to play, all at an affordable price.
It's impossible to have a list of great ukuleles without including at least one Kala model. Although we've previously talked about Makala, the brand's budget range, Kala itself also has budget-friendly offerings that you should definitely consider.
The Kala KA-S just might be the best ukulele for the money overall. It features a beautifully crafted mahogany body and neck, and a rosewood fingerboard and bridge. These all combine to create a beautifully deep and sweetly mellow tone. And as an added bonus, it comes already strung with premium Aquila nylgut strings. Because of its top notch quality, great sound and affordable price, the KA-S is a great option for beginners to the ukulele.
Luna Honu soprano ukulele is a little pricier than the other models on this list, but it's still under our $100 threshold. The Honu is one of the least expensive ukuleles in Luna's lineup, and it comes highly recommended by anyone who has tried an instrument from this great brand.
The Honu has a bold look, and there is nothing lacking in aesthetics with this uke. The Honu's design is based on its namesake, the Hawaiian turtle Honu, which is symbolic of perseverance and longevity. The Honu is featured in the Polynesian-style tattoo on the body of the instrument. The instrument itself is made in rich mahogany and stylized shark's teeth mark the frets. But looks aren't the only thing this uke has going for it. It has a beautiful tone and rich tone, and is really fun to play.
Conclusion
Because of its relatively low price, the ukulele is a great instrument if you want to get started playing music. Even higher end ukes cost about the same as good entry level guitars. If a guitar, mandolin, banjo or other instrument is too expensive or intimidating, the ukulele may be the instrument for you.
As you can see from our list of the best cheap ukuleles, there are some great ukes out there even if you don't have a lot to spend. The ukuleles on this list should provide you with years of fun and musical exploration, and they're all good enough to grow with you as you become a better musician.
Product images sourced from Amazon.com.