Digital pianos make the dream of owning a piano a reality. Acoustic pianos are expensive, need tuning, are difficult to move, and take up a lot of space.
Affordable, high-quality digital pianos offer the same piano sound quality as an acoustic piano, and yet are accessible to more people. Regardless of the size of your budget or the size of your home, you can enjoy all the benefits that come with owning a digital piano.
When it comes to the best digital piano brands, there are some big names on the market that you will be familiar with. Nord, Korg, Casio, and Roland are just some of the industry names that we will look at in more detail.
If you're in the market for a new digital piano, it's important to only buy one from a reputable brand.
When you start shopping for the best digital piano for you, you will quickly realize that there is a wide range of products and piano brands available. There are tons of cheap, attractive-looking digital pianos flooding Amazon and elsewhere. It's overwhelming, and it can be easy to make an expensive mistake.
There are too many digital piano brands out there that offer a substandard playing experience. They don't have great sound quality, they don't have a realistic key action, and in they make a lot of compromises. Playing a substandard digital piano will hurt your growth as a musician, and make it harder for you to stick with playing the piano.
Therefore, it's important to spend some time researching digital piano brands in order to help you make the right choice. Let's take a closer look at some of the most well-known and popular digital piano manufacturers around today.
Casio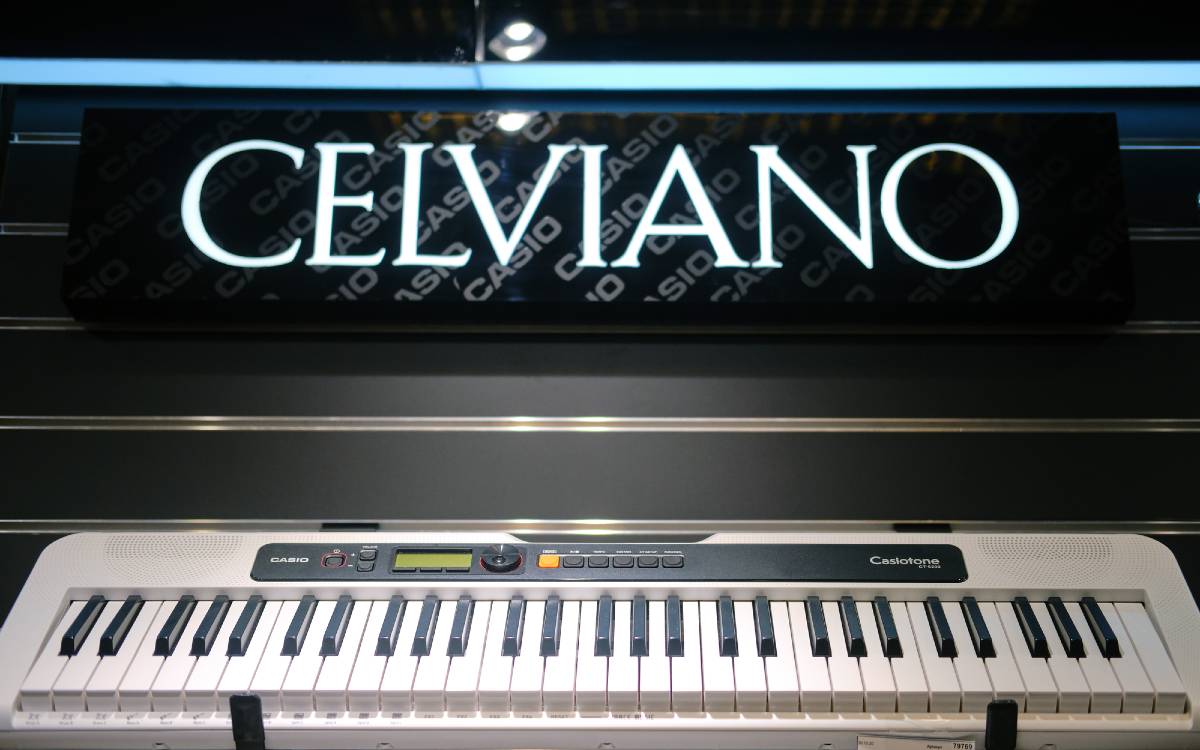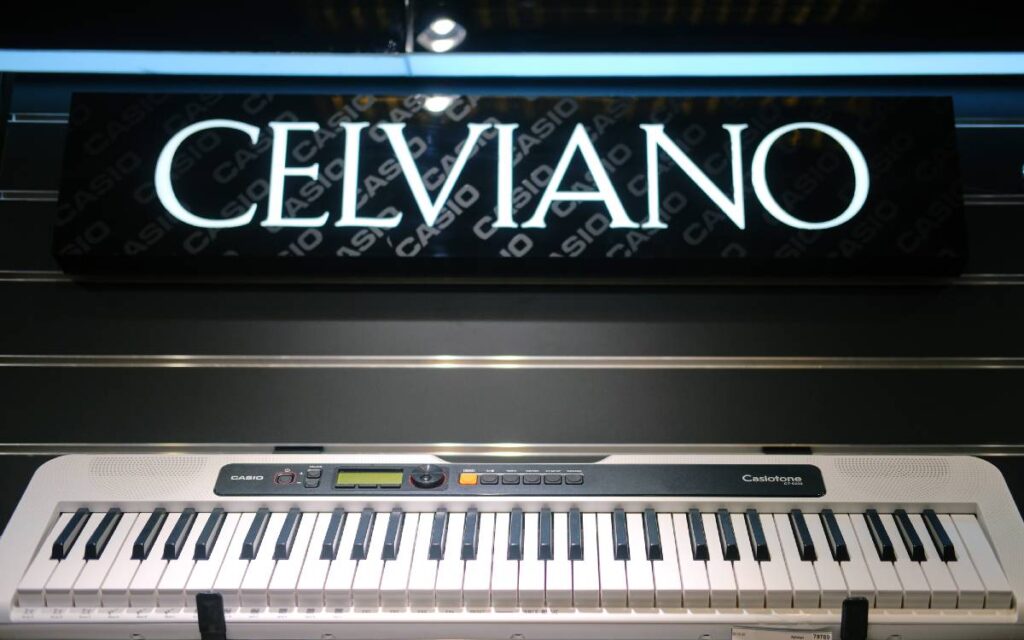 One of the big guns in the world of digital pianos, Casio was founded in 1946. To begin with, the brand was synonymous with their electrical products, and anyone born in the '80s will remember the Casio digital watch.
By the start of the 1990s, Casio's digital pianos were making a name for themselves as leaders in the market. Originally they made some great beginner keyboards, but by 2000 they had become known for producing the some of best digital pianos in the world.
Casio's first digital piano was the lightweight Casiotone 201 electronic keyboard. It had the ability to digitally replicate the sounds of various musical instruments. At the time of its inception, it was classed as neither an electric organ nor a synthesizer.
Since the launch of the Casiotone, Casio has become a leader in the world of digital keyboards and now produces five major product lines.
All good digital pianos should come with weighted keys to give the feel of playing a traditional acoustic piano. Their digital pianos feature Casio's unique Tri-Sensor Scaled Hammer Action Keyboard II.
Casiotone LK-250: This digital piano makes learning easy with its Key Lighting System. The keyboard plays a song and the keys light up making it easy for the learner to play along.
The LK250 has 61 keys and includes lessons and can be used in conjunction with the Chordana app.
Casiotone CT-S200: A version of Casio's original keyboard is still available to buy today, although it's been updated today's market. Casio has created a more portable model but it still features the original Casiotone sound.
The CT-S200 features 400 tones, 77 rhythms and a song bank of 60 songs.
Privia PX-S1100/PX-S3100: According to a survey carried out by Casio in 2019, the Privia is the world's slimmest digital piano to feature 88 hammer actions keys and built in speakers.
The PX-S1000 includes Bluetooth™ audio which enables the piano player to accompany their favorite piece of music. The Privia offers a wide range of sounds including stage piano and strings and it faithfully replicates the sound of a grand piano.
Celviano Grand Hybrid: The Celviano is one of the best upright hybrid pianos on the market. The tones of the Celviano were developed from sounds of three grand pianos.
It comes with long wooden piano keys and grand piano style hammers. The keys were developed in collaboration with the famous Bechstein piano company of Germany. The sound it produces is as a result of Casio's AIR (Acoustic and Intelligent Resonator) Grand Sound Engines.
CT-X Series: Casio's stage piano features their AiX Sound Engine. It includes 800 preset tones, and reproduces the sound of various musical instruments including drums and strings.
This exceptional keyboard is suitable for performances and music production.
Kawai
One of the best digital piano brands out there, Kawai was founded in Japan in 1927. Kawai started making acoustic pianos over 90 years ago before branching out into digital piano production in 1986. They are considered a technological leader in the area of digital pianos.
Kawai digital pianos come in six major product lines.
CA Series: Kawai's "Concert Artist" series of digital upright pianos has received 14 awards over the past 20 years. The CA series introduced Kawai's Harmonic Imaging Sound Technology, digital pianos that use wooden keys and authentic acoustic piano key movement.
CN Series: The CN series replicates the piano tone of the Shigeru Kawai SK-EX Concert Grand Piano using Progressive Harmonic Imaging technology.
This series uses the Responsive Hammer III key action. The sound system within the CN series was developed using key components from audio equipment specialists Onkyo.
Mobile devices can connect directly to the piano using the Bluetooth feature.
KDP Series: The KDP series uses Kawai's Responsive Hammer Compact (RHC) action throughout all 88 grade weighted keys. The result is an authentic touch that faithfully replicates that of an acoustic piano.
The KDP includes a wide selection of dynamic instrument voices, built-in lesson songs and the ability to record and playback your performance.
ES Portable Series: All of the digital pianos above are uprights. The ES series is Kawai's range of portable digital pianos.
The ES system is a popular choice for home, school and stage pianos. It uses Kawai's Responsive Hammer Compact II key action system.
Kawai has also recorded and reproduced the sound of all 88 keys of their acoustic grand pianos using Progressive Harmonic Imaging™ sound technology. This mean that the ES digital systems produces the same quality acoustic piano sound.
MP Series: The MP series represent Kawai's line of stage pianos. The wooden-keys recreates the natural feel of an acoustic instrument making them a good choice for professional musicians.
The piano features a wide selection of realistic electric piano and other sounds.
DG30 Digital Grand Piano: A recent addition to the Kawai family of digital pianos, it features the Responsive Hammer III keyboard action and acoustic piano sound of the Shigeru Kawai SK-EX. providing a more natural and realistic playing experience.
The sounds are delivered through a 4-speaker sound system developed in collaboration with audio specialists, Onkyo.
The design of the piano includes traditional features like a long and short lid prop to enable partial or full lid position. The use of modern technology in this series means it is perfectly at home in concert halls.
Yamaha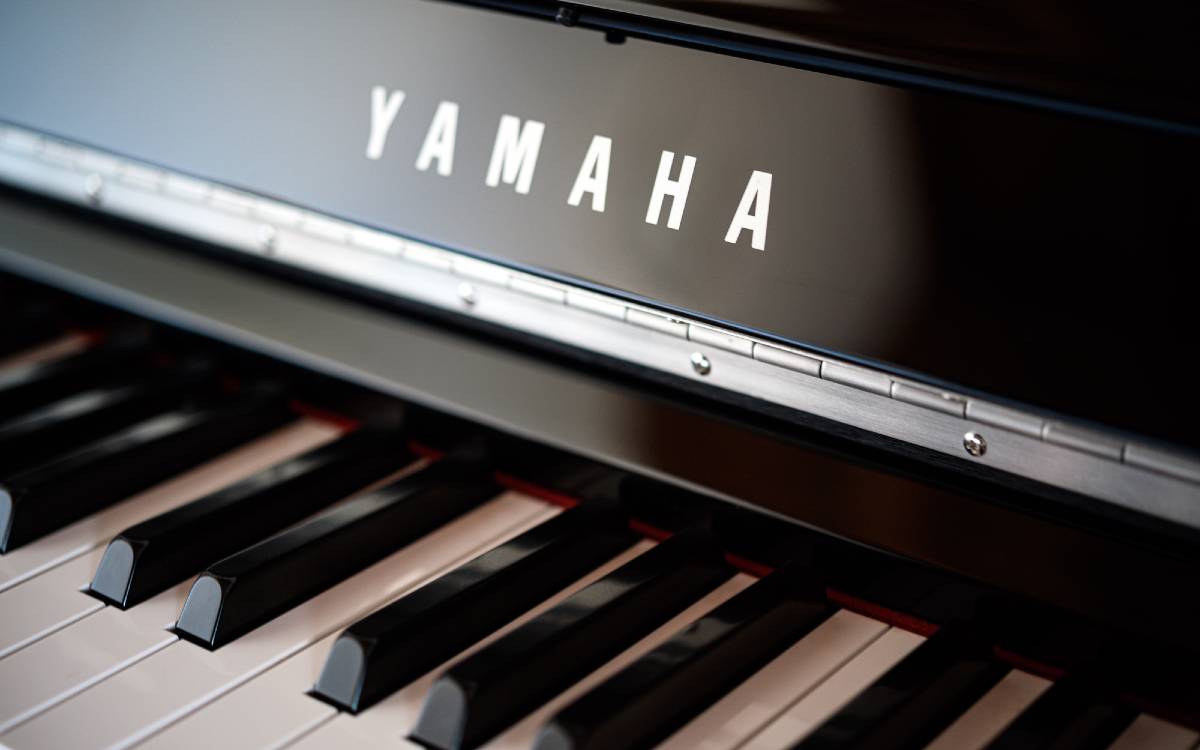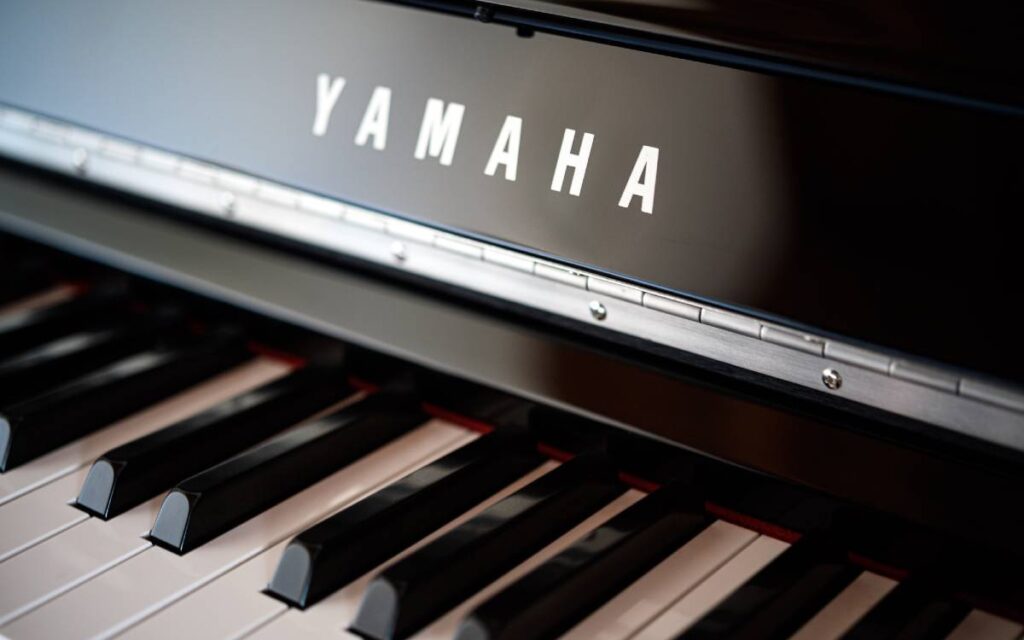 Established in 1887 as a reed organ manufacturer, Yamaha is now the world's biggest manufacturer of pianos.
The Yamaha name is synonymous with the piano and they produce some of the most popular digital pianos available today.
Yamaha digital pianos faithfully recreate the sounds of their acoustic counterparts.
Yamaha use the natural sounds produced by their flagship CFX and Bösendorfer Imperial concert grands and use a binaural recording process to faithfully recreate their sounds.
Yamaha digital pianos are available in four major product lines.
Clavinova. Yamaha first introduced their popular electric piano In 1983. The Clavinova range is still available today and is being constantly upgraded to include new modern features.
Yamaha offers a vast range of digital pianos within their Clavinova CLP, CSP and CVP series. At the lower end of the spectrum you can still buy an affordable piano that sounds incredible and plays well. Digital pianos in this range are available with either Yamaha's GrandTouch™ Keyboard or a graded hammer keyboard.
The Clavinova has a piano for every stage of your musical journey. From beginners through to professional musicians, singers and recording artists.
Arius. The Arius is an affordable digital piano which includes all the features and digital technology we expect from Yamaha.
Even though the Arius range of digital pianos are considered best suited for beginners, that doesn't mean they are low quality. All Arius digital pianos come with graded hammer action keys and have the same touch and sound of a classic piano.
Portables. Yamaha have six models within their portable range of digital pianos, the P series in particular is affordable and accessible to all. The DGX series is suited to musicians who want to record their music.
What makes the Yamaha piano brand portables stand out from other manufacturers, is that almost all pianos in this range come with the full 88 keys.
All of Yamaha's portable pianos come with the CF or CFX sound engine.
Roland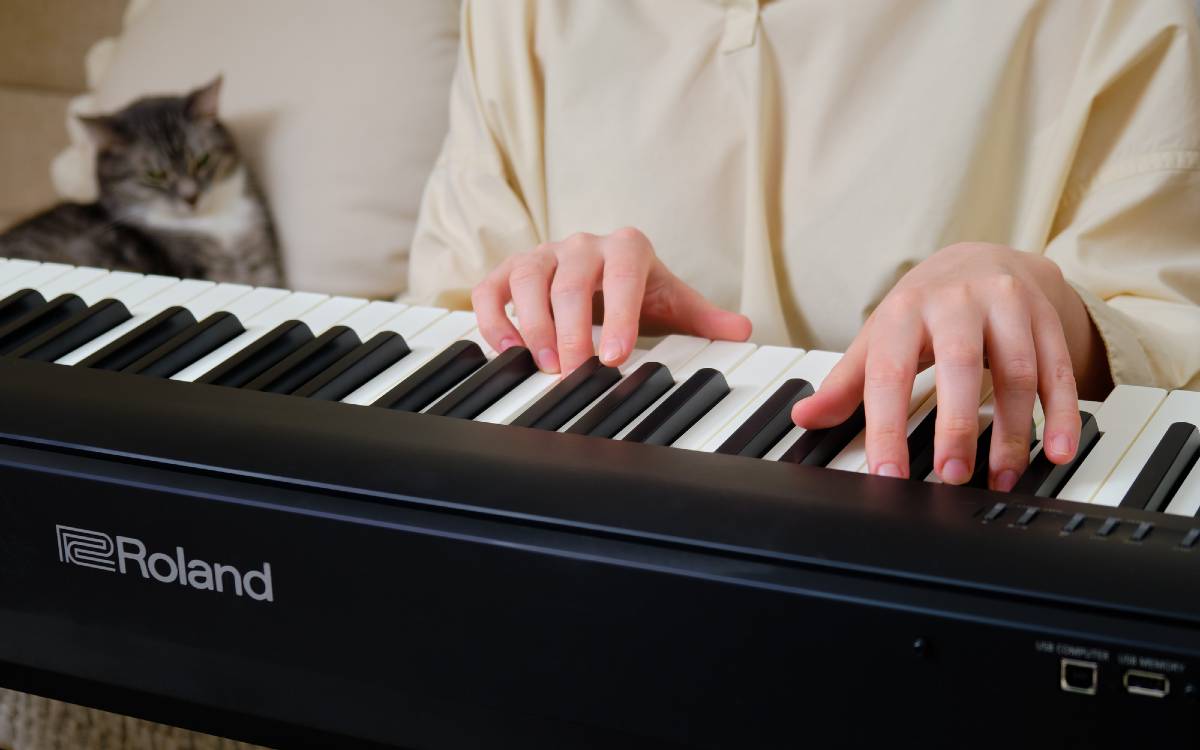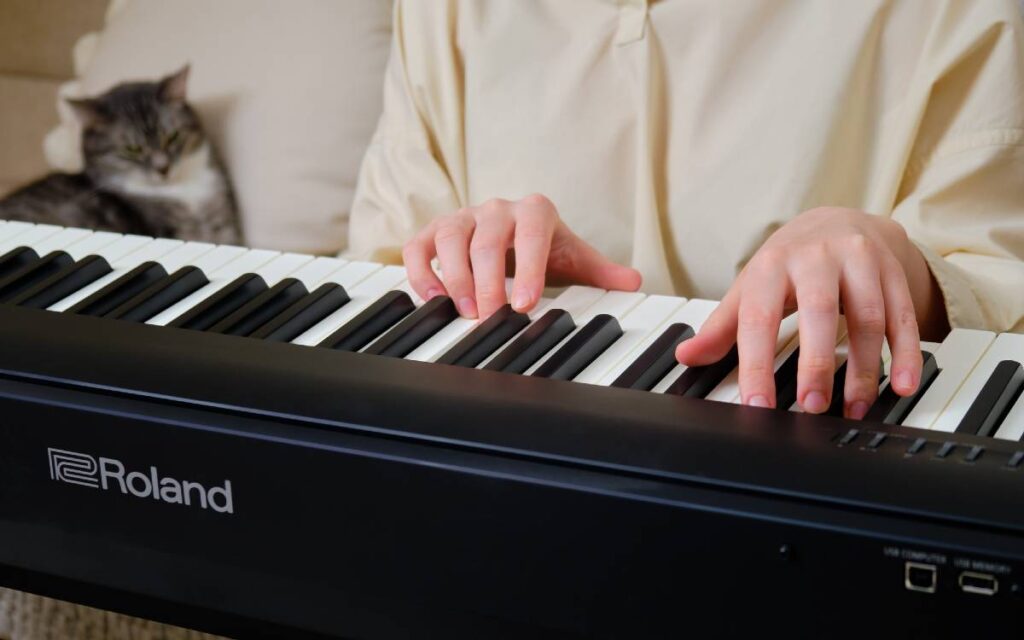 Roland was founded in 1972 in Osaka, Japan with the goal of making electronic instruments available to hobbyists and amateurs. Up until then, advanced digital instruments made by the likes of MOOG and ARP were only accessible to professionals.
Roland digital pianos now come in a huge range including grand pianos, premium upright pianos for professional musicians, uprights for home and learning, portables and stage pianos.
You can easily feel overwhelmed by the huge variations in Roland digital pianos, so let's take a look at their most popular ranges.
FP Series. The Roland FP series is probably one of the best know brands of portable digital pianos. All of the pianos in this series, except for their flagship FP-90x, feature Rolands PHA-4 Standard key action. PHA stands for Progressive Hammer Action and is found is all of Roland's entry-level and intermediate digital pianos.
All digital pianos in the Roland FP series come with Roland's innovative SuperNATURAL sound engine.
RP and F Series. Both are console designed upright pianos that look very similar. The major difference is the RP comes in a traditional cabinet style while the F is s a more slimline version.
They both have similar features to the Roland FP series including the PHA-4 Standard key action and SuperNATURAL Piano Sound
DP and HP Series. These series are more suited to intermediate and advanced players. Both digital models use a more advanced SuperNATURAL sound and include the PHA-50 keyboard action which uses triple sensors and real wood in the construction of the keys.
LX Series. Featuring Roland's PureAcoustic Piano Modeling technology which recreates the grand piano sounds of a Steinway piano.
This series includes a Hybrid Grand Keyboard which takes the PHA-50 keyboard and increases the key length. With the addition of 8 speakers and Roland's Acoustic Projection System you get an impressivly realistic sound.
Korg
Founded in 1962, Korg are known for their synthesisers, professional recording equipment, music software and DJ tools and workstations.
They produced their first digital pianos pianos for home use in the 1980s. As you can imagine, with the history behind the company, Korg digital pianos use advanced technology to recreate the sound of acoustic pianos.
Let's take a look at some of their ranges.
G1 Air and C1 Air. Both are similar in look and feel but it's the G1 Air that is Korg's flagship digital piano. As you would expect from their high end digital piano the full size keyboard features Korg's Real Weighted Hammer Action 3 (RH3)
The sound is produced by Korg's PCM sound generator which which uses stereo multi-layered samples from three of the world's finest concert grand pianos from Germany, Austria, and Japan.
B1. The B1 is Korg's entry level digital piano but is by no means just a stripped down version of its other, higher end digitals pianos.
The B1 benefits from KORG's NH (Natural Weighted Hammer) keyboard action.
B2. The B2 series of digital pianos are the next step up from the B1. It includes a new piano sound engine that produces the sounds of a German and Italian pianos, electric piano and organ sounds.
D1. The D1 is a slim, lightweight digital keyboard with all the functionality needed for home keyboardists or those that play piano on stage.
Nord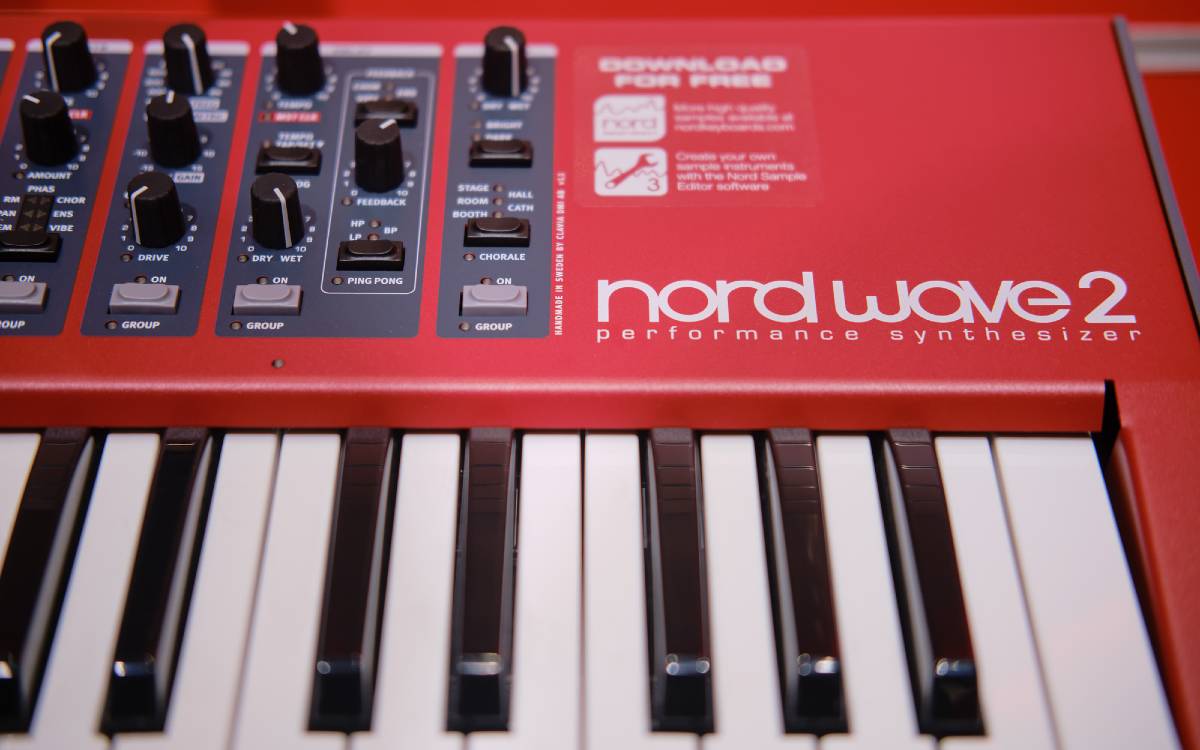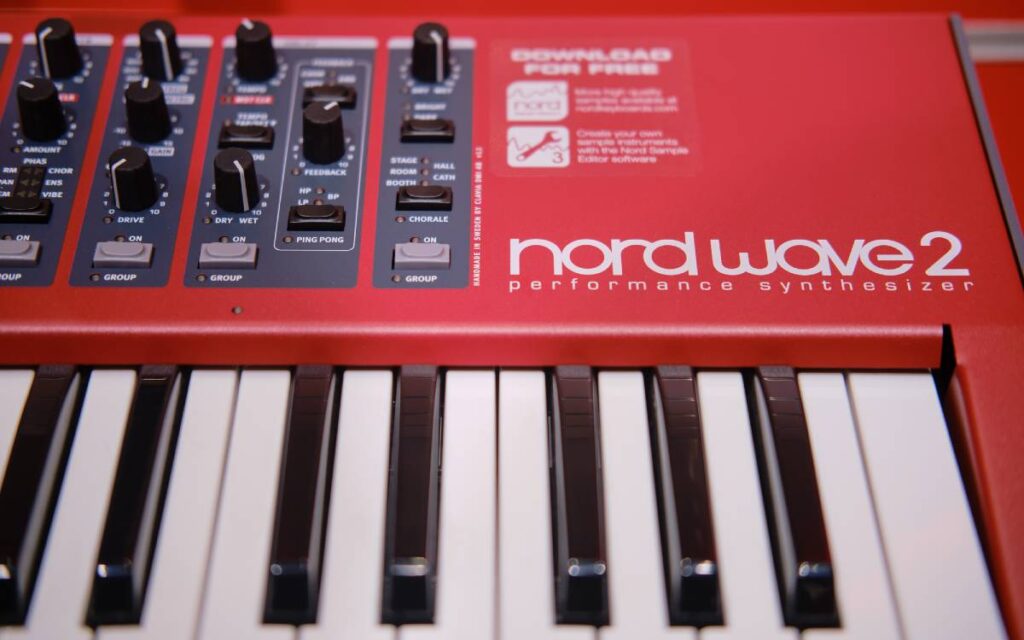 Nord keyboards are manufactured by Clavia Digital Musical Instruments in Sweden. Founded in Stockholm in 1983, Clavia's keyboards carry the brand name Nord.
Nord is a piano brand that is primarily designed for serious musicians and stage performers. So, if you are a beginner looking to find the perfect digital piano, you might want to look elsewhere. Nord digital pianos also come with a high price tag, but if you want an extremely high quality piano for stage performance and cutting edge technology, Nord could have the digital piano for you.
The look of a Nord instrument is hard to mistake. Their bright red pianos are as distinctive as the sound they produce.
Here's an overview of some of their most popular digital pianos.
Nord Piano 4. The keyboard uses Nord's virtual hammer action technology which replicates the touch of an acoustic piano. It includes a factory bank that contains samples of Electric Pianos, Digital Pianos, grand and uprights from the Nord Piano Library.
Nord Stage 3. The stage 3 is a piano, organ and synthesiser in one. The piano section offers a wide selection of electric pianos, digital pianos, Harpsichord and Clavinet sounds from the Nord Piano Library.
Nord Grand. The Nord Grand features a 88 note Kawai Hammer Action keyboard with triple sensors and ivory touch keys. From the Nord piano bank you get access to 9 Uprights, 10 Grands, 10 Electric Pianos, Digital Pianos and clavinet. The piano library is always being updated to give you the latest sounds.
Brands to Avoid
Now that we've spent some time looking at some of the best digital piano brands available today, are there any brands that should be avoided?
There are definitely some lower quality digital pianos out there, that we recommend skipping out on in favor of the best digital piano brands outlined above.
How do you know if a brand is no good?
But how do you know if the brand you want to buy is no good? First the most popular digital piano brands are popular for a reason. They are good quality, household names who have built their brand on reputation.
Read lots of reviews
Of course all brands will have some negative reviews but if the negative outweigh the positive, you should look elsewhere.
Priced too low
Next there's the price. Quality comes with a price tag and their are plenty of good quality affordable digital pianos on the market. Yamaha and Casio both produce keyboards under $300 but they still feel good to play and have some great features.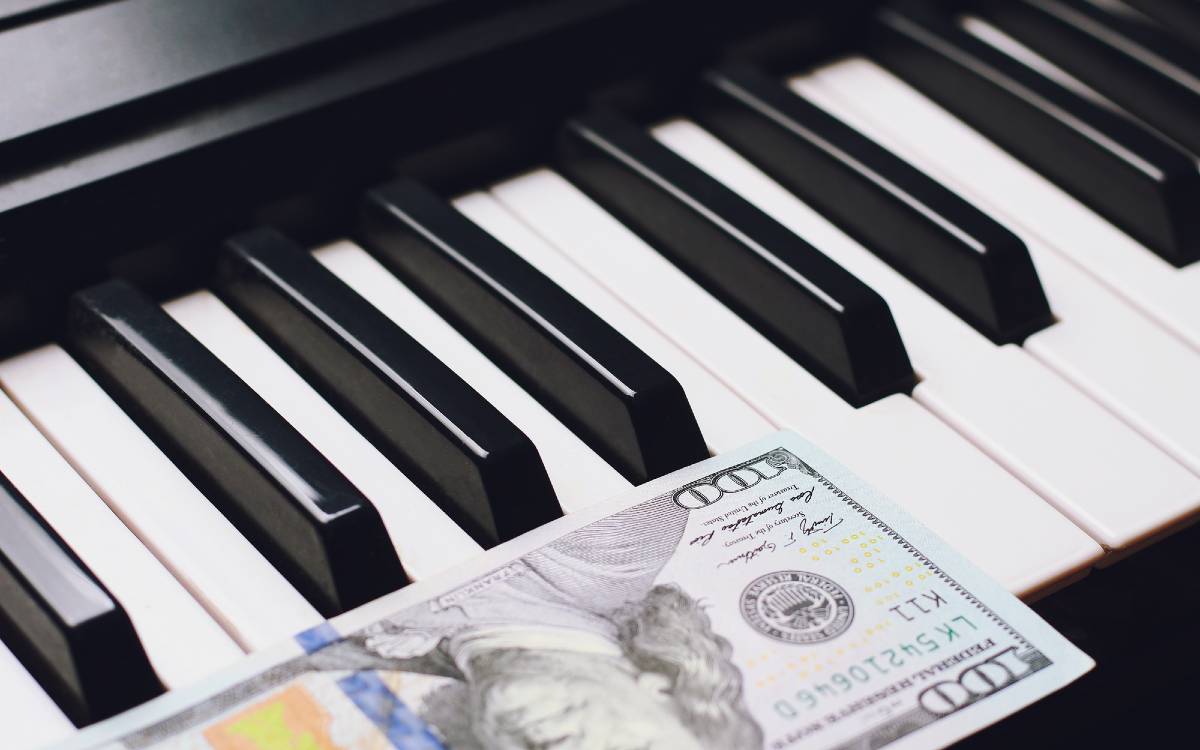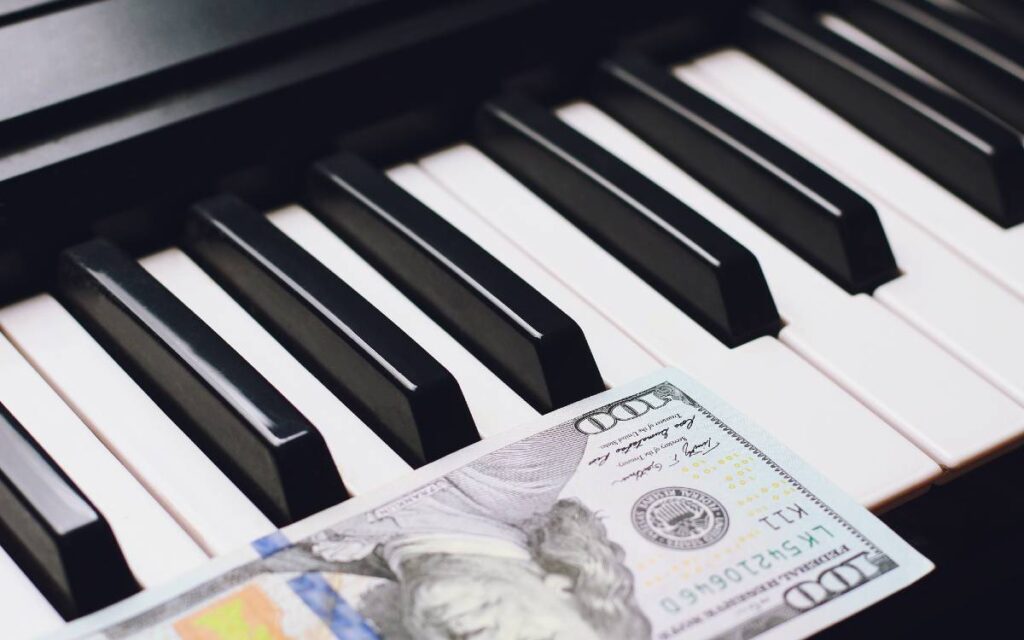 The problem arises when you are promised a whole heap of features but then sit down to an inferior product with plastic feeling and unresponsive keys.
Let's have a closer look at some digital piano brands to avoid.
Williams. Williams digital pianos certainly look the part. They offer plenty of functions and have a fairly impressive sound system. But, unfortunately the playing experience doesn't live up to expectation. The keys are light to touch and don't provide the feel of an acoustic keyboard. They also make noise when playing, and not the right kind of noise!
M-Audio. M-Audio produces budget, entry level keyboards. But do some quick research and you'll soon find negative reviews. In particular, it's the keys that people have the most issue with. Like the Williams keyboards the keys are noisy and click-y, and they lack the feel of traditional keyboard. The keyboards themself are light and flimsy.
Alesis. Aimed at the beginner market, one thing they have in their favor are the semi-weighted keys of their budget keyboards. However that seems to be where the positivity stops. Reviewers have mentioned how the keyboard itself creaks when being moved or played and some have even suggested they feel like playing a toy piano!
Artesia. Artesia digital pianos have been called the worst on the market. Not only are the keys unresponsive but some of the notes are out of tune! How is that possible on a digital piano?
Kurzweil. Kurzweil keyboards do have a relatively good reputation, however it's their KA90 that has caused the most issue with users. Some reviews state that the keys are heavy to play, some notes are louder than others which is problematic when playing chords and the sound quality was poor.