Few companies have been able to offer a wide variety of high quality musical products. But when it comes to digital pianos and keyboards, Roland Corporation has time and again come out with top models that musicians are proud to own.
Roland has been creating innovative musical products since 1972, and Roland digital pianos are known to be reliable, well made, great playing instruments. Roland's professional stage pianos are prized by musicians of all stripes, making them one of the best digital piano brands out there today.
But Roland also makes pianos to fit every need and budget. Our Roland digital piano reviews below go over the best Roland digital pianos to help you narrow down the field.
Top Roland Digital Pianos: Our Picks
Roland RD-2000 Digital Piano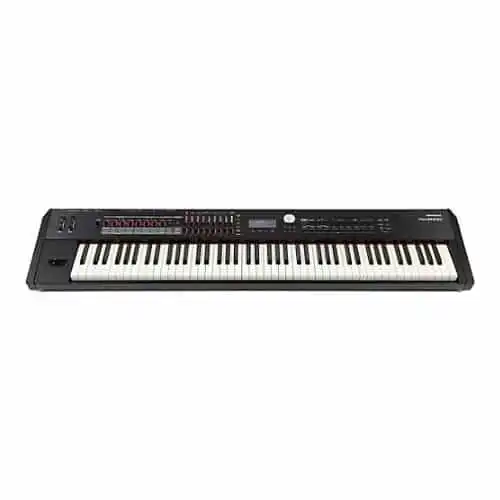 The Roland RD-2000 digital piano is the culmination of their awesome RD series of stage pianos. And this latest model takes digital pianos to a whole new level. Incorporating both Roland's SuperNATURAL and renowned V-Piano sound engines, this ultra-portable piano is capable of the most expressive, true-to-life piano sounds you'll ever hear from a digital instrument.
The RD-2000 not only sounds great – it plays great too. This piano features Roland's superb PHA-50 key action, delivering the weighted feel of real piano keys. This keyboard is also packed with features, sounds, and rhythms that put other digital pianos to shame. Combine that with cool looks and great portability, and you easily have the best Roland keyboard out there.
Hear it in Action:
Roland F-140R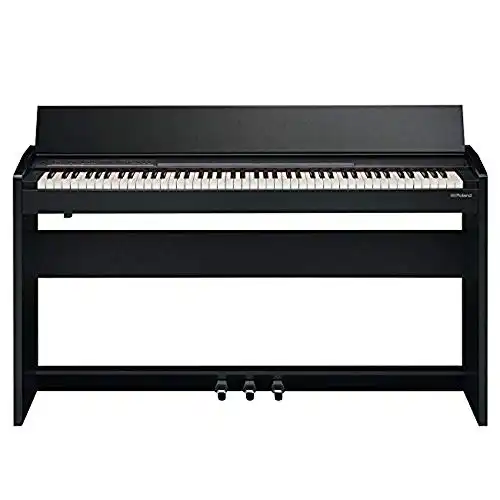 Roland F-140R
Roland's top piano technology in a compact form factor perfect for small living spaces
Check Price on Amazon
If you make a purchase from this link, we earn a commission (at no additional cost to you).
The Roland F-140R Piano offers unmatched simulation of a real piano. The 88-key PHA-III ivory feel keyboard includes Roland's escapement mechanism and even allows you to adjust the feel of the virtual hammer felt. Also, Roland F-140R piano reviews consistently call this one of the best real piano experiences out there.
The F-140R comes with 24 preset tones, 100 user tones and 100 different set-ups. It also allows you to create your own collection or choose from beautifully crafted vintage grand-piano presets. And despite using the latest in digital piano technology, the F-140R is easy to use with its well-designed control panel and simple interface.
Hear it in Action:
Roland FP-30 Piano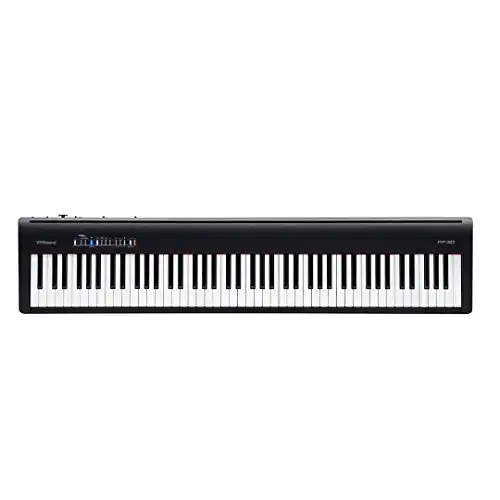 Roland FP-30
Entry-level piano that provides a responsive and realistic piano experience
Check Price on Amazon
If you make a purchase from this link, we earn a commission (at no additional cost to you).
The Roland FP-30 packs authentic piano sound and touch in a compact, easy to carry instrument. This piano features Roland's SuperNATURAL Piano sound engine for realistic acoustic piano tones and a variety of expressive SuperNATURAL-based electric pianos.
The Roland FP-30 has a 64-key Ivory Feel-G keyboard, and Roland piano reviews place the key feel on this model alongside Roland's best. It includes high quality stereo reverb, plus EFX 1 and EFX 2 processors that produce enhancements that are tailored to each of the piano's tone categories. The piano also has 12 versatile tones that include clav and organ sounds.
Hear it in Action:
Roland FP-90 Digital Piano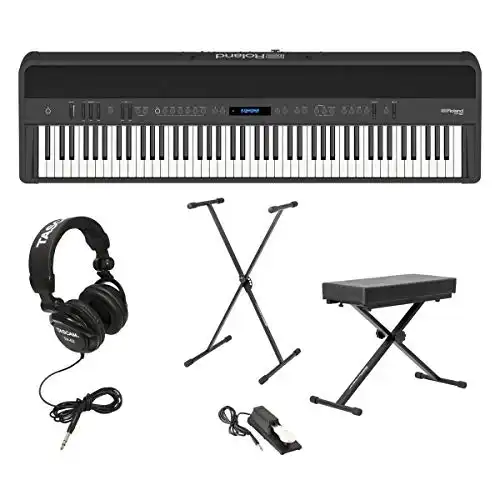 Roland FP-90
Portable and highly realistic digital piano packed with unique features
Check Price on Amazon
If you make a purchase from this link, we earn a commission (at no additional cost to you).
The Roland FP-90 looks great, but this super portable digital piano is more than just a stylish show piece. The FP-90 uses Roland's highly praised SuperNATURAL technology, and delivers natural piano sounds with authentic key feel. It also has unique digital features that improve practice and composition. These include rhythm accompaniments that help you develop a sense of timing and groove while playing along with various music styles.
The Roland FP-90 has 88 keys with an ivory feel-S keyboard and Fixed Touch Hammer Response. It conforms to several MIDI formats and offers an array of piano and digital tones. While writing our Roland FP-90 review, we found this to be a versatile instrument that works great at home, in the classroom, or on the stage.
Hear it in Action:
Roland RP-102 Digital Piano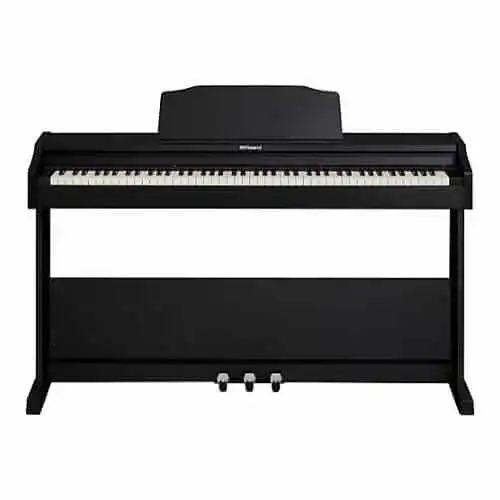 The Roland RP-102 digital piano is your best bet if you want a dedicated digital piano to learn on. With the RP-102's Piano Partner 2 music learning Android/iOS app, keyboard excels as a learning tool. And it features Roland's PHA-4 keyboard action and SuperNATURAL sound engine, creating a realistic and satisfying piano experience.
This is also Roland's most affordably-priced digital console piano. So if you're a beginner and want to pick up a top notch digital piano without totally breaking the bank, the RP-102 is a good bet. There's a lot to like with the RP-102, making it the top Roland keyboard for learning piano.
Hear it in Action:
Conclusion
If you're in the market for a great digital piano, our Roland digital piano reviews should help you narrow down your decision. Roland pianos are on the cutting edge of digital keyboard technology, and their quality and features are consistently top-of-the-line.
It's tough to go wrong with Roland. Whether you are a gigging performer, a studio musician, a student, or just playing in your living room, Roland offers a piano that is perfect for your needs and budget.