If you're a gigging musician or if you want the ability to jam on the piano with others, you need a good portable keyboard or stage piano. Acoustic pianos or console-style digital pianos are great for practicing in your living room, but unless you want to lug around an instrument weighing hundreds of pounds, they fall short in portability. Stage pianos offer a great piano experience but also weigh much less, take up less space, and are infinitely more portable.
There are several top quality brands that offer an array of wonderful stage pianos. With all the great portable keyboards on the market today, it's becoming increasingly difficult to settle on the best one for you. In this article, we narrow it down to the five best portable keyboards out there.
Top Portable and Stage Pianos: Our Picks
1. Nord Stage 3 88-Key Stage Piano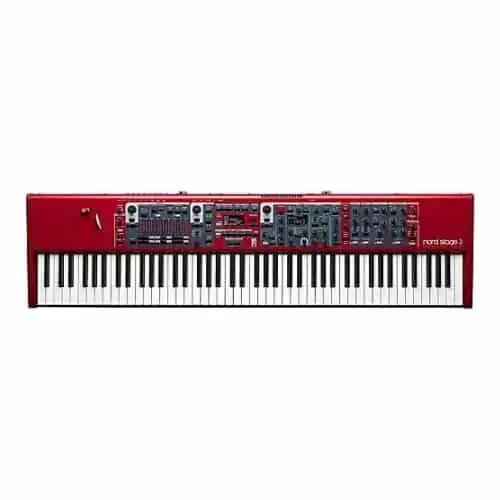 The Nord Stage series pianos have been touted as some of the best stage pianos in the industry, and the Nord Stage 3 lives up to the high expectations. It is boldly designed with a bright red exterior and straightforward layout. This 88-key version is equipped with Nord's Hammer Action keyboard, giving you fully-weighted hammer action.
The Stage 3 88 comes with the new Factory Bank that offers an array of realistic and synth sounds. You also have free access to the excellent Nord Sample Library, with a large and constantly updated sample selection.
Like its predecessors, this keyboard features Nord's award-winning organ and synth sounds. The organ sounds incredibly authentic, care of the B3 Tone-Wheel simulation. Using Nord's Powerful Classic Analog, the synth is a remarkable piece of work, with both FM and Wavetable synthesis. The real-time effects are terrific. The overall sound quality? Excellent.
The Nord Stage 3 is a great option if you're looking for something truly versatile. However, expect to be set back a pretty penny for this beautiful instrument.
Hear it in Action:
2. Korg SV2 88-Key Digital Stage Piano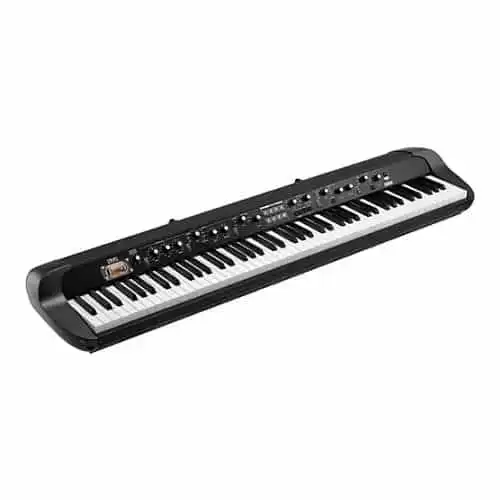 The Korg SV2 stage piano is the updated version of the awesome Korg SV1. It represents Korg's foray into vintage-style keyboards, and the results are top notch. The SV2 has retro styling that looks great on stage, and features 128 expertly-mastered vintage keyboard and piano voices – more than twice as many as the SV1 – so you can muster any sound you might need during a performance.
The "retroness" of this digital piano also makes it more usable. It's control panel is entirely single-function dials, knobs, and buttons – none of the computer screens and endless menus you have to wade through on modern keyboards. That means you can easily get it set how you want during a show, and it's simple to change on the fly.
The SV2 also features Korg's RH3 Graded Hammer Action keyboard, so it has the responsiveness and satisfying touch of a real piano. If the Nord Stage 3 is out of your price range, the Korg SV2 is a worthy substitute that doesn't sacrifice much. The SV2 also comes in a 73-key version.
Hear it in Action:
3. Roland RD-2000 Digital Piano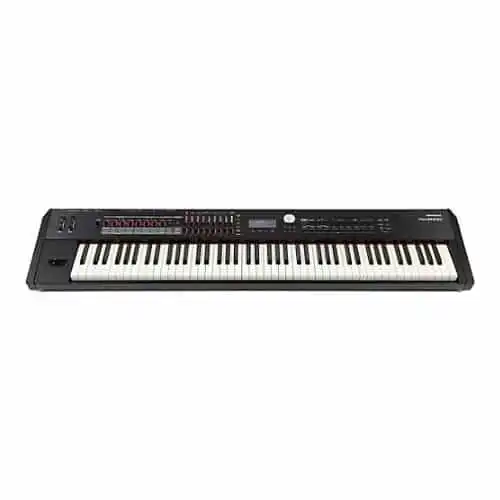 Roland pianos are well-loved by musicians who have had the good fortune of playing one. The Roland RD-2000, in particular, borrows technology from Roland's V-Piano, which is arguably one of the most advanced digital pianos in the industry. The SuperNATURAL Piano engine lends the player unbelievable sound quality and expression. Add that to Roland's PHA-50 Concert Keyboard with Escapement and Ebony/Ivory feel and you have yourself a winning combination.
The Roland doesn't overwhelm with its streamlined layout. The panel is generally clean and easy to navigate and features a large, backlit LCD display that is easy to read in any lighting. You can also customize your piano sounds through the Piano Designer, and you can store your changes for later use.
If you're looking for the best portable digital piano for live performance that has tons of features and is easy to use, then the Roland RD-2000 is probably your best bet.
Hear it in Action:
4. Yamaha CP-88 88-Key Stage Piano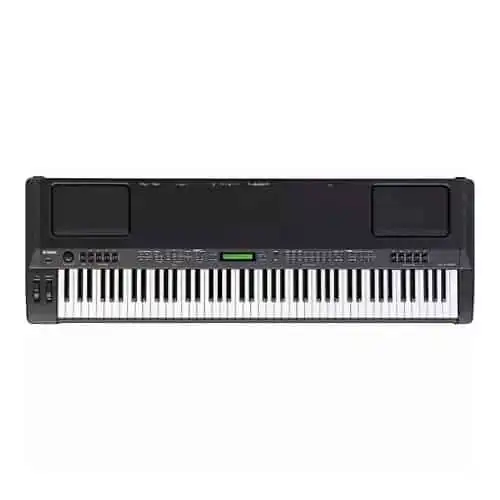 Yamaha is universally known for their brilliant acoustic pianos, but they also make some of the best portable piano keyboards on the market. The Yamaha CP-88 exemplifies their piano expertise and provides a sound and feel that is incredibly similar to an acoustic piano.
The CP-88 features Yamaha's advanced AWM tone generation system for a wide range of piano sounds. The keyboard has touch-sensitive weighted keys, and features Yamaha's Graded Hammer action technology for an unmatched real piano feel. This piano can also serve as a top notch DAW controller in your studio, and features a 16-track sequencer and powerful speakers.
The CP88 is highly adaptable to any sort of playing style, and it's great at reproducing the sound of an acoustic piano. However, it does fall a bit short on the synth and strings, offering samples that sound more utilitarian than anything. If you need great synth or other digital sounds, there are better options available.
The Yamaha CP88 is among the best portable pianos if you're looking for a realistic piano sound and feel, because that's what Yamaha does best.​
Hear it in Action:
5. Kawai MP11 Professional Stage Piano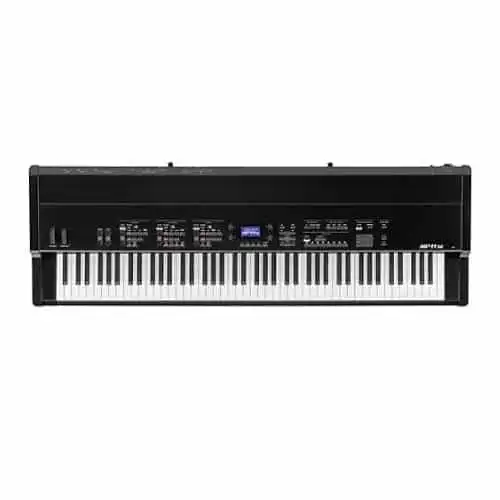 The Kawai MP11 professional stage piano is a beautiful instrument and it provides an unmatched real piano experience. If we were judging these pianos solely on realism and authenticity, then this Kawai would be the winner.
The MP11 features a Grand Feel keyboard action that is incredibly sensitive and responsive, due to the tripe sensors under the ivory-touch wooden keys. The sound quality is another high point. The piano sounds were sampled from the Kawai EX concert grand piano, which is one of the finest grand pianos in the industry.
However, if synth sounds and other digital bells and whistles are your thing, this isn't the unit for you. This is also the heaviest digital keyboard on this list, weighing in at 71 lbs. While it is still portable, it might be a little hefty if you're constantly transporting this to and from gigs.
Despite its drawbacks in portability and sound variety, if you want a stage piano with the action of a concert grand, the Kawai MP11 is a great choice.​
Hear it in Action:
More Great Stage Pianos Worth a Look
Conclusion
When you're searching for a stage piano there are many factors to consider, including piano feel, availability of sounds and effects, weight and portability. It's important to pinpoint what features you want to prioritize when looking for the best portable keyboard for the stage. Whether you're looking for that authentic piano feel or a comprehensive synthesizer, you'll definitely be able to find something that includes all the features you're looking for in a stage piano.​
There are many excellent portable and stage pianos out there, and the ones on this list are a great starting point. If you're looking for more options beyond this list, Korg has some great pianos as well. No matter what you choose, you'll have a blast taking your piano with you and playing on stage!