Digital pianos have the challenging task of replicating the feel of key resistance in acoustic pianos. While acoustic pianos achieve this through levers and hammers striking the string for the particular note, keyboards and synths have to simulate this resistance, or "key action". A digital piano's key action can influence your decision to buy or play the instrument.
For a piano to play at its best, players usually recommend action should be somewhere in the middle. It shouldn't be too light or too heavy. But of course, the action preference is subjective and will change from player to player.
A good digital piano can be an expensive, lifelong investment for a serious player. You want to make sure you get an instrument that you'll enjoy playing and that will grow with you. And key action is a vital component.
In this post, we break down the key action systems top digital piano brands side-by-side so you can pick the best one for you.
What Is Digital Piano Key Action?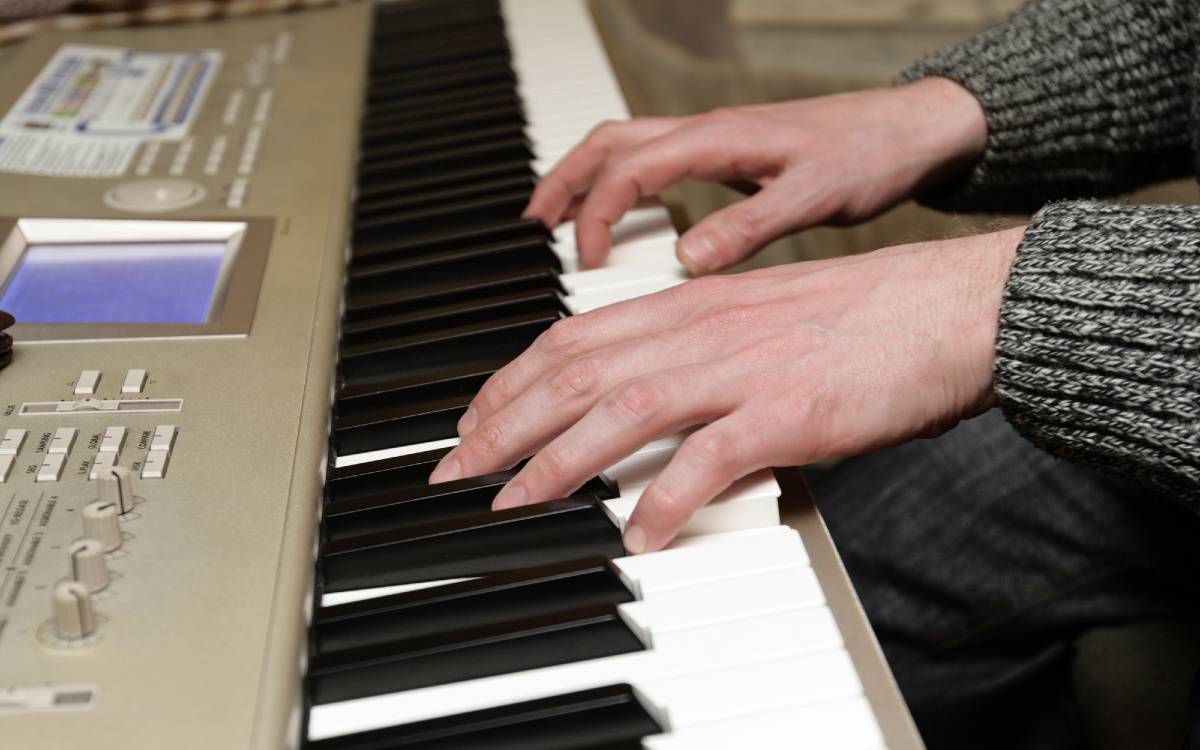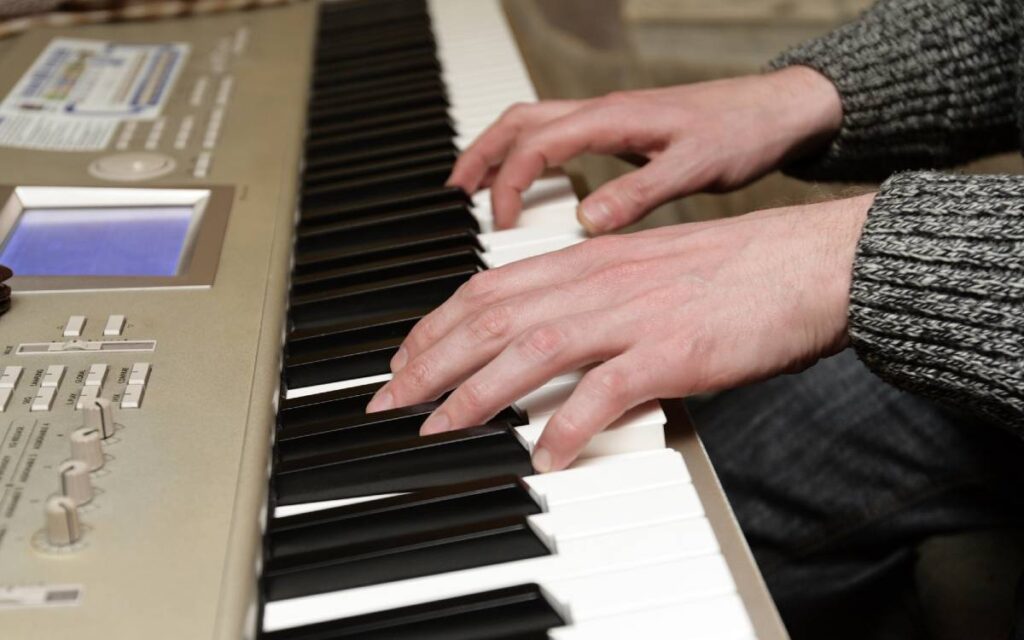 The "touch" or "action" of a digital piano is the perceived resistance and response of the keys when you play them. Players often say things like "this keyboard feels heavy" or "this keyboard feels light." In simple words, a heavy piano has higher action and gives more resistance, while a light piano has lower action and less resistance.
Key action systems on digital pianos are among the lesser-known features of the instrument, but they can be the most important for long term satisfaction. If you use a digital piano with an unrealistic key action, you risk developing improper piano playing technique to compensate for the poor action.
Bad posture and technique on a digital piano influence both the sound of the keyboard as well as your comfort and ergonomics, especially if you're playing for long hours. You could develop medical issues like carpal tunnel syndrome, which can hamper or completely stop your playing in the long run.
Buying a digital piano or synth after testing it in person is the best way to ensure that you're getting a piano you feel comfortable playing. But let's discuss the basics, so you know what you should be looking for.
Acoustic Piano Action vs. Digital Piano Action
Action in acoustic pianos is a byproduct of the way the piano functions. For the piano to play a note, a hammer strikes the string corresponding to the key you press on the keyboard. This hammer is connected to the key by a series of levers, which give a natural resistance and weighted feel to the keys.
Digital pianos nowadays aim to replicate the feel and sound of acoustic pianos, even more so if they're portable or hybrid pianos. To simulate this weight and resistance, keyboards and synths use a spring-loaded key action to affect this weight and resistance. A spring at the back of the key ensures that the key returns to its natural up position.
Entry-level digital pianos use a similar mechanism with an added weight in each key. This semi-weighted action is often preferred by players who constantly swap between synths and pianos. Some pianos also have 'fully weighted' keys by adding more weight to increase resistance.
Classical pianists tend to love the natural action of acoustic pianos, as it offers them the correct resistance while playing. This brings out the right dynamics and the right 'feel' of the song, which might get lost due to the lack of resistance on a digital piano. But there are manufacturers who now make more realistic key action systems on digital pianos as well.
Types Of Digital Keyboards According to Action
A hammer action keyboard uses actual hammers to replicate the feel of acoustic pianos. The hammers in these pianos rise when a key is struck and fall back under their weight when the key is released so that the key gets back to its resting position. This offers a realistic feel.
For even more realism, you should look towards progressive hammer action keyboards (also known as graded hammer action). These keyboards feature keys that get slightly heavier as you move down the keyboard (towards the bass end). In acoustic pianos, the length of the strings is shorter and narrower in the treble section (up the piano). It gets progressively longer and thicker in the bass section (down the piano). This means that the treble keys offer less resistance than the heavier bass keys, a feeling that graded hammer action keyboards aim to reproduce.
Digital piano keys can be made out of either plastic or wood. Wooden keys feel much more "realistic" since acoustic pianos typically feature wooden keys. However, this also drives up the cost. As long as the weight of the key gives the same resistance as that of an acoustic, the material of the keys is less significant.
Ultimately, there is no "correct" touch or feel that can be simulated. All pianos feel different, even among acoustic pianos. A grand piano is usually lighter than an upright piano, and even uprights vary within the same manufacturer.
This applies to digital pianos as well. Some are stiffer, while some are lighter. As long as your instrument is comfortable for you to play at your best ability, it's doing its job right.
How Does The Keybed Affect The Action Of The Keyboard?
The feel (and playability) of a keyboard is naturally a result of its keybed. Some keybeds come from the same manufacturer as the keyboard, but others outsource this. Here's a video to get a better idea of the role a keybed plays:
The keybed dictates several aspects in modern digital pianos, including key action, the escapement mechanism (how the key returns to zero), the style or texture of the keys, and the material of the keys. This might seem like a lot of technical jargon, but the underlying concepts are actually quite simple to understand.
The escapement mechanism of a keyboard is the mechanism that allows the hammer to fall away from the string once the key has been pressed. Digital pianos may use weights or other methods to simulate the acoustic feel, but it's important that the keys return to the 'zero point' for a natural feel.
Piano keys may be full-size, like acoustic pianos, mini keys, or even waterfall keys like in organs. The total length of a key is essential once you get more advanced. The longer the entire length of the key, the further back you can have the pivot point. This makes it easier to play and gives the player more expression when playing the white keys placed right between the black keys. This also somewhat affects the velocity of the keyboard, as we discuss next.
What About the Velocity Settings of a Keyboard?
Comparing various velocities on different digital pianos is not a defining factor for the key action of the instrument.
The velocity setting of the piano produces a linear relationship between the input (keypress) and output (sound). If you play a note and the keyboard reads an input velocity of 70, then the keyboard has played a sound with a velocity of 70 (the intensity of the sound). Regardless of output settings, the initial velocity is what triggers the sound.
Velocity settings can influence how a player feels and reacts to the touch of the digital piano. Changing the velocity curve can help you play the piano better since the output sound will be more to your liking. However, velocity settings do not modify the base feel and resistance of the keys as such.
To understand how your digital piano really feels, you have to play it with the power off.
Velocity and other such settings are dependent not on the hardware of the piano, but the software and programming. The key action, however, is a hardware factor. And to be able to choose the right digital piano, you have to find a keyboard that's comfortable first.
What's the difference between triggered sound and sustained sound?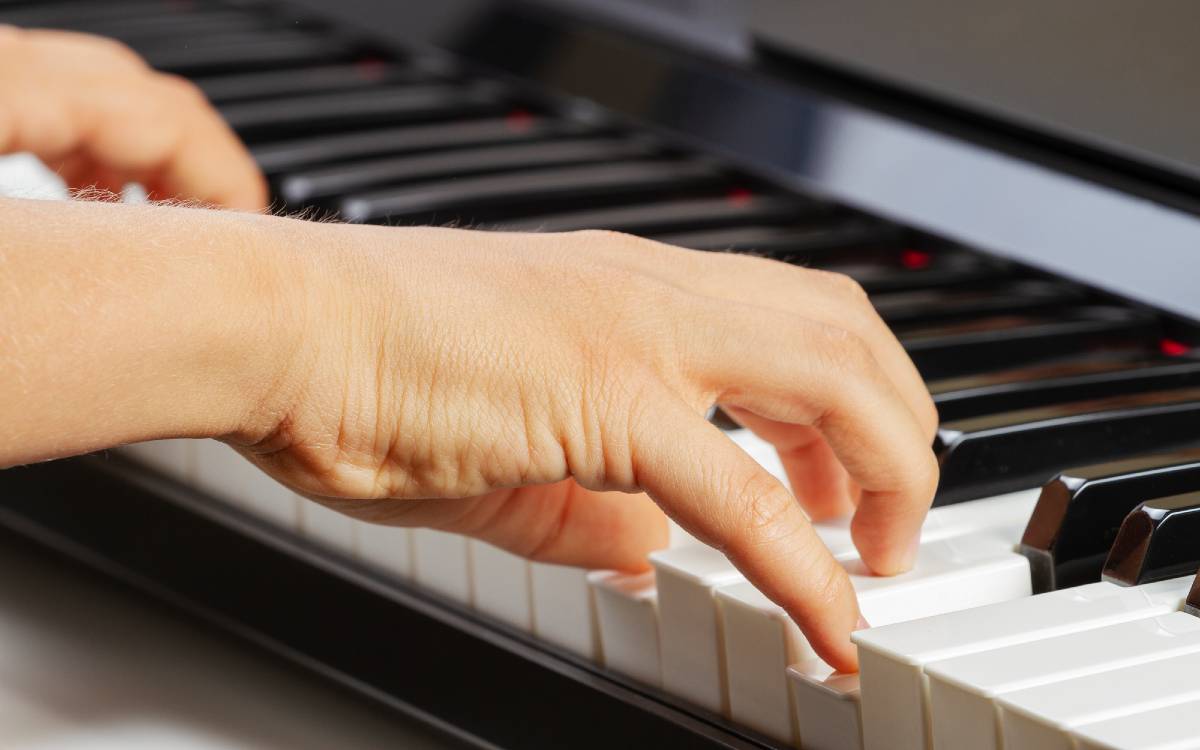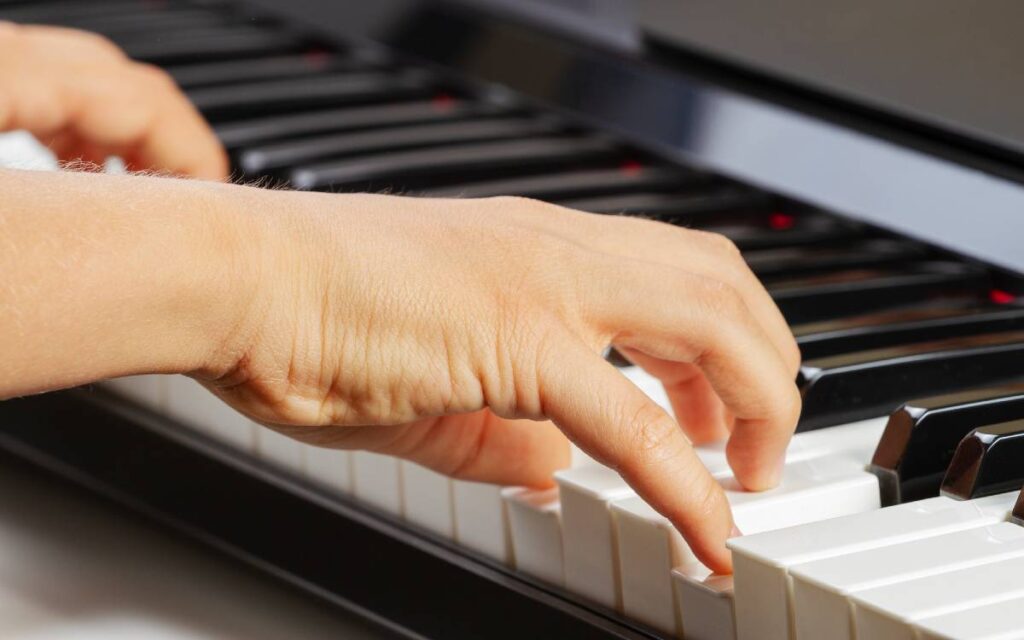 Digital pianos may need different amounts of applied pressure when it comes to triggering a note and sustaining it. Some keyboards can produce a quick, staccato note when struck but not sustain it.
More pressure is generally needed to make the note sustain. Therefore, most digital pianos have two different response values, one to trigger the note and the other to sustain it. We recommend you check out and test both values for comfort before deciding to buy your piano.
A Breakdown of Key Action Systems According to Brand
Every digital piano brand has its own take on key action systems, so we've done a deep dive to help you decide which one would be suitable for you.
Here's an objective digital piano key action comparison of some of the most popular models available.
Yamaha Digital Piano Key Actions (GHS, GH, and GH3)
Let's begin with Yamaha. This company is known for its great engineering, and they have decades of experience making grand pianos. It's no surprise that they have been able to develop digital hammer systems which mimic the acoustic piano very well.
What is Yamaha GHS action?
Yamaha's digital piano key action comes in several types, but the most common key action you will find is the Graded Hammer Standard (GHS). You'll see this in their bestsellers like the Yamaha P-121, Yamaha P-125, and the Yamaha P-45 pianos.
The GHS key action is ideal for all players, beginner and professional. The graded and weighted feel this provides to the keys is perfect for simulating acoustic pianos, even though it doesn't come with the accuracy provided by the GH3 key action, which is better suited for intermediate and advanced level players.
Yamaha Graded Hammer Effect
A lot of the pianos featuring the Yamaha Graded Hammer Effect (GHE, also known as GH) are discontinued, such as the Yamaha P250 or the P80.
GHE is a premium weighted action that provides intermediate and advanced players their required accuracy to play repetitive patterns. The GHE is currently featured in the Yamaha P255 and the Yamaha YDP 181.
Yamaha Graded Hammer 3 Action
The Graded Hammer 3 (GH3) is considered to be a higher standard than the other action types. Even though it is similar to the GH, the hammer swing action resembles higher-end pianos in its ability to swing back faster, which allows for better articulation while playing.
The Clavinova lineup, including the Yamaha CLP-525 and CLP-440 have the Graded Hammer 3 action.
Yamaha P-125
The Yamaha P-125 is one of the most popular digital pianos featuring Yamaha's signature Graded Hammer Standard key action. It replaced the P-115 in the market and is a great piano for beginners looking to learn the instrument.
For someone who has been playing piano for a while and needs a portable piano to suit their daily needs, the P-125 is more than adequate. The $600 price point makes it one of the cheaper digital pianos in the market without compromising on sound and build quality.
The P-125 features 88 keys with 192 notes of polyphony. While it doesn't feature the Yamaha CFX Grand Piano sound, you still get the Yamaha CF Pure Sound Engine which more than makes up for it.
You can use this digital piano with the Smart Pianist app, which allows you to control the entire instrument via your iPhone or iPad.
Yamaha P-515
The Yamaha P-515 features Natural Wood X action. Natural Wood keyboards feature keys that are all cut from the same hunk of wood to replicate the feel of a grand piano. This keyboard has the same overall structure as the GH3, but like an acoustic piano, you get to feel wooden keys for authenticity.
The NWX action is reserved mostly for higher-end Yamaha models, and even though the P-515 costs about $1,500, it's a mid-tier piano. It comes with the CFX Grand Piano sound along with the Bösendorfer Imperial piano sound, which makes the P-515 all the more appealing for acoustic players.
Like the P-125, you can use the P-515 with the Smart Pianist app by connecting your keyboard to your gadget through a USB cable and camera connector kit.
Casio Digital Piano Key Actions (Tri-Sensor Scaled Hammer Action)
Casio is one of the most trusted brands on the market when it comes to digital pianos, with engineering that can always be counted on. The company has two lines for hammer action pianos: the Tri-Sensor Scaled Hammer Action Keyboard I and II.
This hammer action system has three sensors under each key instead of the conventional two sensors. This allows each note to be pressed more than once without having to return to its original position, making the system perfect for pieces and players using sustained notes.
Casio PX-S1100
This digital piano ranks high in affordability, portability, and ease of use. Weighing just under 25 pounds, the Casio PX-S1100 is built to be transported from and to gigs, rehearsals, and just about everywhere else.
Like most digital pianos, the PX-S1100 is meant to simulate the sound and feel of an acoustic grand piano, and it does the job well. The simple soundboard doesn't feature too many bells and whistles, and the piano itself comes with hammer response and key-off simulation.
You can hear the mechanical sound of dampers rising and keys being depressed, which means that you can experiment with dynamics. This may be the perfect digital piano for beginners.
Roland Digital Piano Key Actions (Progressive Hammer Action – PHA)
Roland's great history and past success ensure that their digital pianos are always up to the mark. They have several progressions with the key action systems they provide, but the main base of their system is called the Progressive Hammer Action system. The PHA system tries to emulate the natural touch and response of a grand piano.
With PHA II and III, the key action system is now complemented with an escapement to mimic the click of an acoustic pianissimo for even greater authenticity.
Roland FP-60X
Even though the Roland FP-60X is a relatively new model on the market, the new FP generation features Roland's well-known and respected Hammer Action with Escapement on their PHA-4 standard keyboard.
While it won't make you feel like you're playing on a real acoustic piano, it offers a fantastic playing experience. The keys have an ivory feel to them, and the great sound and diversity of tones make this digital piano a strong competitor.
Kawai Digital Piano Key Actions (Grand Feel, Responsive Hammer)
Kawai are pure piano specialists, both digital and acoustic. Their upright CN series won the MMR Dealers' Choice "Home Digital Piano Line of the Year" in 2014, and even though they are an expensive brand, they make professional-sounding instruments.
If you're going to buy a Kawai piano, it makes sense to buy one of their higher-end models for sheer quality. The Kawai CN-39 is their best mid-range digital. At just under $3,000, it gives you 256-note polyphony, 352 sounds, and a stunning finish.
Kawai CP Series Grand Edition
Their CP series (Concert Piano) focuses on sound quality and balanced output. Their grand edition is probably one of the most spec-heavy digital grand pianos on the market today. The price definitely reflects that – at over $20,000, this is one digital piano designed for professionals who need the best.
Sound and touch are the two categories where Kawai excels. The lower register across all their ranges has a powerful output and harmonic imaging piano sound, and their 'Grand Feel' keys are wooden and operate on the same platform as Kawai's uprights.
Almost all Kawai digital pianos have incredible key action and feel very authentic.
Korg Digital Piano Key Actions (RHA, NH)
Korg specializes in the production of digital-only pianos, pedals, recording equipment, synthesizers, and guitar equipment. Since their main focus is digital technology, their product range is workstation and synth-heavy. They are one of the most popular brands worldwide for studio-based workstations along with Nord, which we'll discuss in a moment.
Korg G1 Air
Their entry into the digital piano market, albeit recent, is competitive and affordably priced. The Korg C1 Air, which is their flagship upright, retails for about $1600. While it isn't as feature-heavy as Yamaha, Roland, or Kawai models, the RH3 hammer action is competitive with other brands. Their digital know-how leads to some incredible tones with great sensor movement.
If you're someone who's looking for powerful sound from their digital piano, Korg is your best bet. Their newer models, like the Korg B2SP, feature 30-Watt speakers and Motion Feedback Technology to make the low range of the keyboard distortion-free.
Korg Kronos
The Kronos and Kronos LS are stage pianos that are used all over the world, and you might recognize them from a Queen concert or two. Considering how you're effectively buying a portable studio, the Kronos is reasonably priced at $3000 to $4000 (depending on configuration).
Nord
Nord focuses on high-end professional or studio-only models, and their features and quality match the price range. Their distinctive red finish makes them easily recognizable.
Nord Piano 4
The Nord Piano 4 comes with graded hammer action keys, even though they're third-party designed instead of being developed in-house.
Considering the brand is relatively new and that their focus is on dedicated stage pianos, Nord has done an exceptional job at becoming a genuine competitor to heavyweights like Roland and Yamaha. The Nord Piano 4 is typically priced at $2999. While their key action isn't the best or most authentic, it's still a comfortable playing experience for synth players. Classical enthusiasts may not enjoy it as much though.
What About Hybrid Pianos? Should You Get One?
Hybrid pianos aren't a recent invention, but they've certainly grown in popularity over the past decade or so. These pianos use a real acoustic piano action combined with the versatility and ease of use of digital pianos.
Typically, hybrid pianos have a lot of moving parts similar to an acoustic, including a hammer that moves when you press a key. But there are no acoustic strings here – the sound is digitally sensed and produced electronically. This makes the action feel very authentic and the closest to an acoustic piano. Most hybrids also use high-quality wooden keys and are usually the same length as an acoustic piano.
Hybrid pianos also come in both upright and grand piano versions. While uprights take less space, you may prefer a grand piano for the most evocative experience.
Should you get a hybrid piano? Hybrids are generally much more expensive, with a typical price above $5,000. What you get is the most realistic key action possible on a digital piano, with the versatility of electronic soundbanks and hundreds of different tones. For serious players looking to upgrade their experience, hybrid pianos are certainly an investment worth considering. You can check this video to know more about hybrid pianos and see them in action:
Frequently Asked Questions About Digital Piano Key Action
What digital piano has the most realistic action?
The Kawai MP11SE and the Roland RD-2000 digital pianos have some of the most realistic action we've seen. They both excel in their ability to mimic the sound and playing experience of a grand piano, and they're good choices for amateurs and professionals alike. However, we always suggest you try out keyboards for yourself before making a purchase.
Piano action is incredibly subjective, and the preference for action varies from person to person and genre to genre. Different acoustic pianos also have different actions, so it depends on the player.
Which digital piano has the lightest action?
The Yamaha DGX-660 digital piano has one of the lightest actions we've reviewed. It requires just under 72 grams of weight to trigger or sustain a note. So if you've got a light touch while playing the keyboard, this one might suit you perfectly.
What is action on a digital piano?
An acoustic piano works when a hammer connected to the pressed key strikes a string, causing the string to vibrate. This hammer is connected to the keys using a series of levers, and this gives a natural weight and feeling of resistance whenever you press a key. This resistance forms the action of the acoustic piano.
Digital pianos reproduce this resistance using a spring-loaded key action, where a spring at the back of the key ensures the key returns to the up position. Some digital pianos have a small weight added to each key – this is known as semi-weighted action, and some players prefer this.