If you are looking to find a good cheap keyboard piano to fit your lifestyle you are in good company. Playing the piano has many researched benefits such as stimulating the brain, improving memory, promoting happiness, and many others.
Sometimes a traditional piano just won't work as they can be expensive and take up a lot of room. Plus, if you share a living space with others you can be limited on practice times. If you are looking to save money, space, and time a good cheap digital piano offers a less cumbersome and cheaper alternative to the traditional piano.
The best digital pianos are designed to sound and feel as similar to a traditional piano as possible. When looking for the best affordable digital piano you don't have to sacrifice quality for price. Below I have reviewed my top 5 picks to help you find the best piano keyboard for the money.
Top Cheap Digital Pianos: Our Picks
1. Yamaha P45 Compact Portable Digital Piano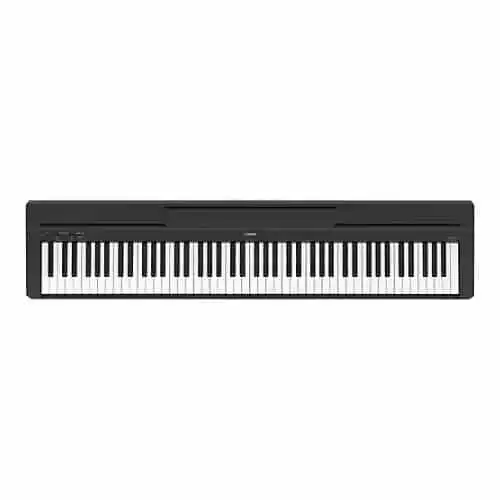 The Yamaha P45 digital piano features Yamaha's awesome GHS graded hammer action keyboard. The keys are heavier in the low end and lighter in the high end, just like a real piano – which means that the finger skills you learn playing this affordable digital piano will transfer to a traditional piano if you even decide to upgrade.
The P45 also includes Yamaha's advanced AWM sampling system for the best in realistic piano tones that adjust in volume and timbre depending on how you play the keys. Add to that the fact that all of these features are included in a compact form factor for take-everywhere ability, and you easily have one of the best cheap digital pianos out there.
Hear it in Action:
2. Roland FP-10 Digital Keyboard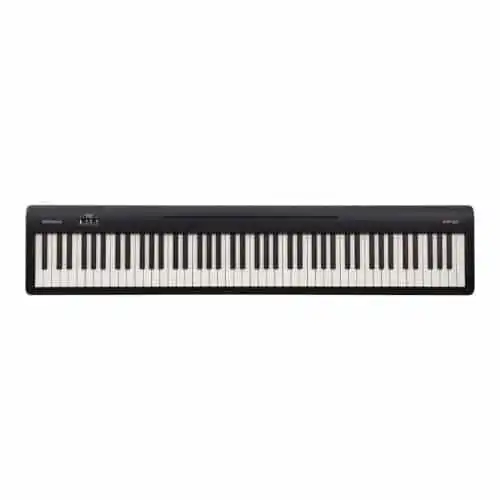 The Roland FP-10 wraps the real piano feel of Roland's PHA-4 graded hammer action keyboard, and the authentic sound of their SuperNATURAL sound system, together in a package affordable enough for most beginners.
The FP-10 also includes digital features that are great for learning. The onboard metronome will help you practice in time, and the Twin Piano Mode allows you to split the keyboard and play along with a teacher in the same range. And to make this even better for beginners, every FP-10 includes a suite of online piano lessons from Skoove.
With all of these great features, as well as the authentic piano sound and feel, the Roland FP-10 is an excellent choice for beginning piano players looking for an affordable first keyboard.
Hear it in Action:
3. Korg B2SP Digital Piano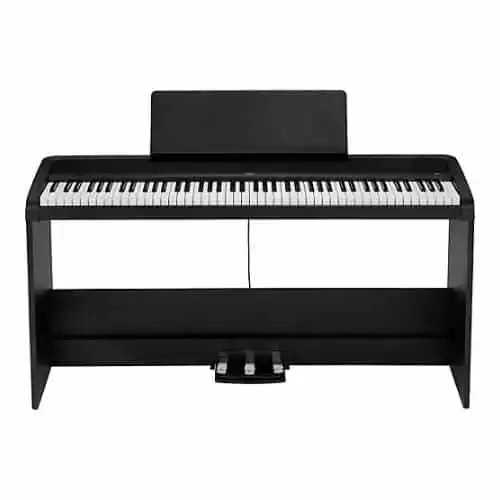 The Korg B2SP is another affordable digital piano that does an excellent job reproducing the feel and sound of a genuine acoustic piano. If you're any level of player looking for a cheap digital piano, you really can't go wrong with this one.
The B2SP features 12 high quality sounds, including 5 grand pianos and variety of other sounds from electric piano, harpsichord, organ, and strings. Although this is a basic set, the sound reproduction is top notch and should be enough for any piano player.
The Korg B2SP also includes a variety of connectivity options to suit your needs, and comes complete with a stand, music rest, and pedal unit.
Hear it in Action:
4. Casio Privia PX-S1100 Digital Piano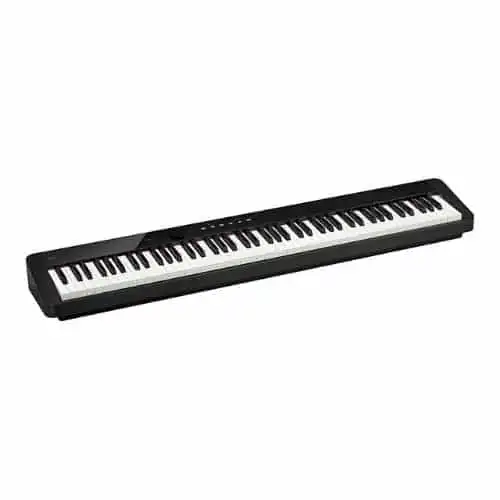 Like the other cheap digital pianos we feature here, the Casio Privia PX-S1100 also includes a graded hammer action keyboard (Casio's Smart Scaled Hammer Action), but it one-ups the competition with its simulated ebony and ivory textured keys. This helps it feel even more like an acoustic piano.
The PX-S1100 digital keyboard features 18 high-quality sounds (including an enhanced resonance concert grand piano) and top notch speakers. It also includes an onboard recording, touch controls, Chordana integration, and lightweight portability.
Hear it in Action:
5. Kurzweil SP1 Digital Stage Piano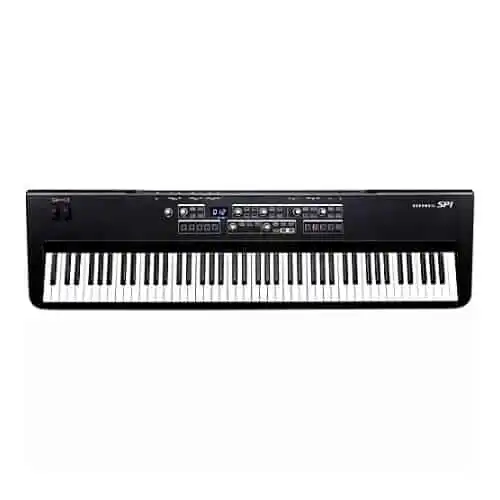 Kurzweil makes some top notch pianos, and this on is no exception. The Kurzweil SP1 digital stage piano is a pro-level keyboard for an affordable price. It has everything you need for learning or for live gigs, and it can easily hang with significantly more expensive keyboard rigs.
Featuring weighted hammer action keys, easy-to-use controls, awesome Kurzweil sounds, audio in jacks for jamming along with your music, and light weight for easy portability, the Kurzweil SP1 excels both in the practice room and on stage.
Hear it in Action:
Conclusion
Finding the best cheap keyboard piano is much easier when you know what you are looking for. Will you use it for practicing or performing? Are you a beginner or an experienced player? This will help you consider things such as the number of keys, features, number of tones, portability, and price.
For the best cheap digital piano, a keyboard with 88 fully weighted keys is ideal for mimicking the feel of a traditional piano but the convenience of a lighter, smaller keyboard can still be a great fit for someone just starting out.