In the digital piano world, Kawai is one of those brands that truly stands out from the crowd. Kawai digital and acoustic pianos are known for their quality, and have received over 40 awards for excellence in craftsmanship and design over the years.
But with all of this positive feedback surrounding this top digital piano brand, it can be difficult to decide which model is best for you and your needs. Kawai offers many different digital pianos with varying features and price points. This Kawai digital piano review of the best Kawai keyboards goes over the benefits of each model so you can decide which one will best suit your needs.
Top Kawai Digital Pianos: Our Picks
1. Kawai CA49 Digital Piano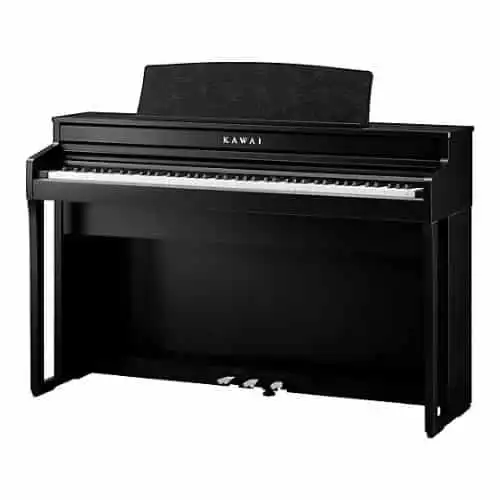 Some electronic pianos compromise on that real piano sound and feel. But not the Kawai CA49. This piano features the AWA PROII wooden-key graded hammer action, which creates a key feel that is remarkably like that of a genuine acoustic piano. Proud owners of this keyboard rave over this feature and point it out specifically as the reason why they purchased this particular keyboard and brand.
The sound on this piano doesn't disappoint either. The Kawai CA49 features 192-note polyphony and beautiful, full-toned piano samples along with 22 different voicings. While writing this Kawai CA49 review, we were pleasantly surprised by the resonance of this keyboard and how effortlessly it switches between registers. The excellent sound on this digital piano really shines through a good set of digital piano headphones.
If you're looking for a solid, straightforward digital piano that excels at delivering that real piano sound and feel, the CA49 is for you.
Hear it in Action:
2. Kawai ES8 Digital Piano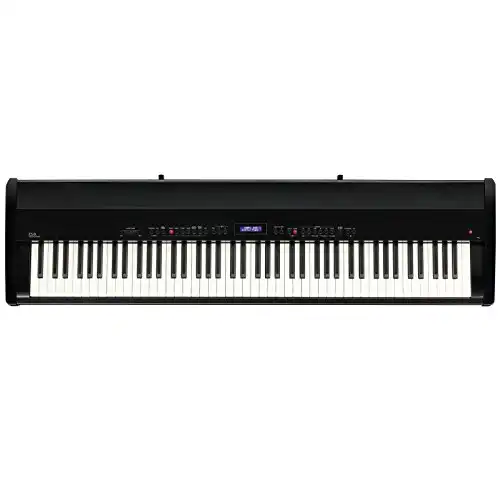 Kawai ES8
Portable digital piano with Kawai's top-quality acoustic piano reproduction technology
Check Price on Amazon
If you make a purchase from this link, we earn a commission (at no additional cost to you).
The Kawai ES8 is ideal if you value portability, versatility and efficiency. This model is lightweight and portable, so you can move it from your home to your friend's house to the stage with ease. It's also a great option if you live in an apartment because it's not bulky and doesn't require much space to setup.
The ES8 comes with many great features including Kawai's signature keyboard feel, 256-note polyphony, 34 different voicings, and Kawai's incredible Harmonic Imaging Sound Technology. But still the best feature is how much this digital piano feels like a real piano. Kawai's weighted keyboard technology hits it out of the park every time.
If you want a keyboard with that real piano feel that you can play at home or on stage, the Kawai ES8 might be your best option.
Hear it in Action:
3. Kawai ES110 Portable Digital Piano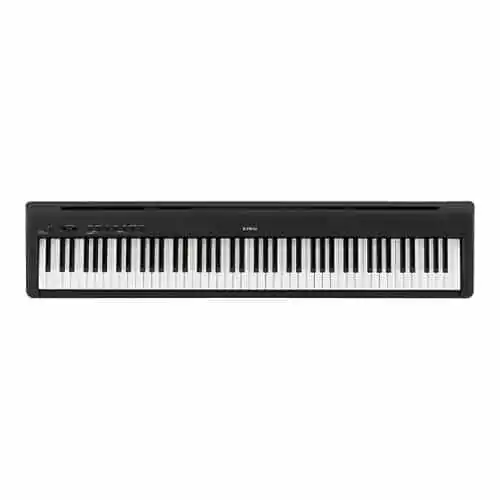 If you're a beginner learning to play the piano, the Kawai ES110 digital piano is the keyboard for you. It's much less expensive than Kawai's other offerings, but it still has many of the basic features that make Kawai digital pianos so great.
The look and feel of this model is surprisingly high end. It has Kawai's Harmonic Imaging Sound Technology for excellent sound quality, and the Hammer Action technology makes this feel more like a real piano than more expensive offerings from other brands. If you're just starting out or you're on a budget, the ES110 is your best bet.
Hear it in Action:
4. Kawai KDP-120 Digital Piano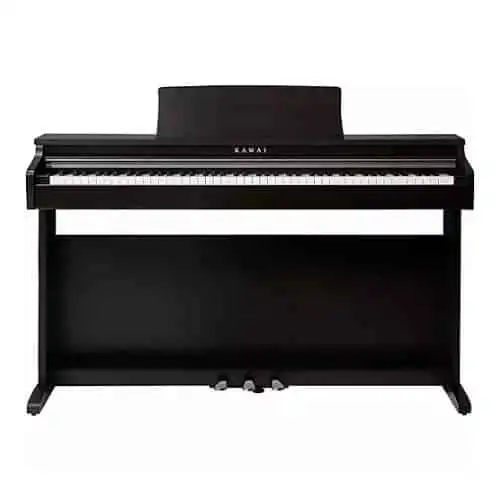 If you're looking for a digital piano that does everything well then the Kawai KDP-120 is for you. The model comes fully outfitted with all of the featured technologies that Kawai is known for, including the Harmonic Imaging Sound Technology and Hammer Action technology.
This keyboard comes with a built-in stand that features the Grand Feel Pedal System, which feels almost exactly like the pedals on a genuine acoustic piano. While writing this Kawai KDP-120 review, we were very impressed with how natural the pedals felt. If there's one thing Kawai get right, it's that true Piano feel.
The KDP-120 isn't exactly portable, so if you're looking to perform on stage this probably isn't the best model for you. But if you just want a great digital piano for your living room you can't go wrong with the KDP-120.
Hear it in Action:
5. Kawai MP11 Professional Stage Piano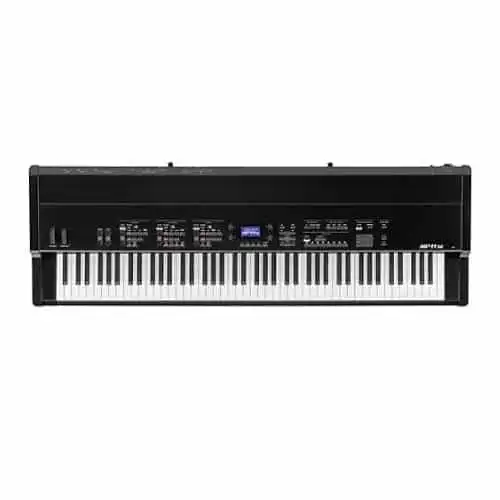 If you're a professional musician and a portable stage piano with a real piano feel, the Kawai MP11 is your ticket. This keyboard has one of the most authentic stage piano playing experiences we've ever tried, and the key feel rivals that of the best grand pianos.
The sound quality on this piano is absolutely stunning. For the MP11, Kawai uses "extra long sampling," which extends the attack sound by 120% and gives you more versatility in how you play the instrument.
This keyboard also features a vast array of effects and sounds, and allows for precise control over the amplifier output. All in all, the Kawai MP11 is a no-brainer for professional musicians who want the feel and sound of a high-end acoustic piano coupled with the portability of a digital piano.
Hear it in Action:
Conclusion
Kawai digital pianos are known for their realistic piano feel and great sound quality. If you want the feel of an acoustic piano in a compact digital package, then Kawai keyboards should be on your shortlist. Based on our Kawai digital piano reviews, Kawai has a model for you no matter what your needs and skill level.
If you're just starting out, the ES100 is an affordable digital piano that has great features. If you want a solid digital piano for your living room that feels just like a real piano, take a look at the CE220 or KDP90. If you want something a little more portable, the ES8 will fit the bill. If you're a professional musician, you can't do better than the MP11.
Kawai digital pianos have possibly the most realistic piano feel on the market, and you really can't go wrong with any of their offerings. But each of their pianos is intended to serve a different purpose, and you want to make sure you get the best one for you.