The price of an acoustic guitar varies according to the woods used, quality of craftsmanship, onboard hardware, and electronics. Acoustic guitars can range from $50 to upwards of $5,000.
Here's a quick breakdown:
The cost of an entry-level acoustic guitar is typically in the $100-$300 range. Intermediate acoustic guitars cost around $300-$800. Professional-level acoustic guitars begin around $800-$1000, and can cost well into the thousands.
Buying a guitar that ticks all your boxes and is ideally suited to your needs is a tricky and personalized process. The process is even trickier if you're a beginner. Which guitar should you choose in a world full of choices and jargon like guitar tonewood and soundboards? How much does a good acoustic guitar cost? Is an expensive guitar worth it? 
Ideally, your guitar should be well-made enough to last you years of practice, and it shouldn't be so expensive that you have to break the bank. We've compared acoustic guitars across price ranges so that you can pick the one that's the best within your budget. 
What To Know Before You Buy An Acoustic Guitar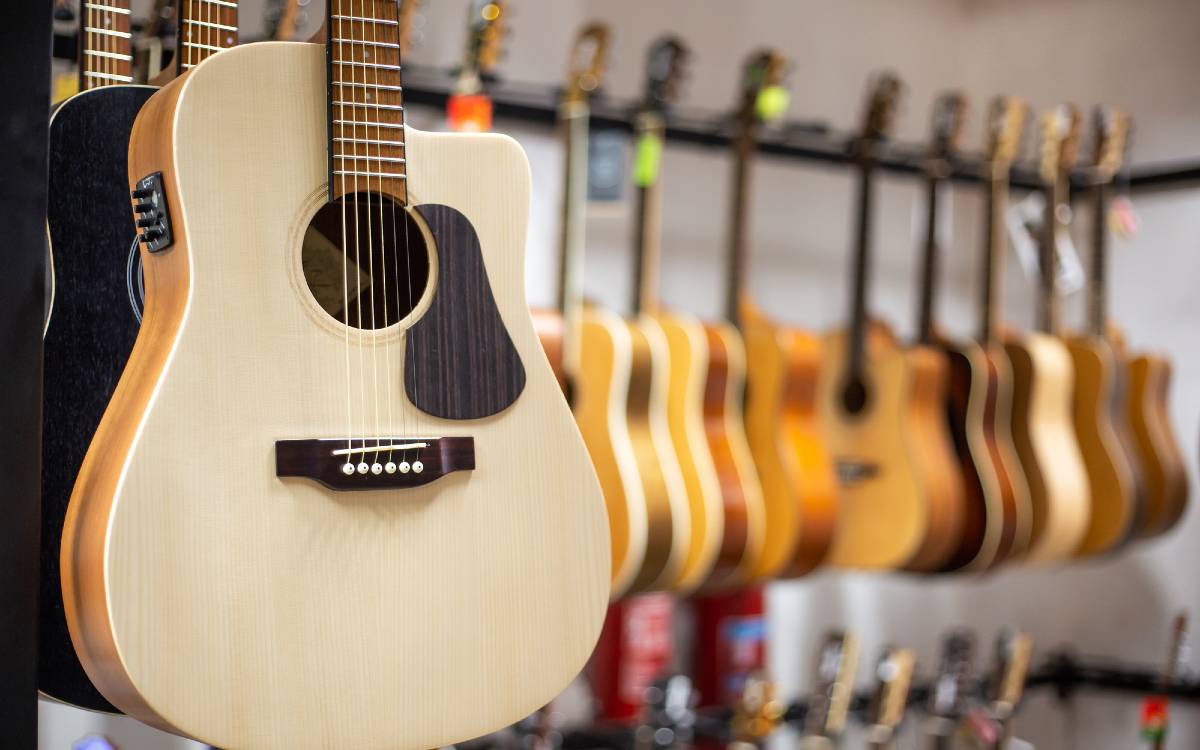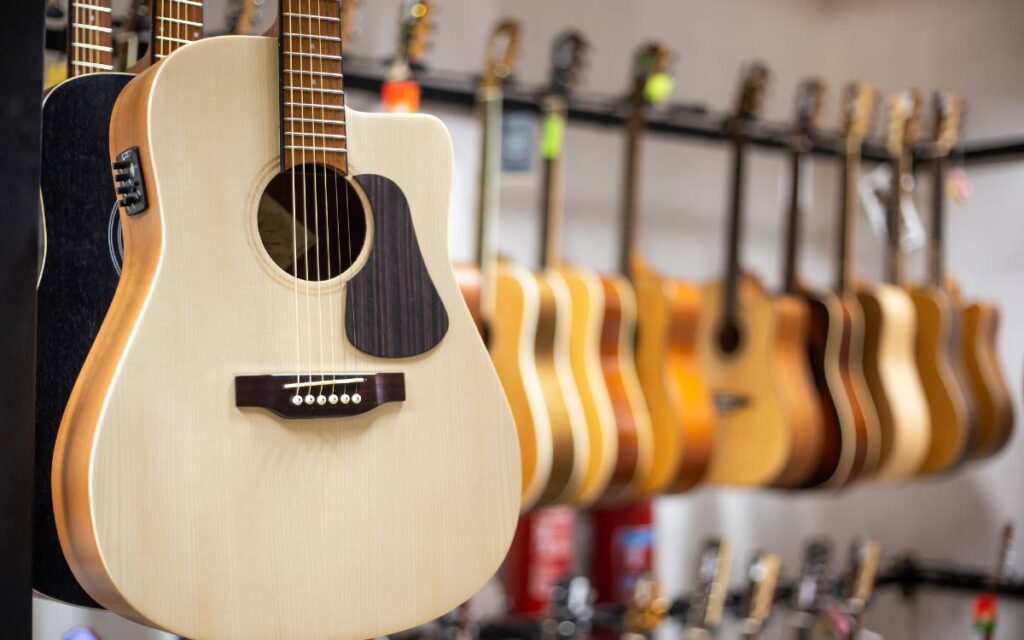 When you're buying an acoustic guitar, you need to look for a few essentials: the wood, the bridge, the fretboard, the body style, the electronics, and the intonation. All of these factors could influence your playing and the sound of your instrument.
While body shape (parlor, jumbo, dreadnought, etc.) is also an important consideration for playability and comfort, it usually does not influence the price significantly.
Beginners will face a lot more hurdles when buying a guitar as compared to intermediate or advanced players since they do not know which features or sounds, in particular, to look for. So, as a beginner you should get a decent guitar that'll play comfortably as a learning instrument, and last long enough till you feel the need for a better guitar.
Beginner guitars are noticeably cheaper than guitars made for advanced-level players, while children's guitars are usually smaller. You could start a child with an adult guitar, but this may lead to problems with using the fretboard and might hinder their playability. 
Beginner's guitars retail for $100 to $300, while intermediate players can find a suitable acoustic within $300 to $800. Advanced players often spend upwards of $800 for a guitar they like.
Here are some of the best options you can consider within each price bracket.
Acoustic Guitars For Beginners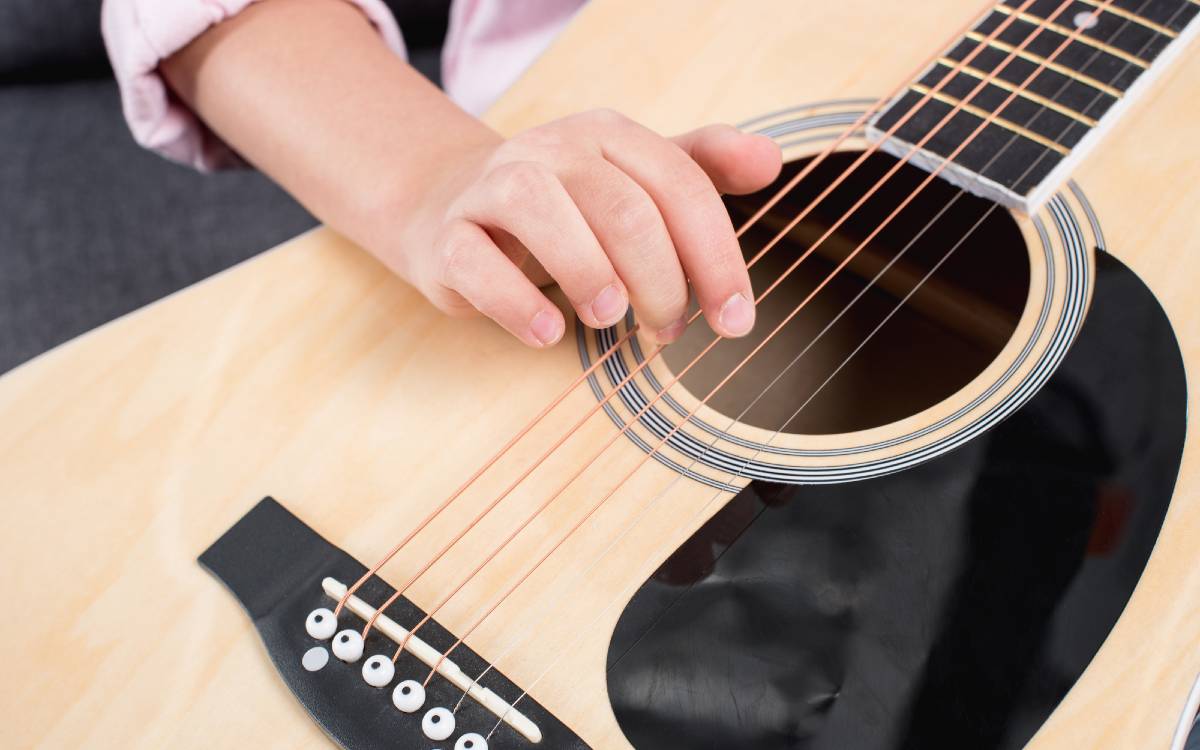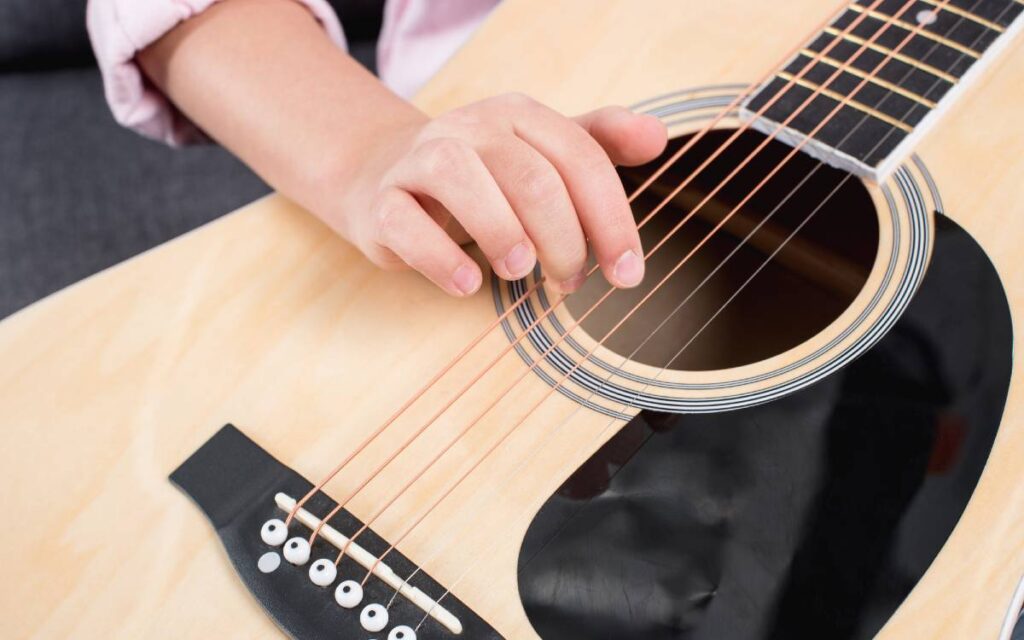 Starter kits are always a good option for people completely new to the world of acoustic guitars. These kits come with everything a beginner needs to start their learning journey, including a gig bag, a new set of strings, a strap, a chromatic tuner, and several picks, along with the guitar itself.
Most starter kits are inexpensive, but the cheapest ones usually come with problems. Cheap guitars often have unstable tuning systems, high action, and sharp fret ends.
These issues can make playing feel like a chore, and in the worst cases, can even end up injuring the player (imagine cutting your fingers on a sharp fret!). For someone starting out, poorly-made guitars are most certainly not ideal.
So while it may seem lucrative to get a $50 guitar from an unknown brand off Amazon (which may even have 100+ questionable 5-star reviews), it's likely a better option to spend just a bit more and get something reputable. This helps ensure a better learning experience for you.
Guitars priced in this range often have significant differences in quality, as some affordable guitars can be surprisingly good. Watch this video to get an idea of the major differences between cheap guitars:
If you get a bundle from a reputed brand like Fender or Yamaha, you can buy your kit with a membership to a learning platform like Fender Play or Yamaha Player Port. These online platforms can help you kickstart your learning journey, and the brand reputation ensures that you get quality guitars and reliable customer support.
In the $100 to $300 acoustic guitar price bracket, the Fender FA-115 Bundle is perfect for beginners. It comes with a guitar, a gig bag, extra strings, a strap, a tuner, and plenty of extra picks. You also get a free membership to Fender Play with the bundle, so you'll be ready to rock on in no time.
You could also check out the Yamaha FG800 Bundle. Yamaha needs no introduction for their guitars, and this bundle is one of their finest in the low-budget category. Grab a DVD or a membership to a learning platform like Yousician, and you're all set!
If you're interested in just the guitar and don't need the rest of the equipment, the beginner acoustic guitars we mentioned also retail without the bundle. You'll spend a lot of time with these instruments – even if you need to change hardware down the line, their solid tonewood will keep these guitars sounding gorgeous for years to come.
A higher budget will permit you to look for premium guitars, especially if you're looking for better tones and a bit better playability. As a beginner, a cheap guitar will do just fine unless you're looking to take up playing guitar as a serious pursuit.
Acoustic Guitars For Intermediate Players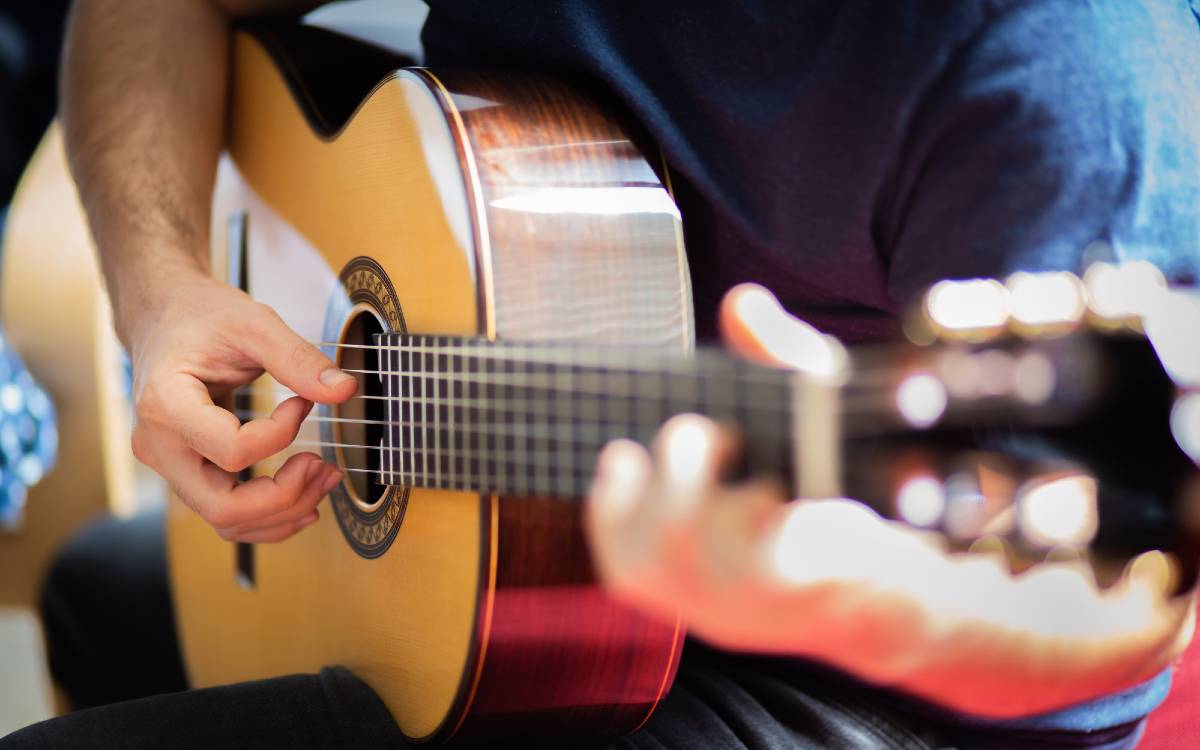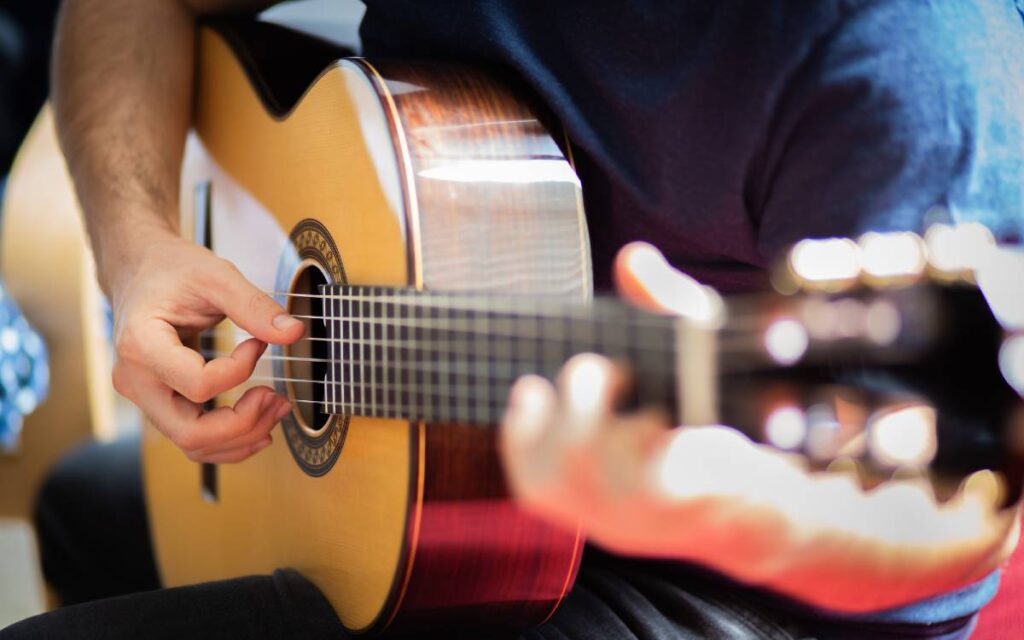 Intermediate players will know what they're looking for much better than beginners, so most mid-range guitars come equipped with the best of the basics. The medium-range in most name-brand guitars comes with great tonewood and a solid build and is usually priced between $300 to $800 (and up to $1,000).
If you're an intermediate player, you likely have a good idea of what you want when buying a guitar. Most players look into specifics like a cutaway or piezo pickup, which is quite common in this price range.
Intermediate guitars don't compromise on tuning or quality. You can choose just about any brand of guitar that suits your personal preference since most of the builds are the same quality across the board. At this point, most of it comes down to player subjectivity.
The Taylor Academy 10E is an incredible acoustic for intermediate players. The guitar combines excellent tone and good electronics, so you can alternate between playing for your friends and a large audience.
Taylor provides several sizes for players to choose from, so you can select this guitar without hesitation – regardless of whether you're a finger-picker, a flamenco guitarist, or just want to play some sweet blues.
You might notice that many of the guitars in this price range are electro-acoustic guitars. There is no debate about their ease of use and versatile playability, and they're perfect for live performances when plugging into an amplifier or PA system.
Acoustic-electric guitars usually have tuners attached so that you can tune on the go without the aid of a chromatic tuner. Their low action makes playing a breeze, and enhanced dynamics ensure that your instrument is heard across the room.
The Yamaha L-series LS6 is another guitar you should consider as an intermediate player. This is a concert-size acoustic without cutaways and is one of the brand's most popular models and shapes. The LS6 is also an acoustic-electric, so you can plug it into an amp and play wherever you want to!
Acoustic Guitars For Advanced and Professional Players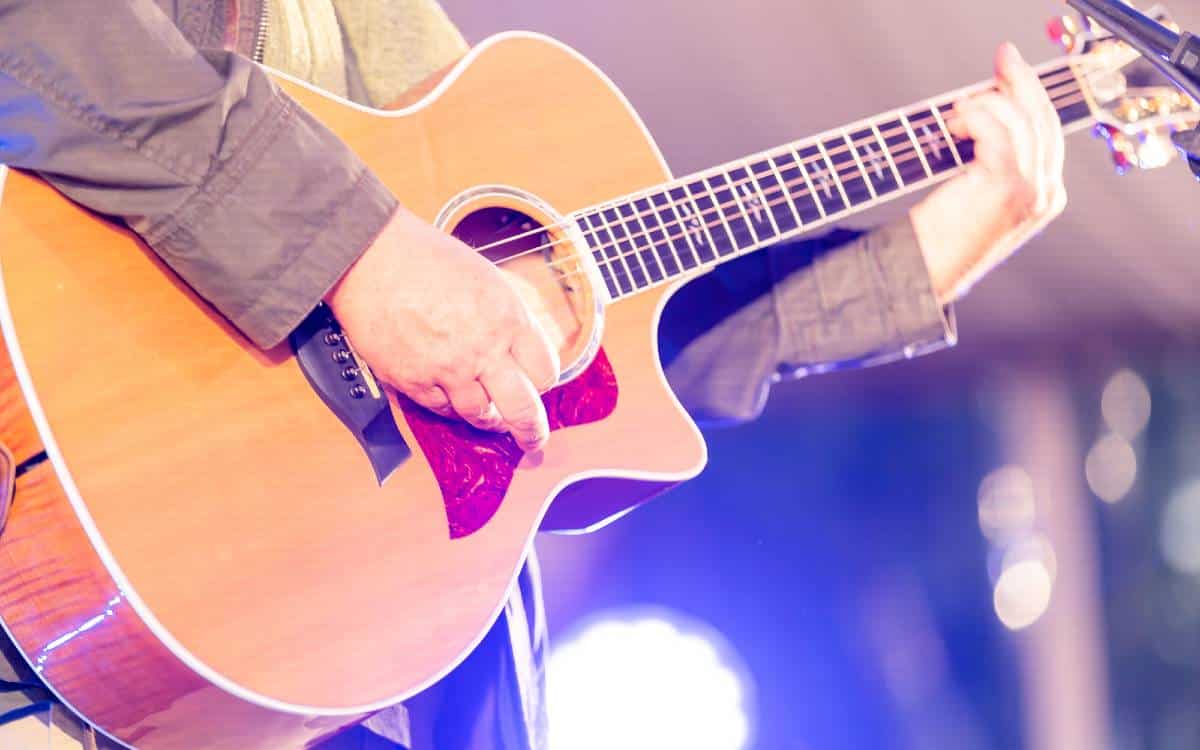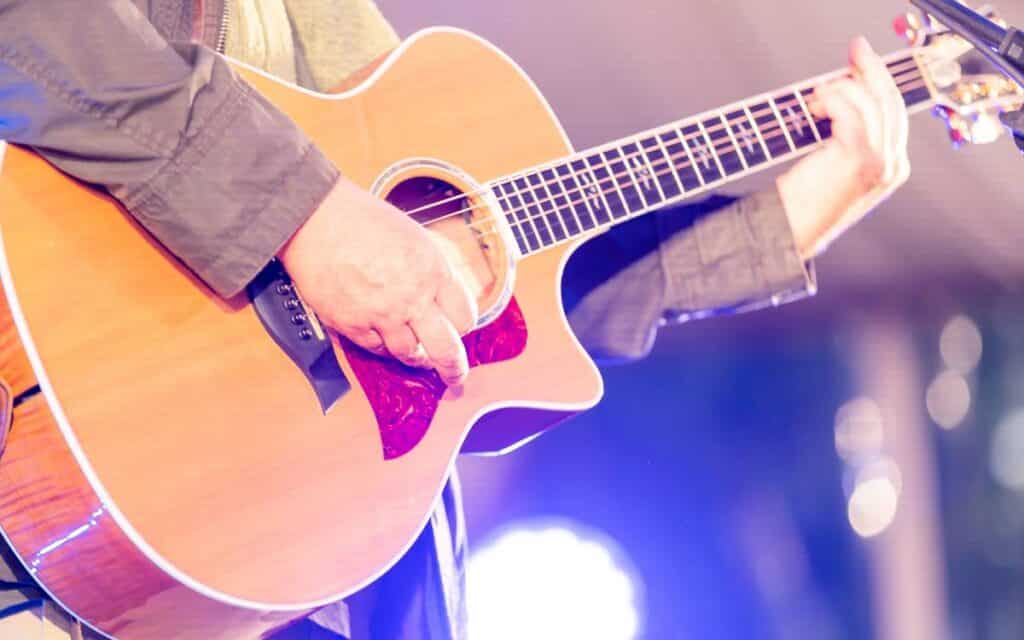 These premium guitars cost anywhere from $1,000 to $5,000+. This price range will fetch you the best quality and materials that a manufacturer could provide, and since they know how picky advanced players can get about the sound of their acoustic guitar, they come in several sizes, tonewoods, and pickups.
No high-range guitar list is complete without a Martin, and the Martin Standard Series D-28 is one of their best-sounding guitars. This dreadnought model features solid East Indian rosewood with a Sitka spruce top and ebony fretboard. If you're not drooling already, we don't believe you.
Any professional player knows that Washburn makes some of the best guitars, especially for performances. The Washburn WCG66SCE is a grand auditorium size guitar, which comes with a pickup and without a cutaway. A solid cedar top with maple back and sides make this guitar sound rich and warm – if that's the sound you're looking for.
Companies that make professional-level acoustic guitars pride themselves on their tradition and their expert luthiers, so you can be sure that you're getting your money's worth.
But the law of diminishing returns does apply here – the quality difference between more expensive guitars tends to be minimal, and instead focuses on unique aspects like exotic woods and higher brand value.
The customer support for these brands is almost always swift and helpful, and you won't be stuck the next time you think something is wrong with your guitar.
You should probably invest in professional acoustic guitars like this if you depend on the instrument to make a living. But if you're a beginner who's really passionate about music and you want to start with the best of the best, we won't stop you!
What About Custom Guitars?
If you're a professional guitarist and you can't find what you're looking for in one model, look no further than custom-shop guitars. These guitars tend to be the most expensive of the bunch, costing upwards of $2,000 to $10,000. However, these guitars are guaranteed to be one of a kind and made of the best material on the market.
Custom-shop guitars are like the all-star team of any guitar manufacturing company. But companies aren't the only way – you can get beautifully unique custom guitars from independent luthiers across the world. While they're more popular for electric guitars, there are some very talented acoustic builders as well.
Custom-building often comes down to telling the builder about your specifications, getting a quote, and waiting for them to build the guitar and deliver it to you. The waiting time could be between a few weeks to a few months, depending on their quote.
You could either have a team assigned to build your dream acoustic guitar or have it made by an artisan luthier. The specifications and the number of hours involved working on your guitar will typically determine the price.
Because of how unique these high-end acoustic guitars are, you will likely have round-the-clock support for any problems that your acoustic might run into. Remember, when you buy a custom guitar, you aren't just buying the best guitar you can get, but also a piece of art that's truly yours.
If you feel like this is the right option for you, you should get in touch with a few manufacturers of your choice and ask them for a quote. And remember, custom guitars are more than likely to appreciate in value over time!
You can check out this quick video of the process of building an acoustic guitar, and it might inspire you to get a custom one yourself!
Should I Buy A Used Guitar?
Buying a used guitar might seem like an inviting prospect if you do not have the money to invest in a Taylor or a Martin. However, if you're a beginner, we advise you not to buy used guitars since you will likely not know what to look for regarding sound, build, and imperfections.
Used guitars come in a range of prices, depending on their degree of usage and damage. If you're an intermediate or advanced player and feel like you can overhaul an acoustic and make it sound the way you want, used guitars are a good prospect.
A decently playable used guitar should cost upwards of $90, and is usually about 40-60% of the original guitar's cost, depending on age and condition. And if you're planning to get a used classical guitar or electric guitar, those are usually a bit more expensive.
We recommend against buying used guitars online since you never know what you might get. Before you meet the seller in person, ask for the age of the guitar and test it out for yourself.
Test the guitar's neck relief and action, check for rust, and always make sure that you factor in the cost of any repairs into the price of the guitar.
Frequently Asked Questions About Acoustic Guitar Price
What is the average cost of a guitar?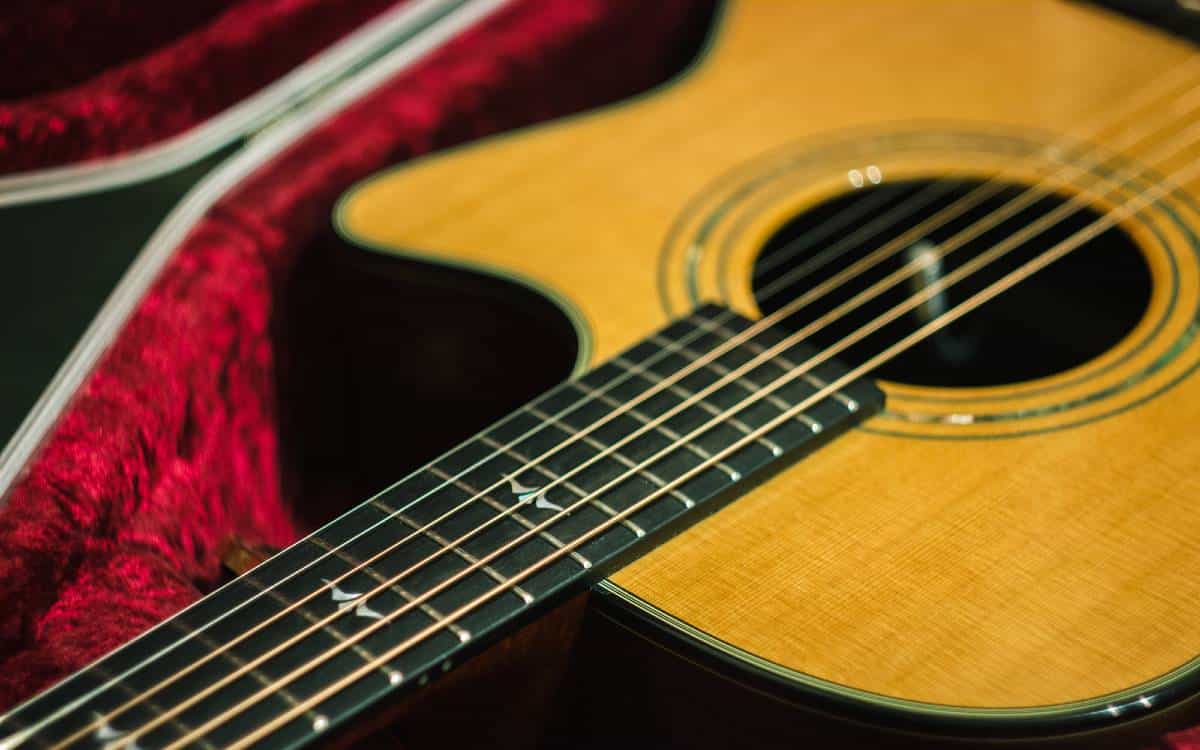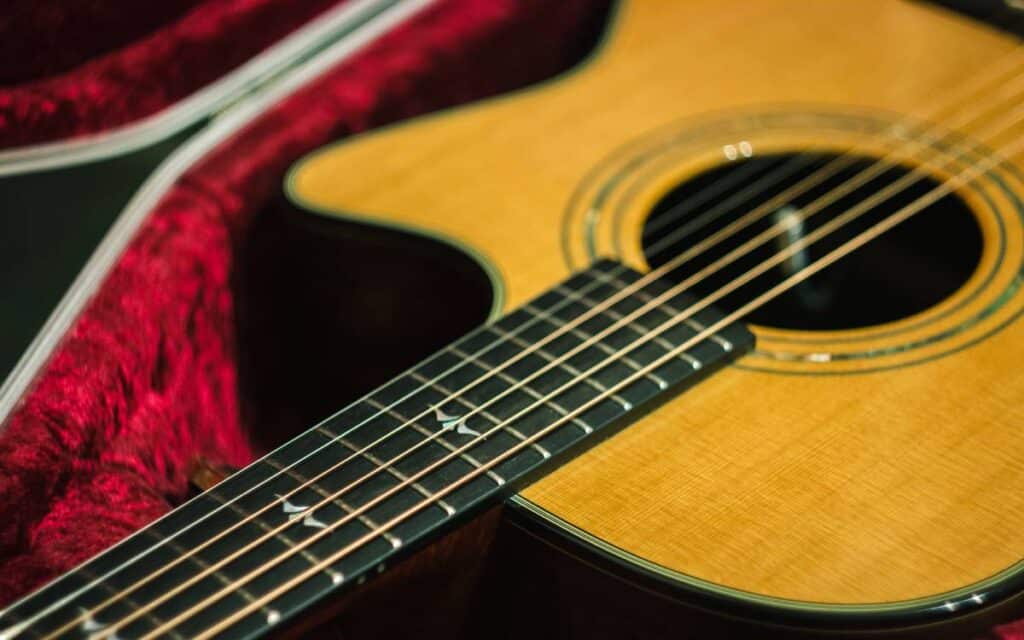 The average cost of a guitar is about $600-700, statistically speaking, But this will vary according to the guitar quality, as more low-end guitars are commonly sold. Guitars for beginners cost between $100 and $300, intermediate-level guitars cost between $300 and $800, while advanced and professional level guitars start at $800 and go up to $10,000.
Always try to buy a guitar that is not too expensive and not too cheap, so that you have an instrument that sounds good to you and lasts you a long time. We suggest you buy a guitar in person to play it and get one that suits you.
How much does a decent acoustic guitar cost?
A decent acoustic guitar will usually cost over $200. There are acoustic guitars available for as low as $50, but these are often unplayable – either their action is set too high, the tuning is unstable, or the wood is low quality. To find one that you will enjoy playing, you'll have to go higher and look for reputable brands.
As with every other product, there are several price ranges, and you can buy a good guitar within a range of different budgets.
How do I know if my guitar is worth the price?
You know your guitar is worth the price if you enjoy yourself playing it and it feels good in your hands. A good guitar will stay in tune for a long time and allow you to play it for extended jam sessions. And the action will be low enough without causing fret buzz.
Besides these two necessities, a guitar worth its price will be made of solid tonewood and develop its tone over time. Good acoustic guitars with aged wood tend to sound even better to the ears. You can depend on manufacturers like Taylor, Gibson, Fender, Martin, etc., with consistent guitars that are always a joy to play on.