If you want to produce that deep, rich and versatile acoustic guitar sound, you're going to need a quality instrument to show off your skills and help build new ones. Whether jamming with a group or accompanying a single vocalist, guitar players know that their strumming is the heart and soul of any melody.
As it turns out, picking up a quality acoustic guitar doesn't have to break the bank, and there are many models on the market in the mid-priced category that can go toe-to-toe with more expensive models. Here we break down some of the best intermediate acoustic guitars to help make buying your next guitar a little less overwhelming.
Top Acoustic Guitars for Intermediate Players: Our Picks
1. Martin D-10E Acoustic-Electric Guitar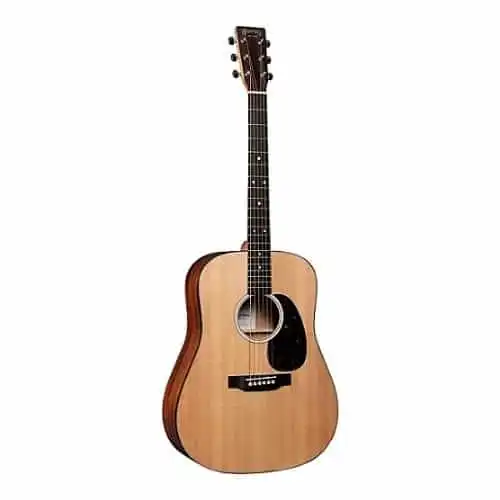 It is our humble opinion that there is no better midrange guitar series than the road series from Martin, and their D-10E is a particular stand out option.
The Martin D-10E is an electro-acoustic dreadnought that has sapele back and sides, and can be paired with either a sapele or sitka spruce top. Sapele is a sustainable wood choice that offers a nearly identical playing experience to mahogany, yet it stands up to temperature fluctuations better. It also features a Richlite fingerboard, Martin's answer to the dwindling ebony supply.
The D-10E comes equipped with Fishman MX-T electronics, which sound top notch. The combination of top tier electronics, sustainable wood choice, and impeccable build quality that Martin consistently delivers, at an affordable price, makes the Road Series guitars an unbeatable choice for touring musicians.
Hear it in Action:
2. Alvarez MD60BG Masterworks Acoustic-Electric Guitar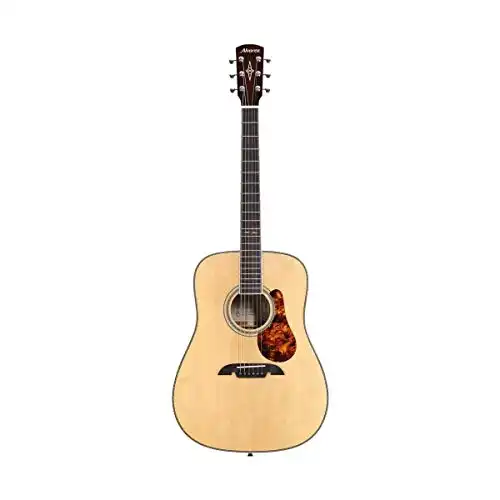 Alvarez builds guitars that are just plain awesome, and the Masterworks series is their top of the line range. The Alvarez MD60BG Masterworks acoustic-electric guitar is one of their best instruments to date, and it's easily one of the best mid-priced acoustic-electric guitars. 
This is a beautiful guitar, with mother-of-pearl inlay at the 12th fret and a gorgeous sunburst finish. It sounds great, too, with solid African mahogany top, back, sides, and neck giving it a deep, complex tone. And the action and playability are plain wonderful, It's tough to go wrong with Alvarez in general, and this guitar is one of their best.
Hear it in Action:
3. Seagull S6 Original Acoustic Guitar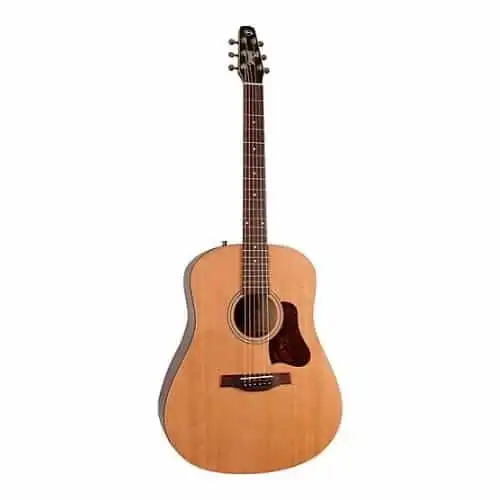 The Seagull S6 Original is a perfect example of how a great acoustic guitar doesn't have to break the bank. The S6 has recently been revamped with a bolder look, while still retaining the features that many love about this Canadian beauty.
The S6 is stable enough to take on the road, mainly due to the combination of pressure tested, solid cedar top with laminate wild cherry back and sides. Everything about this guitar upholds the quality that Robert Godin has become known for producing, except this time it is in a guitar that costs under $500.
This guitar plays well beyond its price point, with a tight low end, responsive midrange, and soft but shimmering high end that will work for fingerstyle or strumming. It stays in tune thanks to the signature tapered headstock. The S6 is all about performance and it stands out among the crowd for this very reason.
Hear it in Action:
4. Taylor 114e Acoustic-Electric Guitar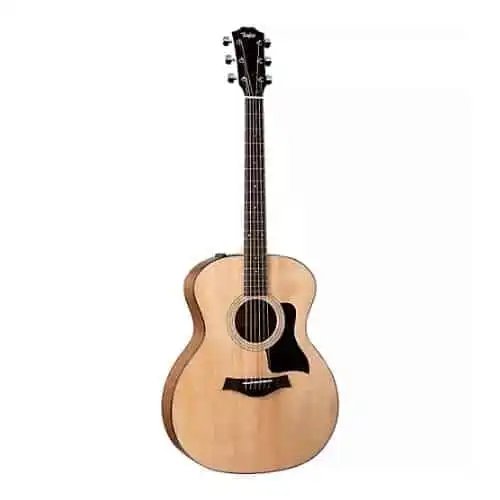 If you're in need of an electro-acoustic guitar that performs above its price range, then look no further than the Taylor 114E. Even though this model is considered a "budget" guitar from Taylor, you are still getting nothing short of a fantastic, truly Taylor quality acoustic guitar. 
The Grand Auditorium body shape gives you the volume of a dreadnought style guitar, but the curvier body offers a more comfortable playing experience whether you are standing up or sitting down. The tonewoods used include a solid sitka spruce top paired with layered walnut back and sides. This tonewood combination strikes a great balance between full low ends, present midrange, and delicate highs that make for a jack of all trades guitar. The bracing on the new 114E has also been improved by Taylor for added resonance and stability.
The neck is sure to feel comfortable in just about any hands with its satin finished sapele neck and ebony fingerboard. Whether you are playing bar chords down by the 1 – 11/16 inch nut, or playing melodies higher up the 20 frets, the 114E is comfortable and easy to play.
The most notable aspect of the Taylor 114E is that it comes with Taylor's discrete Expression-2 (ES2) system that utilizes three, behind the saddle sensors for a natural and dynamic sounding voice when played into a PA system or other monitor.
This is the perfect gigging guitar for all genres.
Hear it in Action:
5. Blueridge Historic Series BR-160 Dreadnought Acoustic Guitar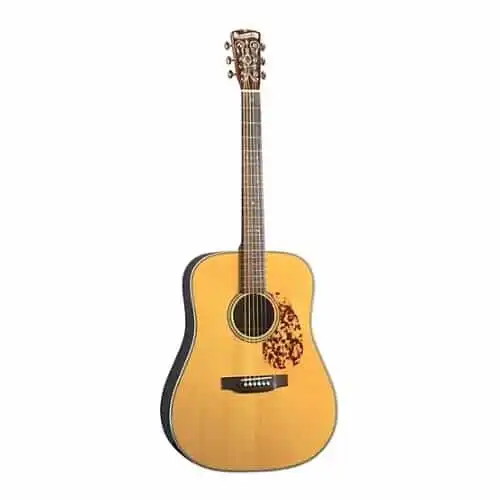 The Blueridge Historic Series BR-160 is essentially a pre-war Martin guitar, without the exorbitant price tag. This all solid-wood guitar consists of a spruce top (you choose between Sitka and Adirondack), and Indian Rosewood back and sides. And everything from the bracing pattern to the deluxe appointments are vintage pre-war dreadnought all the way.
The gorgeous pearl inlay that outlines the body of this excellent acoustic will definitely turn heads, but it's the sound that makes this guitar shine. This guitar has a rich tone, great projection, and smooth action. We also love this Blueridge guitar for its projection in the studio due to the slightly smaller-than-average sound hole. This is a great guitar that's worth checking out, especially if you've been lusting over that vintage Martin that you just can't justify.
Hear it in Action:
More Great Mid-Range Acoustic Guitars
Conclusion
When it comes to the middle budget range, there are wide variety of acoustic guitars and acoustic guitar brands on the market that will fit your budget and playing style. A quality instrument doesn't have to break the bank, and you can find a great value no matter your playing level.
The guitars on this list are some of the best mid-level acoustic guitars that we've found, and any of them should serve you well as a great strumming axe. If you've got a bigger budget than a beginner but don't want to throw down thousands of dollar on a guitar, you've got some great options out there. Now go get a new guitar and keep making music!