The best acoustic guitars are known for their rich, deep and distinct tones. Manufacturers often hype their choice of tonewoods over other brands for just this reason. Mahogany for its bright projection, spruce for that classic twang, exotics for a unique sound and big price tag, and so on. The shape of your guitar also plays a big role in the type of sounds it makes.
When it comes to playing in the studio, your best bet to project that classic pure acoustic sound will be a quality microphone. You could also use that same microphone setup to reach the far corners of a decent-sized venue for a live gig.
The problem with mic'ing up for a live performance, though, is that you'll be mostly stationary on the stage, with your position dependent on the location of the microphone. Plus, you're apt to pick up unwanted background noise and distort your tone.
But what if you're playing with your trusty vintage Martin, the one that's not an acoustic-electric guitar?​
Enter the always useful acoustic pickup. The best acoustic guitar pickups will give you mobility in live performances while "picking up" the subtle nuances in your sound waves, allowing for a clear output and projection of your guitar's tone.
Whether it be an undersaddle, electric soundhole or contact style pickup, the best sounding acoustic guitar pickups will leave your audience clueless to the fact that you're not actually mic'd up. Time to break down a few of my favorite models.
Top 5 Acoustic Guitar Pickups: Our Picks
The LR Baggs iBeam wins over fans with its minimally invasive contact-style transducer pickup, which is easy to install and super discreet. Simply apply the peel-and-stick pickup and feed the iBeam jack through the end pin, and voila, you're ready to plug in your acoustic in no time.
The sound the iBeam puts out is warm and lively and true to tone. You get great sound without modifying the aesthetics of your guitar, which makes this acoustic pickup a top pick.
Hear it in Action:
Seymour Duncan Woody HC Hum Cancelling Soundhole Pickup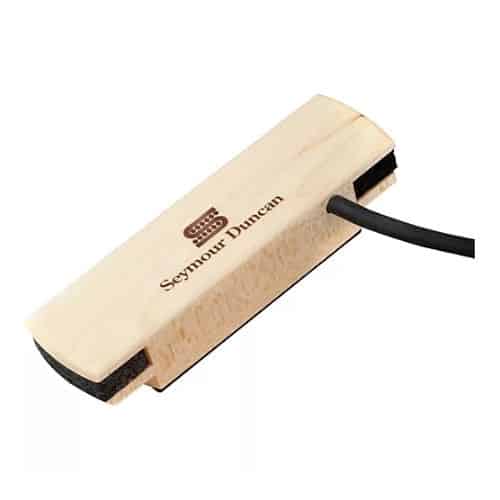 When it comes to adding a pickup to your acoustic guitar, the most non-invasive way to do this is with a pickup that fits in the soundhole. The Seymour Duncan Woody pickup fits into any soundhole that measures 3.85" to 4.1" and doesn't require any holds or drills to be made. You simply fit the pickup into the soundhold and a ¼" cable runs out your DI or to your PA.
The Seymour Duncan Woody is low noise and hum cancelling due to its stack technology. While many pickups can make your guitar sound wiry and artificial, the Woody keeps your guitar's tonal characteristics intact, delivering warm and natural sounds.
Hear it in Action:
You have to love the Fishman Matrix Infinity pickup for its utterly clear, incredibly natural tone. Under saddle pickups tend to be some of the best performers, picking up sound from the entirety of the saddle and minimizing any coloration of the natural acoustic guitar sound. This Fishman model certainly delivers in both categories.
The endpin mounting also appeals to the purist in me who secretly winces at drilling holes in a perfectly good acoustic guitar just to mount some new-fangled electrics. The soundboard-mounted volume and tone controls also come in handy when playing live.
Hear it in Action:
The K&K Pure Mini is a soundboard pickup that just might be the best on this list in terms of recreating the natural, woody, resonant acoustic guitar tone that we all love. This is a soundboard pickup that's easy to install (no need to find a luthier for this one), and it creates its satisfying reproduction of your guitar's tone by picking up the vibrations directly from the soundboard.
Like all soundboard pickups, it may have feedback issues at very high volumes. But if you're only playing solo or in a small acoustic group, that shouldn't be a big issue for you. If you're not playing at high volumes with a full band, the warm, natural tone of the K&K Pure Mini make it possibly the best-sounding acoustic guitar pickup you can buy.
Hear it in Action:
The LR Baggs Anthem SL Acoustic Guitar Pickup just may be the Frankenstein of acoustic guitar pickups. Combining a real, honest-to-goodness mic and a piezo pickup, you don't get recreated acoustic guitar sound with this pickup, you get the actual, true instrument guitar tone.
The innovative electronics almost completely eliminate feedback issues, and they allow you to integrate tones from the traditional element undersaddle portion of the pickup, increasing your projection and dynamic range for live performances.
Hear it in Action:
Conclusion
When it comes to acoustic guitars and live performances, it turns out it's possible to have your cake and eat it too. While I've given you a selection of the best acoustic guitar pickups to start your search, feel free to try out a variety of brands and styles to find the one that's right for you.
A great musician is versatile with a full range of tools in their musical belt loop. With the help of this list, I'm sure you'll find a pickup, or two or three, that will be just right for you.