So you love the classic and melodic sound of great acoustic guitars, but you want to play LOUD, or possibly just be heard all the way to the back of the crowded venue? A good acoustic-electric guitar may be just the compromise you've been looking for.
For those of you who don't know, an acoustic-electric or plug-in guitar is a guitar that has been fitted with a pick-up and typically a preamp as well. Plug your acoustic-electric guitar into your guitar amp and "VOILA", your acoustic sound can now be amplified to be heard as loud as you, or your audience, would like.
Now that we know what it is, let's talk about what are the best electric-acoustic guitars out there today.​
Best Acoustic-Electric Guitars: Our Picks
1. Taylor 114e Acoustic-Electric Guitar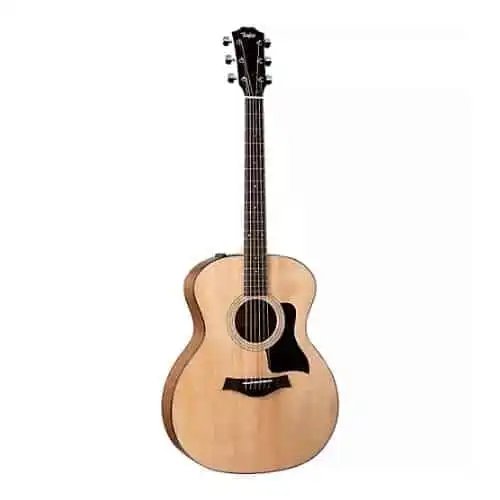 We're going to start with the Taylor 100 Series 114e Grand Auditorium for our list of the top acoustic-electric guitars for no other reason than this beauty resides in my own personal collection. Actually, there are many reasons you want to add the Grand Auditorium to your musical playlist as well.
When it comes to acoustics, you can't beat Taylor's eco-sourced Tone Woods. The 114e features a solid Sitka Spruce top and layered Sapele back and sides, giving the Taylor a rich and full-bodied sound that is hard to tell apart from solid wood bodies more than twice the price. The electrics and built-in preamp are top notch and you can't beat that Taylor neck for finger-friendliness if you're just starting out with chords.​
Hear it in Action:
2. Seagull Coastline S6 Acoustic-Electric Guitar
 If you're a fan of the original S6 from Seagull, but want to be able to plug it into a PA system for gigs, your prayers have been answered with the Seagull Coastline S6. This offers everything that the S6 is known for with the addition of the Godin EPM quantum acoustic system.
Beyond the stellar Godin electronics, the Coastline S6 is still a fantastic acoustic on its own. Dreadnoughts are large guitars and can sometimes be too bulky, but the Coastline S6 has a slim dreadnought design, making it a shallower instrument without sacrificing tonal depth. The cutaway makes for easy access to the higher frets and the neck has a matt finish so that your hands won't stick on the neck.
Seagull was able to expand upon their original S6 in all the right ways with the Coastline model, making it a truly awesome electro-acoustic instrument.
Hear it in Action:
3. Fender Tim Armstrong Hellcat Acoustic-Electric Guitar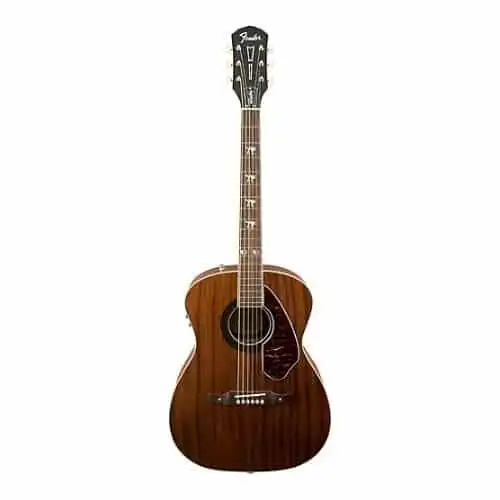 Since we're talking about acoustic-electric guitars that look as good as they sound, I'd be remiss to not add the Fender Tim Armstrong Hellcat to this list of top acoustic-electric guitars. Based on the infamous 1960's acoustic played by the punk rock legend Tim Armstrong of Rancid, I could devote an entire article to the artful styling on this guitar, which is why it consistently ranks at the top of acoustic-electric guitar reviews by players of all levels.
A solid Mahogany top and sides and maple neck make the quality sound on this instrument just silly amazing. The Hellcat also features onboard electronics by Fishman, maker of some of the best acoustic guitar pickups, which will ensure your amplified output projects as cleanly as possible with a ton of dynamic quality.​
Hear it in Action:
4. Epiphone Hummingbird Pro Acoustic-Electric Guitar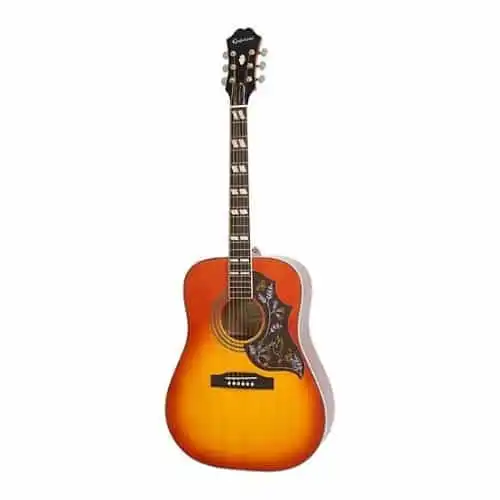 Epiphone has been making the Hummingbird-style guitar since its early days as a newcomer to the music scene. Now the Hummingbird Pro is back and modern players can experience the same enjoyment from rocking out on a legendary piece of musical history.
Wood is king with acoustics, and the Hummingbird Pro features a solid spruce top with select maple back and sides. The full-size dreadnought style body features a built in preamp which will let you jam out onstage with even the loudest electric and drum combo.
Hear it in Action:
5. Yamaha L-Series LL16 Acoustic-Electric Guitar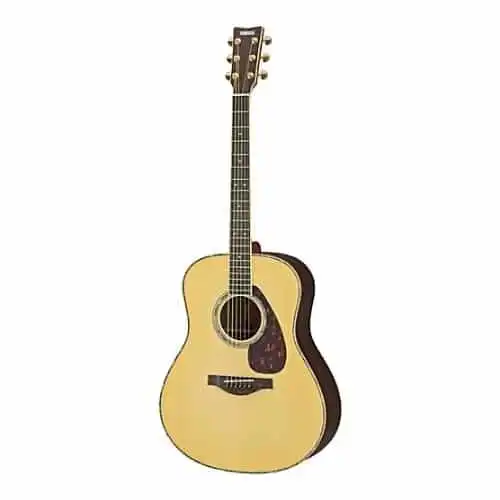 Rounding out our list of the best acoustic-electric guitars, the Yamaha L-Series LL16 is a functional, reliable and great-sounding guitar. The LL16 features a solid Engelmann spruce top that's treated with Yamaha's ARE (Acoustic Resonance Enhancement) technology. This gives the guitar the rich tone that you'll only find on guitars that have aged for many years.
The clarity you get from the Yamaha preamp is phenomenal, even without any equalization options. Yamaha also offers an exceptional warranty and top notch customer service. It's easy to see why acoustic-electric guitar reviews consistently rate the LL6 as the go-to workhorse of choice for both pro and amateur musicians alike.
Hear it in Action:
Conclusion
There are more expensive models out there, but the guitars on this list hit the sweet spot for quality construction, great sound, and excellent value. This should serve as a great starting point for finding the best instrument for your needs.
When it comes to versatility, you can't beat a good acoustic-electric guitar. Whether you want to play quiet acoustic in your living room, plug into a recording system, or rock out at a gig, you'll be ready for any occasion or venue plugged in or unplugged.