A good capo is an essential tool that every guitar player should have handy. The idea of a capo is simple, but it allows you to add complexity to your playing – or just change keys so you can more easily sing while playing guitar.
Whether you're in a cover band and need to play a wide variety of songs or you're a dynamic musician who likes experimenting with different keys, the best capo is one of the most vital guitar accessories. While you can make a capo out of random objects in a pinch, for long-term playing you want a quality capo that you can rely on.
The best capos are easy to use, reliably durable, offer excellent sound quality, and won't damage your guitar's wood. We've rounded up the best guitar capos for every use case, from practicing at home, recording a new song, or performing live.
What is a Guitar Capo?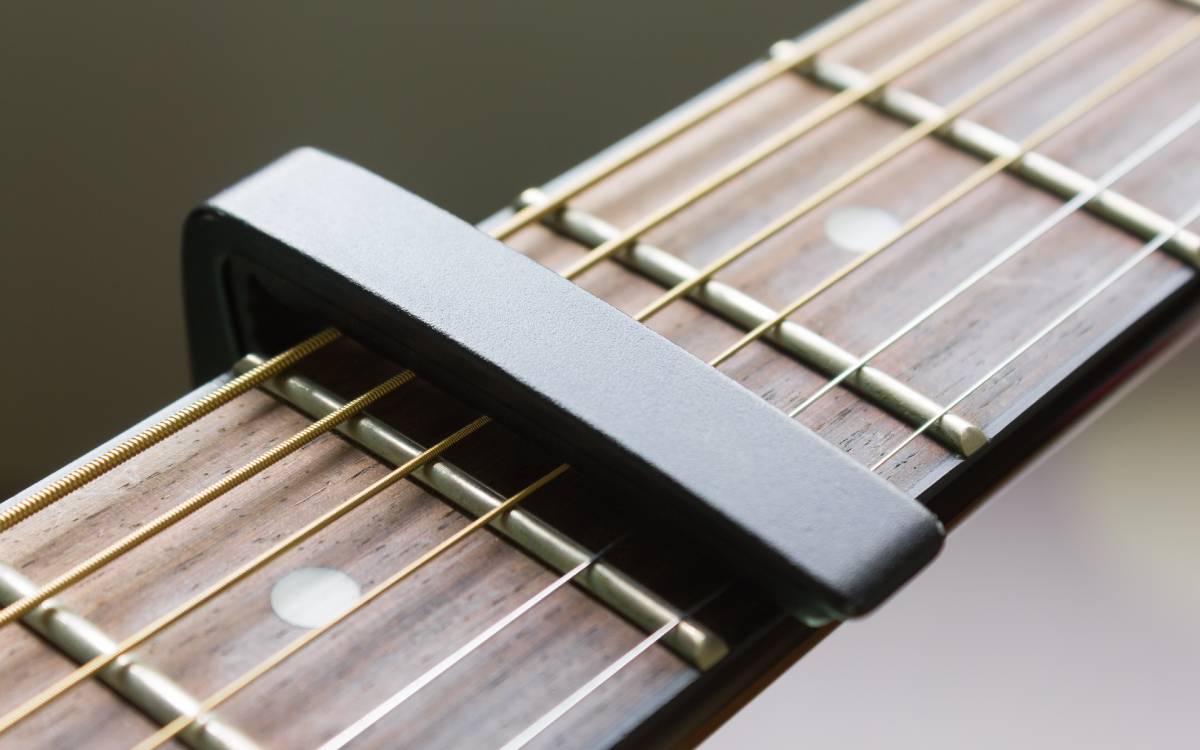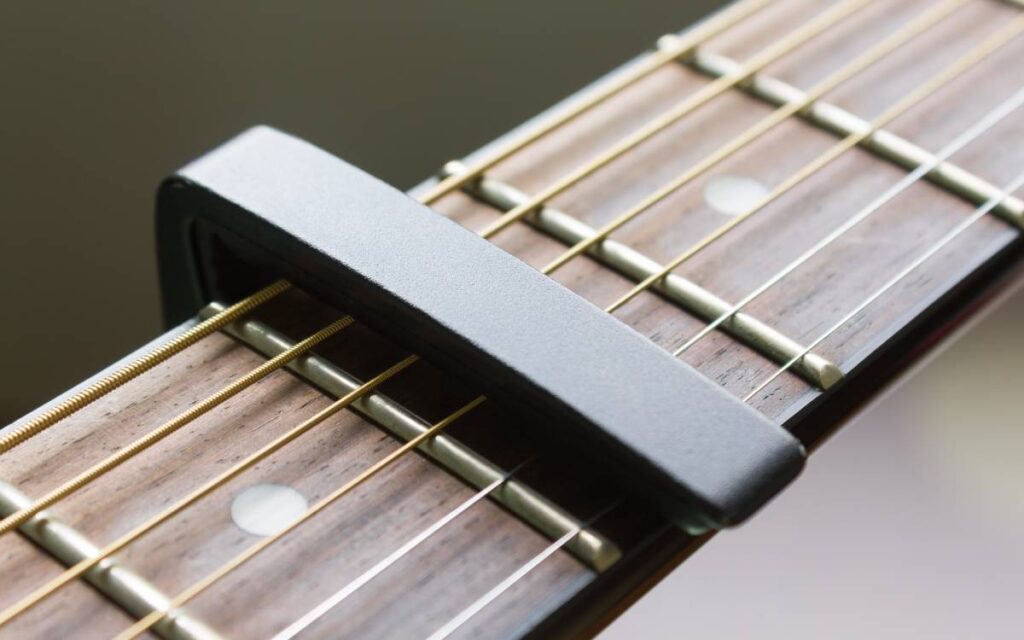 A guitar capo is a device that allows you to change the pitch of your guitar quickly and easily. Capos clamp across your fretboard, like your finger playing a barre chord. This raises the pitch of the notes that you play.
For example, if you put a capo on the second fret of your guitar, every chord you play is now up a whole step. So when you play a D chord, you're actually playing an E chord. Playing a C-shape gets you a D chord, a G becomes an A, etc. A capo allows you to play a song in any key while using the same chords – or chord shapes – as the original key.
Since capos allow you to change keys easily, they can help with transposing. To change the key of a song, you can either transpose by ear, which requires learning complex chords, or you can use a capo. The capo method is much easier and saves a lot of time.
Guitar players use capos to change the key of a song to make it easier to sing along while playing, accommodate a vocalist's range, or experiment with new keys. Capoing a guitar on a higher fret can also create a different sound, which you may want for certain songs.
How does a capo impact the guitar's sound?
A capo raises the guitar's pitch, which in itself imparts different tonal qualities to a guitar. There's also a sonic difference between using the best guitar capo and barring with your own fingers. A good capo sounds more 'open' and bright than a finger across the strings.
Capos can help you explore and invent new ways of playing your own melodies while still using the same fingering. Many iconic guitar riffs like Hotel California use a capo.
The Different Types of Guitar Capos Explained
All capos do basically the same thing, but there are several different kinds of guitar capos that you'll encounter. Each one works a bit differently, and they each have their pros and cons.
Adjustable Screw Capos (and clamp capos)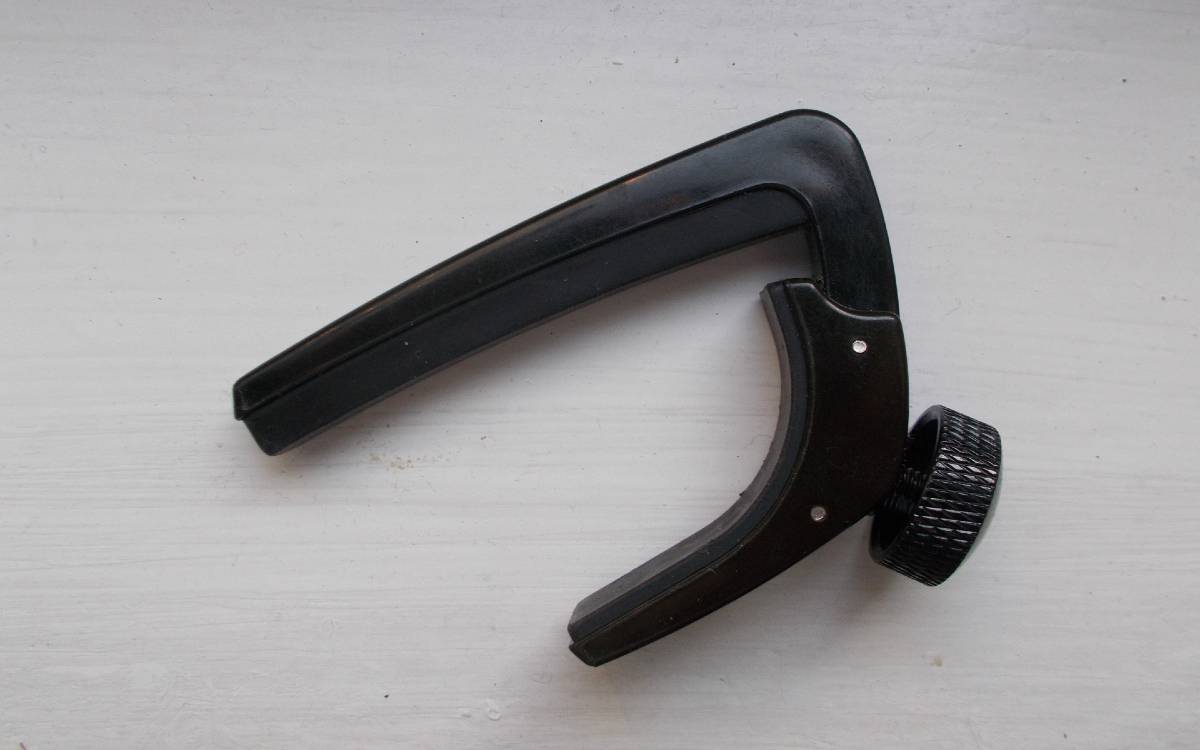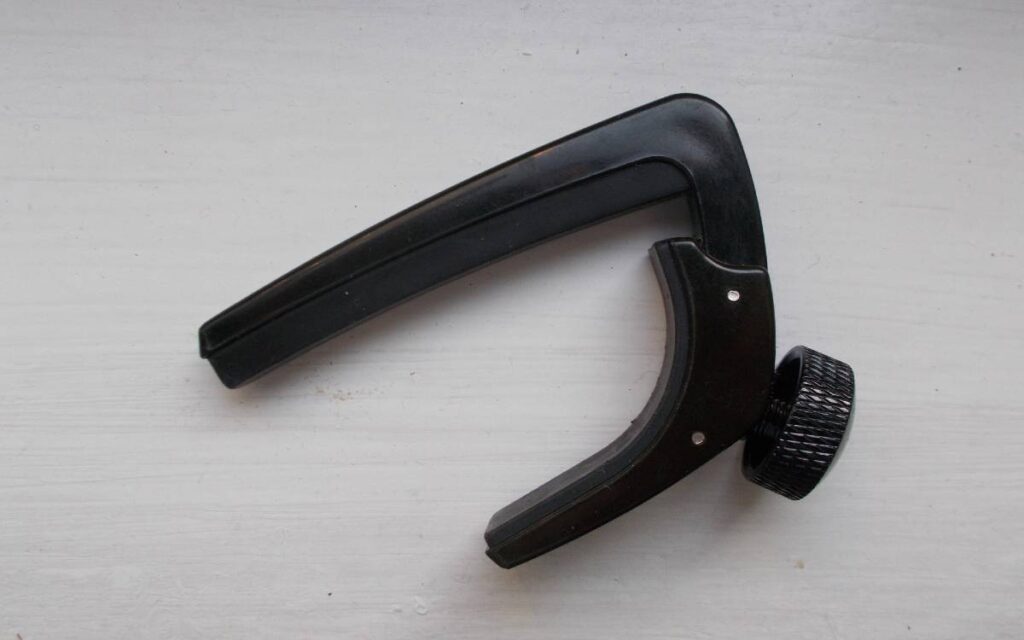 Adjustable screw capos clamp onto the neck of your guitar and allow you to adjust the tension easily with the turn of a screw or a squeeze of your hand.
A major benefit of screw capos is that you precisely set the tension you need to eliminate string buzz while also not throwing your guitar out of tune or impacting tuning stability. Because they allow you to dial them in precisely, these are possibly the best guitar capos for acoustic and electric guitars.
The downside is that they take more time and effort to get set up vs non-adjustable spring capos, and you may not be able to easily store them on your guitar when not in use. This makes them less convenient for live performance, but many guitarists consider the trade-offs worth it.
The most iconic (and awesome) screw capo is the Shubb Deluxe, but the overwhelming favorite around here is the Planet Waves NS screw capo. The G7th Performance 3 clamp capo is another top contender and musician favorite with an innovative clamping mechanism that makes fine-tuning string tension even easier.
Trigger Capos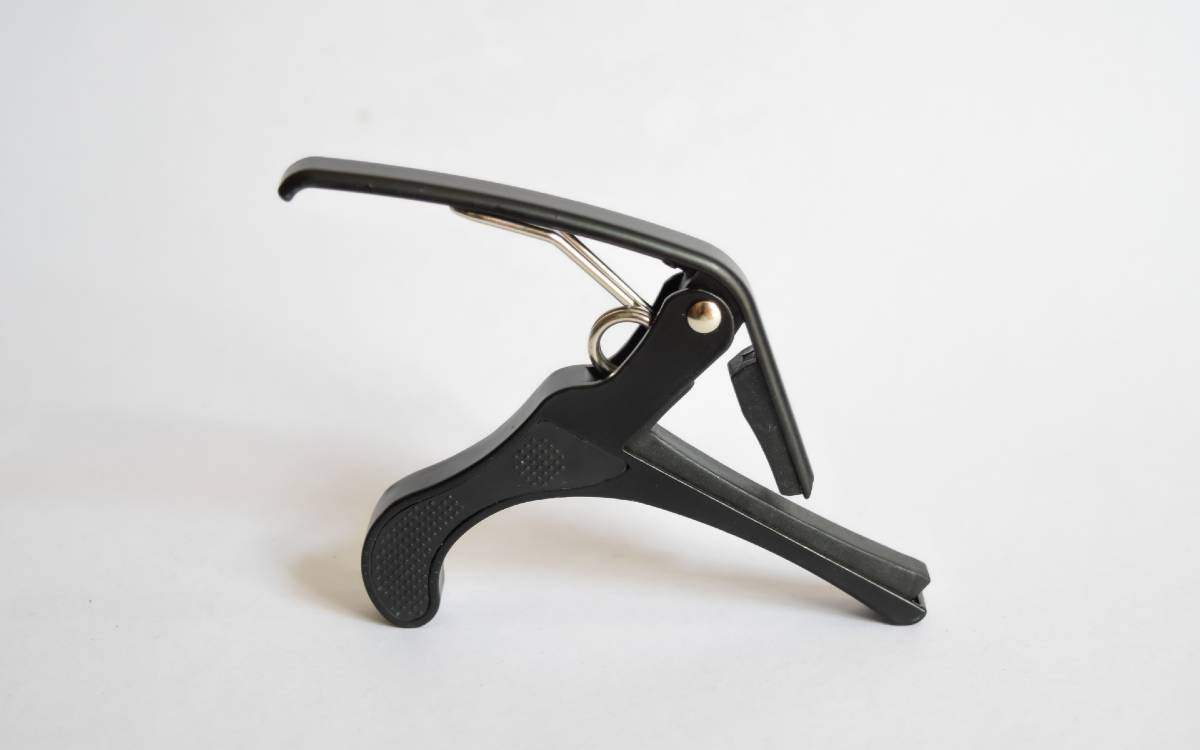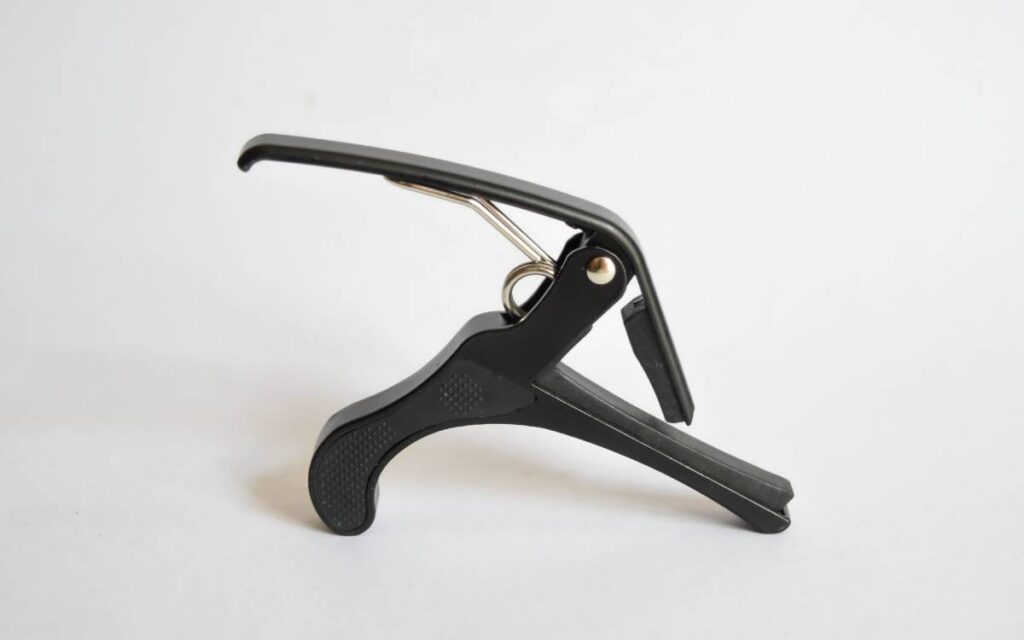 Trigger capos are one of the most popular capo varieties. They're simple and quick to use while being inexpensive and reliable. These capos have a built-in spring that clamps the jaws around the guitar neck. Moving and removing them is simple – just squeeze the "trigger" with your hands to release the tension, move it somewhere else, and release.
Trigger capos use resistance to press on the guitar strings, which means less time picking at screws and trying to adjust clamps. This makes them possibly the best guitar capos for live performances, where everything needs to happen as fast as possible. They're also durable, trustworthy, and consistent – perfect for beginners and live performers.
The downside to trigger capos is that you can't adjust the tension, so they tend to press down on the strings too hard. This means they could throw your guitar out of tune if the capo is too tight, or you may have issues with string buzz if it's not positioned on your guitar properly.
Even though trigger capos are known for giving your instrument a harsh and thin sound, if this is the sound you're going for, trigger capos can help. Moreover, just because these problems are common with trigger capos doesn't mean you'll face them. You just have to make sure that the capo you're buying is high quality.
But trigger capos are inexpensive, fast, and easy to use. Most guitarists have at least one Kyser Quick-Change capo in their arsenal. For quality and ease of use, many consider the Kyser to be the best guitar capo available.
Dual-action capos like the Planet Waves NS Artist offer the benefits of a spring capo while also featuring adjustable tension when you need it.
Yoke-Style Capos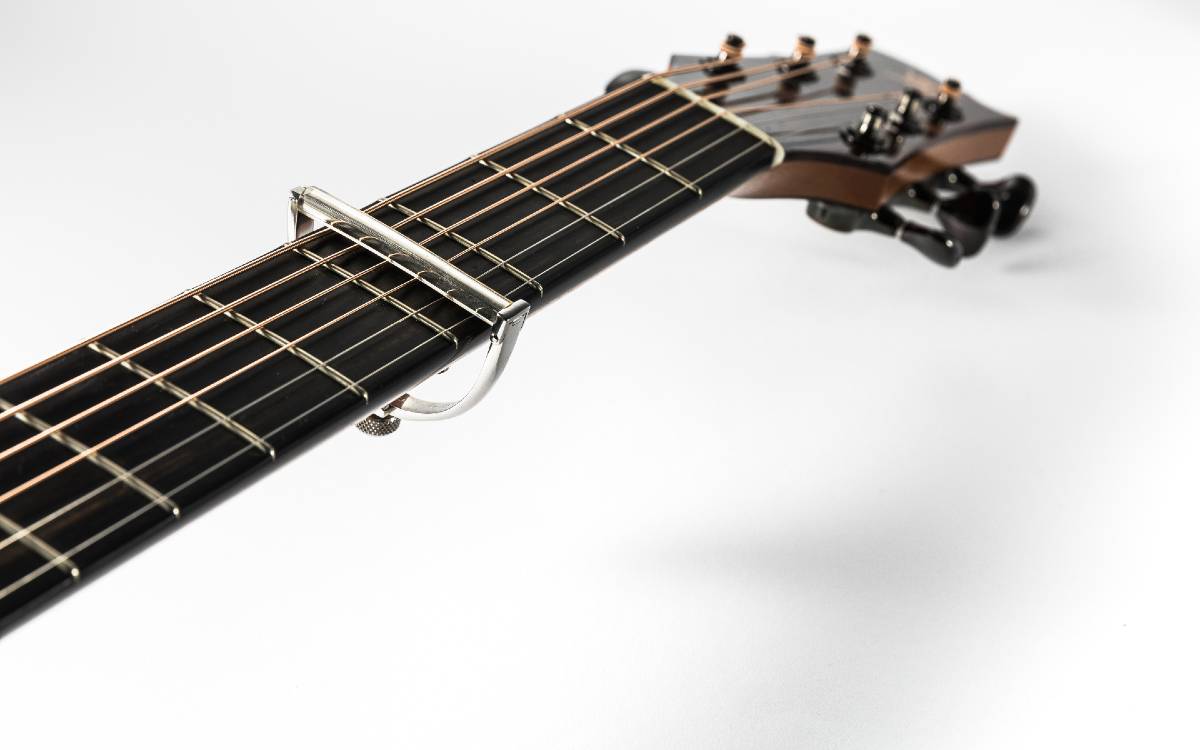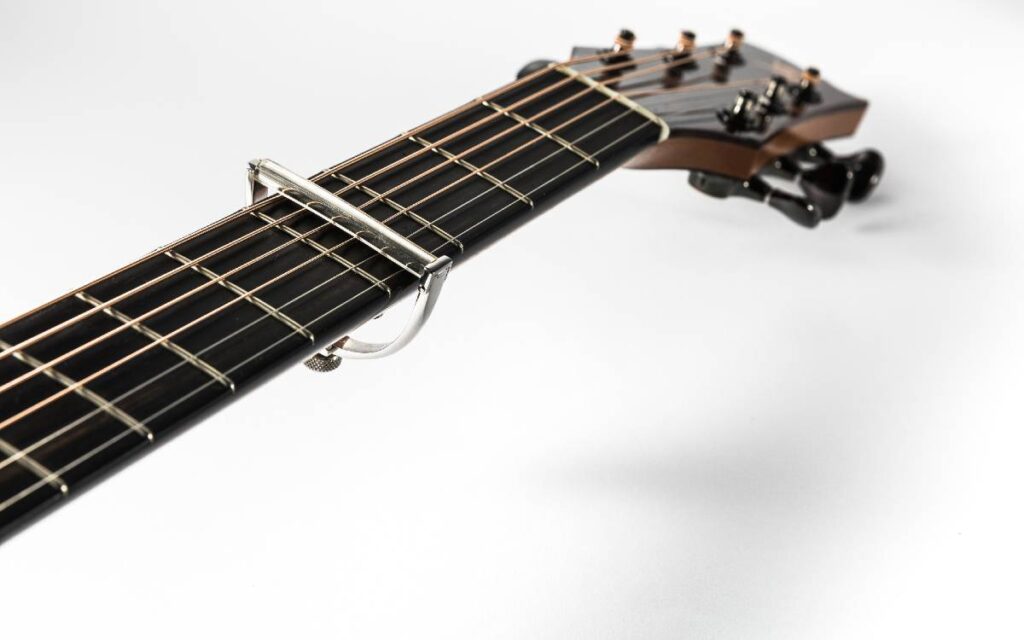 Yoke-syle capos wrap around your guitar's neck and feature an adjustable tension screw. Once you install a yoke-style capo, you just leave it in place. This makes them super easy and quick to use while also featuring adjustable tension. In our opinion, these are some of the best guitar capos on the market.
A yoke-style capo sits behind the nut when you're not using it and easily slides to the proper fret when you need it. And since the tension screw is centered on the back of your guitar neck, it allows you to get even tension across the fretboard – which can be a struggle with other capos.
Not all yoke-style capos are suitable for all guitars, however. These capos may have difficulty fitting on some guitars, such as classical guitars or steel-string acoustic guitars with wider necks.
Several brands make yoke-style capos, but our favorite for function and affordability is the Paige PG6E.
Toggle Capos
The toggle capo (or strap capo) is the simplest capo design available for guitarists. It consists of a toggle to put pressure on the strings and a strap to adjust the tension. There are increments on the back of the toggle capo to allow different degrees of tightening.
For how simple the design is, there are some flaws. Toggle capos have the advantage of being small and lightweight, but that's about it. The straps themselves are a pain to adjust evenly and tend to stretch with time. However, their durability and affordability make them a fine choice for a budget capo.
The Dunlop 14C Curved Professional Toggle Capo is a solid choice if you need a toggle capo for your guitar or ukulele or are just looking for a lightweight backup.
Partial Capos
Partial capos work differently than the other capos on this list. Rather than fretting across all the strings, this type of capo covers only part of the fretboard. If you're looking to explore experimental techniques or try new and innovative guitar tunings, a partial capo is the best capo.
Partial capos are particularly useful for experimentation. You can capo the three bass strings (E-A-D) while keeping the other three open. Try this with some alternate tunings, and you can get interesting musical results.
The Shubb C7B Brass Partial Capo is an excellent general-purpose partial capo. Shubb capos are always quality, and this is one of the more affordable partial capos out there. If you want total freedom to capo each string individually, the Spider Capo from Creative Tunings is an exciting option.
Our Top 7 Best Guitar Capos Guide
1. Planet Waves NS Capo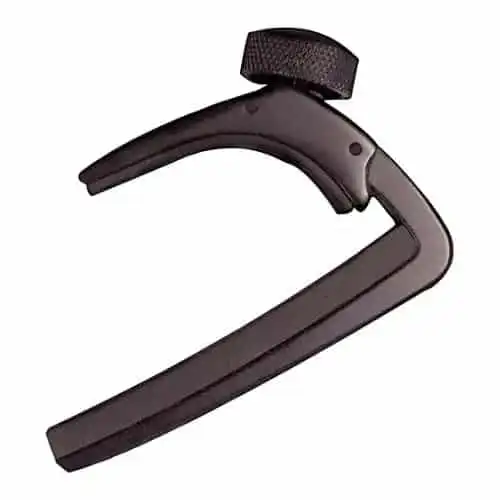 D'Addario hit it out of the park with the Planet Waves NS capo, an innovative collaboration with the famed music product designer and inventor Ned Steinberger. This little capo has a lot of pros and almost no cons, and is the runaway favorite for best capo among our staff.
The Planet Waves NS Capo is incredibly simple to use. The micrometer tension adjustment allows you to dial in precise tension, and it's a snap to use one-handed. It's constructed from strong-and-lightweight machined aluminum and is possibly the lightest capo on this list. Unlike trigger-style capos, it's incredibly low-profile. It stays out of the way while you're playing, and it stores behind your nut while not in use.
The Planet Waves NS by D'Addario capo has everything a guitar player could possibly want in a capo, with none of the downsides of other styles. It's great for acoustic and electric guitar, plus it's an affordable capo option. You won't regret adding this versatile and durable capo to your guitar kit.
2. Shubb C1N Capo Capo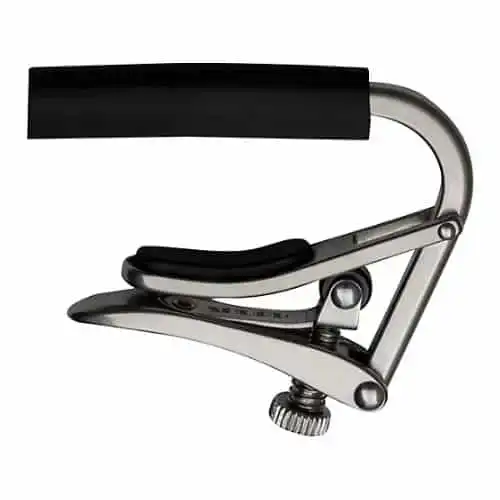 Shubb has long been a popular name in capos. In fact, capos are all this company does, and they make some of the best screw capos on the market. With this level of specialization, you can expect a quality capo across all of the Shubb models. What makes the Shubb C1N a great capo is the adjustable tension screw which lets this capo accommodate a variety of sized necks. And once you set the tension, all you need to do is clamp it on.
The Shubb C1N screw capo is made of stainless steel, and it feels like a very high-quality piece of machinery. Shubb recently redesigned the roller wheel to have a smoother motion and greater resistance to wear. It's also very low-profile and stays out of the way while you're playing.
The main downside to the Shubb capo is that you can't store it on your guitar when not in use. But for quality, reliability, and usability, this Shubb capo is one of the most versatile capos on the market.
3. Paige PG6E Guitar Capo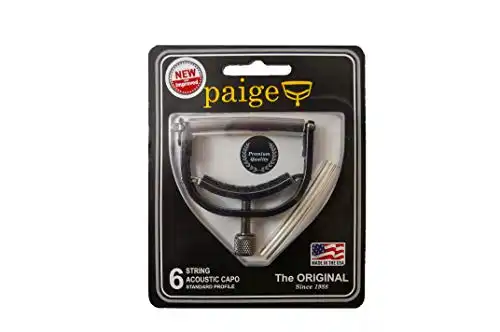 Paige PG6E
Adjustable tension capo that stays on your guitar
Check Price on Amazon
If you make a purchase from this link, we earn a commission (at no additional cost to you).
A sleeper favorite for best guitar capo, the Paige PG6E guitar capo is simply great. The packaging isn't very attractive, but don't let that sway you from giving this awesome little capo a look.
The Paige PG6E is a yoke-style capo that always sits on your guitar neck. Park it behind the nut when not in use; then, slide it to the desired fret position and tighten the screw when you need it.
The tension screw sits right in the middle of your guitar's neck, applying even pressure and allowing you to adjust the tension exactly where you need it. Unlike spring capos, this capo won't throw your guitar out of tune, and you can perfectly dial it in to eliminate string buzz.
The main downside to this capo is that it won't accommodate wider necks, so it's out of the running if you have a classical nylon-string guitar. We also couldn't get it past the fifth fret of our Rainsong DR1100 steel-string guitar.
Paige may not be as well-known as Kyser or Shubb, but they make great capos that are easy and quick to move and allow precise tension adjustments. Many of us around here swear by them and consider them the best guitar capo for your steel-string guitar.
4. Kyser Quick-Change Capo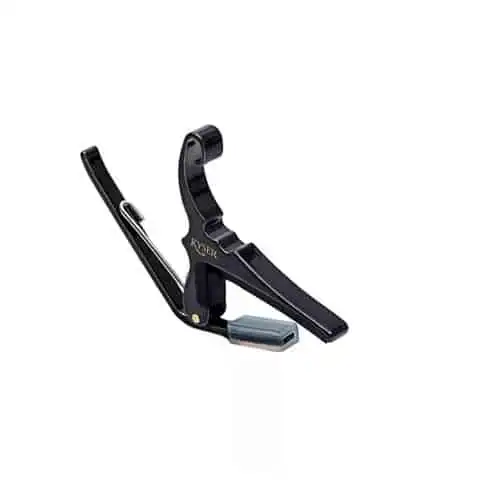 Ease of use is critical in a quality capo. After all, the entire purpose of a capo is to make changing the key of your guitar quick and painless. The Kyser Quick-Change Capo certainly fits the bill. It's easy to use this capo with just one hand, and when you don't need it, it clips out of the way on your headstock.
The Kyser capo applies firm, even pressure across the strings with a reasonably low profile for aesthetic appeal. However, the tension is not adjustable, and some may find it too firm, especially if you have lighter strings. But overall, the Kyser Quick-Change capo is excellent, easy to use, and popular with guitar players of all kinds.
5. Ernie Ball Axis Capo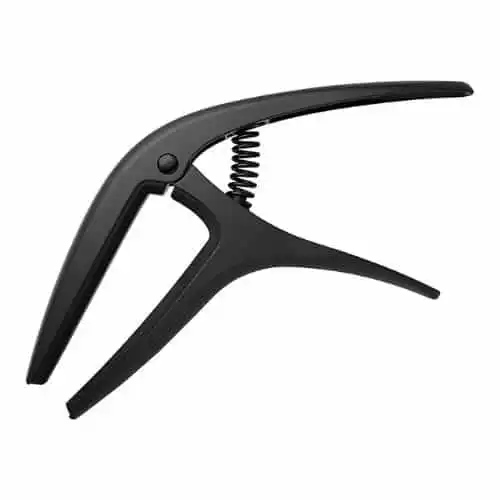 Ernie Ball is a well-known name among guitarists for their top quality guitar strings and accessories, so it was only a matter of time before they released the Axis capo. The design for this trigger capo is deceptively simple while making it a snug fit for just about any guitar out there.
This capo was designed with seven-string guitars in mind, but it should serve the average six-string guitar player very well due to its versatility and ease. The handles of the capo are coated with molded rubber, making them ergonomic and comfortable to use while also leaving your guitar unscathed. And its dual-radius design allows it to properly capo both flat and curved fretboards.
"If it ain't broke, don't fix it" really does make sense in the context of this capo. Sometimes there is nothing better than ease of use and simple design, and the Ernie Ball Axis capo reflects this
6. G7th Performance 3 Capo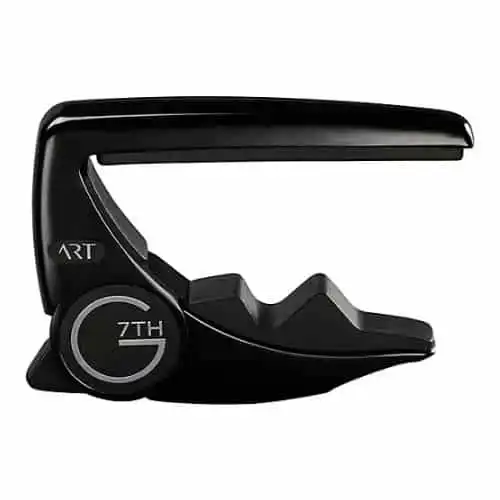 Britain-based G7th took their highly-regarded original Performance capo and improved it by making it smaller, lighter, and easier to use. Most guitar players really, really like the G7th Performance 3 capo. It's the most expensive on our list, but it's awesome enough to be worth it. 
The G7th capo uses a unique one-handed clamping mechanism to lock onto the neck of your guitar. Simply squeeze it to clamp it in place with the proper tension. Removing it is just a matter of releasing a small lever. It's suitable for both electric and acoustic guitars.
Since it's adjustable, the G7th Performance 3 won't throw your guitar out of tune, and your strings won't be buzzing. Plus, it's small, lightweight, and solidly built. You can't go wrong with this one, but there are cheaper options that also work well, so consider your budget.
7. Dunlop 83CB Acoustic Trigger Capo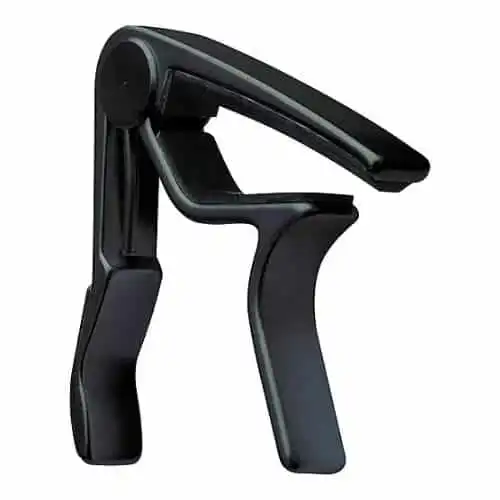 It's impossible not to know Dunlop when it comes to guitar accessories, and capos are no different. The 83CB acoustic guitar capo should easily fit all 6 and 12-string guitars, and is made from quality aluminum. Its ergonomic design ensures the best health for your hands, while the strong spring offers enough resistance to clamp down strings without fret buzz.
Even though the Dunlop trigger capo has an aluminum body, it has a padded handle for your hands, which is much more comfortable to hold compared to aluminum. It's also one of the most affordable capos on the market. Still, many professional musicians worldwide swear by it, including Ed Sheeran.
A Few More Capos Worth A Look
How To Use a Guitar Capo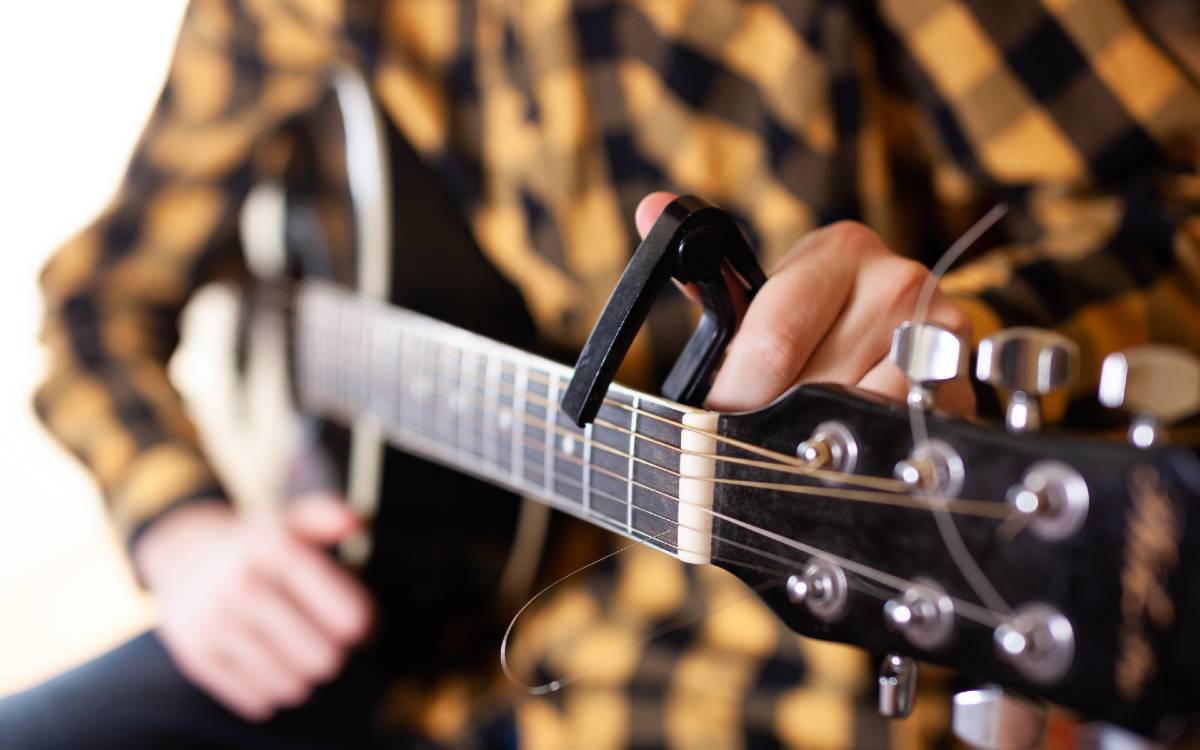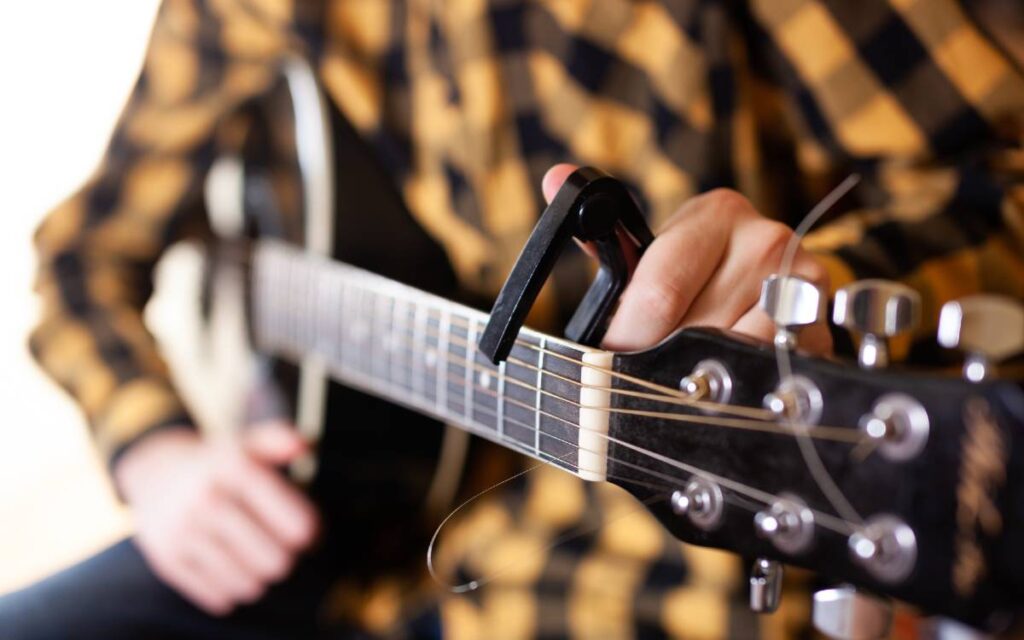 Most guitar capos don't come with an instruction manual, so it can be difficult for new learners to understand how to use their capo and make the most of it. Since a guitar capo works by barring the fretboard, there can be problems if you don't adjust the tension on your capo to lie evenly across all the strings.
Here's how to use a guitar capo:
Unscrew/press down on the capo, depending on its type.
Position it over the guitar's fretboard, just before the fret you'd like to capo. It should be as close as possible to the fret so that there's no buzzing.
Fix the capo evenly, depending on its mechanism (screw, quick trigger, etc.). Try to keep it level and straight against the fret for even tension on all strings.
Strum all the strings in the new 'open' position and make sure there's no buzzing.
If you have an adjustable tension capo, don't tighten it too hard to avoid damaging the fretboard or the strings. The easiest capos use a quick trigger mechanism, which works well enough for most guitars.
Beginners should use their guitar capo on the first three frets of their guitar to get a feel for the way the capo changes pitch and key. It also helps your ear training and enables you to identify the changes in the notes and chords. But putting a capo anywhere below the 12th fret on acoustic guitar is easy and shouldn't pose any problems.
This video explains how to use a capo so you can follow along:
What to Consider Before Buying a Capo
Buying a capo might seem easy enough, but once you go through all the factors you need to consider before your purchase, it could get overwhelming. Fret not (no pun intended) – this list will serve as an easy-to-follow guide about what you should look for in a capo.
Type of Instrument
This should be the first thing you consider before buying a capo. While a capo for a six-string acoustic might work with a ukulele, a ukulele capo might not be fit for a six-string. Check the product description very carefully before you purchase; the best option would be to get a capo explicitly designed for your instrument. But if you play a variety of instruments, you can consider getting one that fits all fretted stringed instruments.
While most capos can work well for both an acoustic guitar and an electric guitar, you still have to note any differences in the neck. If the neck profiles and curvatures are different, you may need a different capo for each.
Flat or Curved Fretboard
Guitar fingerboard radiuses are never the same across the board. Depending on your guitar, your fingerboard might be flat or rounded. Since a guitar capo clamps onto the fingerboard, you'll need a capo which fits the fretboard radius.
Using a flat capo on a rounded fingerboard is a recipe for fret buzz since the capo won't be able to clamp down on all strings with the same tension. So check for the curvature before you buy a capo.
Ease Of Use
Live musicians who don't need studio precision might give precedence to how easy the capo is to get on or off the fretboard. Some capos have more tension on the trigger, while other capos are more difficult to adjust.
Decide whether you need your capo to be easier to put on or whether you need it to be extremely precise.
Price
Capos can range anywhere from a few bucks to over $50 and beyond. And the quality you get is often consistent with the price. Professional quality capos cost more but use better materials, making them more durable and reliable over time. Plus, they're less likely to damage your guitar.
Your primary consideration is your use case: are you using it for practicing at home, recording songs, or performing live? If you're using it professionally, it's well worth putting in a little extra to get a good capo that'll stick with you. And always look out for guitar capo deals, so you can get 1 or 2 extra ones as a backup if your main one breaks.
Frequently Asked Questions About Guitar Capos
Who should use a guitar capo?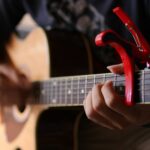 You should use a guitar capo if you want the ability to change keys quickly or if you need to find the right key for your voice.
Capos are suitable for all guitarists, but you might also find that using a capo can help if you have small hands. Children and people with smaller hands might find it difficult to barre the guitar at the first fret. In this case, a capo can be used to make the guitar easier to play without compromising on sound quality.
Does a capo damage your guitar?
A capo can potentially damage your guitar if used incorrectly, especially with cheaper or heavier-weight capos.
Capos won't damage your guitar if used for a few hours at a time, but constant use over a longer time can cause issues.
Always take a capo off your guitar before putting it away to avoid damage. Because they use pressure to clamp down on the fretboard and keep the strings pressed down, they can damage the fretboard and reduce the life of your strings.
Cheap capos often don't have thinner padding and poor springs, which can cause damage to your guitar. Better capos are curved according to the fretboard radius and automatically adjust some of their tension for a good fit. 
Variable tension capos are better for the health of your guitar since they allow you to dial in the exact amount of pressure on the strings and fretboard. As long as you tighten them too much, these capos are less likely to damage your guitar. But, you'll have to find the sweet spot that won't cause buzzing and won't clamp down too hard.
Is it okay for beginners to use a capo?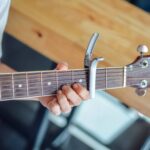 Yes, it's okay for beginners to use a capo. In fact, a good capo is a helpful tool for exploring guitar chords beyond the standard open chords, which opens you up to new musical ideas.
 
As a beginner, you might wonder whether using a guitar capo to learn how to play guitar is cheating, and you may have even heard some more experience players say this. But a capo or any other device that helps make playing easier never counts as cheating.
Beginners need to get a feel for the guitar to be comfortable coming back to practice every day. A guitar capo makes it easier to access chords all across the fretboard without using barre chords. Capos can help you understand what chords higher up the neck sound like before trying to learn a song with those chords.
If you like to sing while playing guitar, the best guitar capos become indispensable. 
Playing a particular song with open chords may not fit your vocal range. Using your guitar capo to play further up the neck will help you identify the best key to play in for your voice.
As you go along, you can always learn barre chords and replace your guitar capo with your own index finger once you're confident.
Can I use the same capo on both acoustic and electric guitars?
Most standard guitar capos will fit both acoustic and electric guitars. However, there are some caveats to be aware of.
Non-adjustable trigger-style capos like the super popular Kyser Quick-Change are designed to produce enough tension for acoustic guitars. Since electric guitars have lower string tension, these types of capos can put too much pressure on electric guitar strings, leading to tuning stability issues or string damage. Electric guitars also often have a different fretboard radius, so capos designed for an acoustic guitar might cause string buzz on an electric.
For electric guitars, it's better to use a capo with adjustable tension, like the Planet Waves NS or the G7th Performance 3. The Ernie Ball Axis Capo is another good option since it has a dual radius design that accommodates both acoustic and electric fretboards.
Do capos fit all guitars?
Guitar capos come in various sizes to accommodate different types of guitars, including acoustic, electric, and classical guitar models. There are also capo models available to fit the needs of wide or narrow necks and flat or curved fretboards.
But it's important to note that a single capo won't fit all guitars. If you have a 7-string guitar or even a classical guitar with a wide neck, you'll need a different capo than one used on a standard six-string guitar.
What is the best acoustic guitar capo?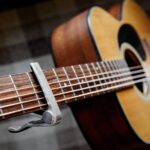 All of the capos mentioned in this article are among the best capos for six-string acoustic guitars. The best capos for acoustic guitar are sturdy, durable, and hold down the heavy-gauge acoustic guitar strings without damaging the fretboard. The Kyser Quick-Change is a perennial favorite in this category. If you want a capo with adjustable tension, we recommend the Planet Waves NS capo, a Shubb capo, or the G7th Performance 3.
What is the best capo for electric guitar?
Electric guitar trigger capos are challenging to find since most capos are designed to provide the resistance needed for thicker acoustic strings. The Shubb C1 capo is their most popular capo for steel-string guitars, and fits both six and twelve-string guitars easily. With its versatility, it's also a great electric guitar capo. 
Since the Shubb C1 is not a trigger capo, you can adjust the tension, so it's not too much for your electric guitar strings. It's also a compact and lightweight capo, making traveling with it a breeze.
What kind of capo does Ed Sheeran use?
Ed Sheeran uses a Dunlop 83CB Trigger Capo for most of his songs. The 83CB is a popular capo used by many other professional guitarists, but note that most capos work similarly. So if you'd like to cover some of Ed's songs, you can use any other reliable capo.
Conclusion
Whether you're in the studio working on recordings, playing live on the stage at a gig, or just jamming with friends, changing keys quickly and easily is an incredible asset for a versatile musician. With a quality capo, all it takes is a quick squeeze of a lever to change keys in a flash.
The best guitar capos are lightweight and easy to use with single-handed action. They also leave your guitar tone unchanged with no excess buzz or noise across the strings. Any of the guitar capos on this list will fit the bill and provide years of quality quick key changes to improve your versatility as a musician.