Whether it's a campfire cookout, an impromptu jam session with friends in a garage or just a quiet afternoon to let out your artistic side in the park, having a great acoustic guitar that travels easily while maintaining a quality sound can certainly come in handy.
And when it comes to the best travel guitars, you don't have to sacrifice quality construction, playability, deep acoustic sound or the ability to hold a tune. There are a host of modern acoustic guitars that make excellent travel companions, whether it be for small size, light weight or their ability to take a beating via airport security.
What Makes a Good Travel Guitar?
There are a ton of different styles and types of guitars out there, including some made specifically for travel. But what features and abilities does a guitar need to have to make it suitable for travel? Here are a few things to look for:
Compact size. It's not always possible to bring a full-sized guitar with you on your travels, especially if you're flying or backpacking. There are some ultra-compact guitars designed for portability, but a good small-scale guitar is also an option.
Durability. Let's face it, your travel guitar is going to get knocked around a bit. Whatever guitar you go with should be able to stand up to the abuse.
Noise level. What this means for you depends on your needs. If you want to jam with other musicians, you'll want a good mini guitar that can pump out enough volume. If you want a guitar for silent practice in hotel rooms, then something quieter is a better option. There are even specialty guitars that are nearly silent, but give you the full acoustic experience simply by plugging in a pair of headphones.
There are a ton of guitars on the market that check these boxes, some good some not so good. Here is a rundown of our favorite acoustics for on-the-go music.
Our Favorite Travel Guitar Reviews
1. KLOS Carbon Fiber Travel Guitar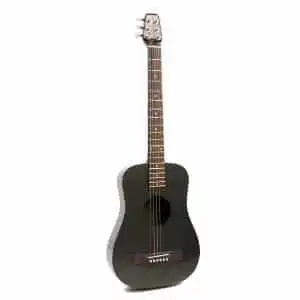 The KLOS carbon fiber travel guitar has just about everything you could want in a portable guitar. Launched via a series of wildly successful Kickstarter campaigns, the KLOS guitar is an incredibly playable full-scale length guitar that features a detachable neck and the high tech durability of carbon fiber. And despite its compact size, this guitar has a ton of volume and a beautiful tone.
Plus, the KLOS guitar is just a blast to play. The neck and the action feel very comfortable, and its light weight means that it's easy to keep playing for hours. With a full 24-¾" scale length, the KLOS guitar is great for experienced players that need a durable guitar for travel. But its small size and easy playability means that it's also perfect for beginners or children just starting their guitar journey.
KLOS Guitars was founded by brothers Ian and Adam Klosowiak, and their guitars are handmade in Utah. For a great-sounding, packable guitar that you won't have to worry about knocking around a bit in your travels, it's really tough to beat the KLOS.
Hear it in Action:
2. Traveler Guitar AG-105EQ Acoustic-Electric Guitar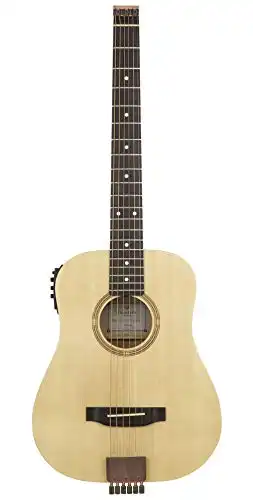 No, your computer isn't cutting off the top of the guitar's image. The Traveler Guitar AG-105EQ forgoes a headstock for a bridge tuner to give you a smaller guitar that is perfect for packing into tight cars or overhead compartments on an airplane. It also takes away one of the highest risk points for breaks on travel acoustic guitars. 
The AG-105EQ is also unique in that it is the shortest guitar on the market with a full scale measurement, giving you the feel of a full scale guitar on a smaller body.
Though often described as sounding "boxy", the spruce top and mahogany back/sides are a tried and true tonewood combination that will help you stand out in a mix. The tone can be further altered using the custom Shadow preamp system's 2-band parametric EQ. It's also a suitable practice instrument, as you can plug in headphones, allowing you to play quietly while hearing every nuance of your playing.
Hear it in Action:
3. Taylor Baby Taylor BT2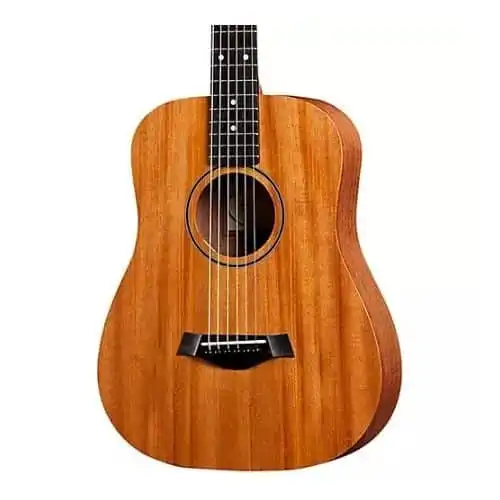 The Taylor BT2, appropriately named the Baby Taylor, is not just a great guitar for the road, but for in the studio as well. This ¾ size guitar exemplifies all the beautiful sounds that Taylor guitars are famous for at a price point that is accessible to just about anyone.
That being said, the Taylor Baby Taylor BT2 isn't just for beginners and campers, it's been used by professionals including David Gilmour, Taylor Swift, and Katy Perry. 
The Baby Taylor excels as a travel guitar due to its simple, but high quality design. It has solid mahogany for the topwood, paired with sapele sides and an arched back for more volume than any ¾ size guitar has a right to produce. While the mahogany provides tonal character, the layered sapele adds stability that's perfect for a guitar that's on the go.
The Baby Taylor is a favorite among travelers, beginners, and professionals alike and is sure to age well for years to come.
Hear it in Action:
4. Yamaha JR1 Mini Folk Guitar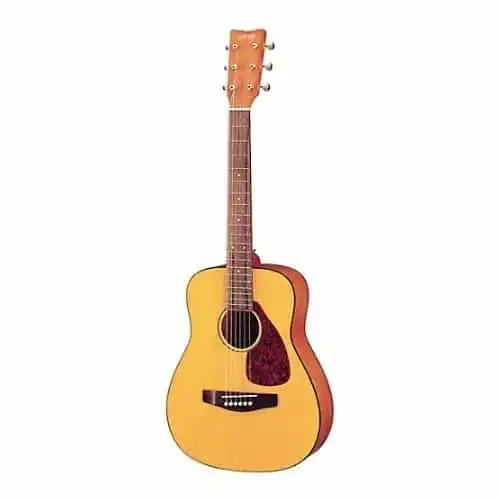 Combining durability, projection, tone and the convenience of a ¾ sized body, the Yamaha JRI Mini Folk Guitar provides supersized value in a compact package. But smaller doesn't mean cutting corners.
The JR1 features a solid spruce top and the easy action that Yamaha is known for. On top of being one of the best travel acoustic guitars, the JR1 does double duty as the perfect learning instrument for children or someone just learning proper finger placement for chords, because of its classic shape in a scaled down size.
Hear it in Action:
5. Washburn Rover Travel Guitar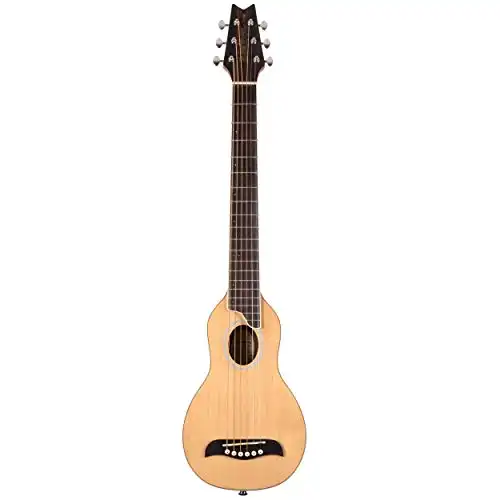 Another travel-worthy acoustic with distinctive body styling, the Washburn Rover delivers huge projection in a compact package. Washburn is also the only acoustic guitar on our list specifically designed to fit in the overhead storage compartments on airplanes. This is a definite plus for the musician with frequent flyer miles to burn.
A solid mahogany body and neck means that sound quality will match the volume on the Rover. With all of this to offer, my favorite feature of the Washburn rover is the full size 24" scale neck, which is hard to come by in the travel-friendly acoustic guitar category.
Hear it in Action:
5 More Great Acoustic Travel Guitars to Consider
Conclusion
When it comes to portable musical instruments, few things can spruce up a gathering as much as a travel acoustic. And the guitars on this list prove that you don't need to sacrifice quality for portability.
Whether you just need something more compact, a good cheap guitar that can take a beating, or something that you can cram into an overhead compartment, a good travel acoustic will suit your needs. Try out one of the above models and take your music with you on your journeys.