So you want to learn acoustic guitar, but you're on a budget and you're wondering which guitars provide the best value for your money? Or maybe you're looking for an inexpensive travel or practice guitar that you can use in place of your studio or home model without worrying about damage?
Luckily, some of the best acoustic guitars are also very affordable. But when it comes to looking for a good cheap guitar, the options can be overwhelming. In this article we break down the factors you should be considering, from wood choice and finish to the shape and feel of the neck and body, to help you find the best value acoustic guitars on the market.
1. Yamaha FG800 Solid Top Acoustic Guitar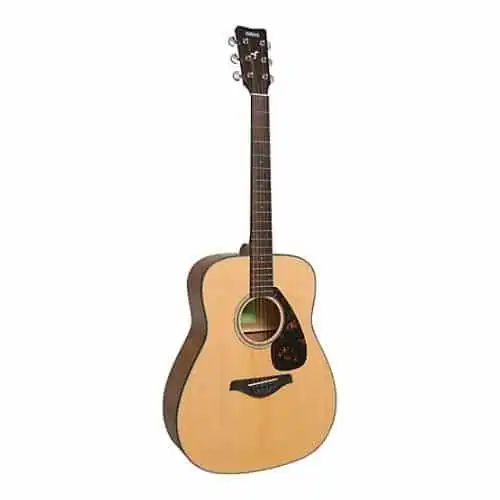 Yamaha makes great guitars for all price ranges, so when you're looking for a reliable acoustic on the cheap, the Yamaha FG800 is a fantastic choice. 
The FG800 is an updated version of the wildly popular FG700 acoustic guitar, with this new model having improved bracing that helps the guitar project more. This really helps the solid spruce and eastern mahogany sides sing. The neck has a satin finish, giving it a smooth feel no matter where you play.
Yamaha really knocked it out of the park with this one. It absolutely sings whether you're strumming or fingerpicking and is a great cheap guitar for beginners or touring musicians alike.
Hear it in Action:
2. Carlo Robelli G600CE Dreadnought Acoustic Guitar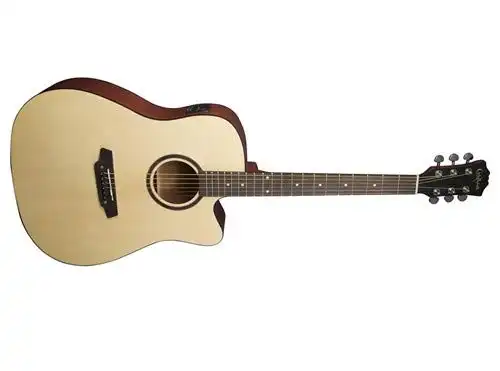 If you're new to playing the acoustic guitar but you're absolutely dying to get on stage and you can't spend too much money, the Carlo Robelli G600CE offers adequate build quality alongside built in electronics at an irresistible price.
Though not as resonant as an acoustic priced closer to the $200 range, it's incredible that there is a guitar with built in digital tuner, 3-band EQ, and a cutaway shape for just over $100. It's great cheap guitars like this that make playing an acoustic guitar attainable for just about anyone.
This is the perfect guitar for someone who is expressing interest in learning guitar and eventually getting on stage for the first time.
Hear it in Action:
3. Washburn WD7S Harvest Series Acoustic Guitar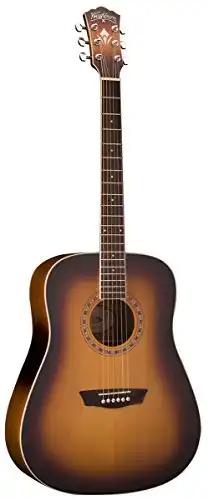 Washburn guitars have a long and storied background, and the Washburn WD7S Harvest Series demonstrates just one of the reasons why. The deep tone and projection you can achieve from this steel string guitar mimics the quality of much more expensive models.
This guitar features a solid mahogany top and mahogany back and sides, which balance out the highs and lows of the dreadnought shape. The Washburn WD7S produces a pleasing sound that is both full and rich, and also loud enough to be heard without amplification in most venues.
Hear it in Action:
4. Ibanez AW54OPN Artwood Acoustic Guitar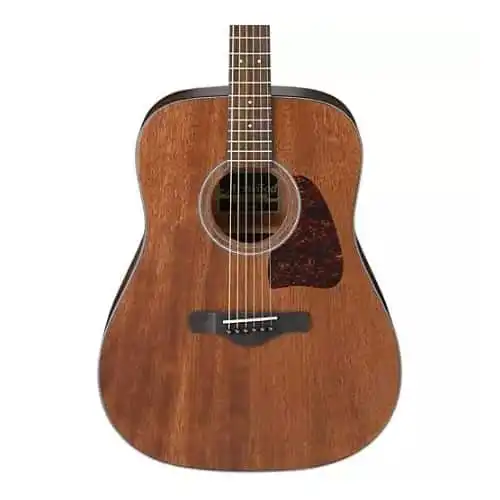 True all mahogany acoustic guitars are typically reserved for the $500+ price ranges, but thankfully the folks at Ibanez have made it so that anyone can enjoy these dark toned beauties with their Ibanez AW54. 
The AW54 sounds beyond its price point, offering you all the woody and mellow tones that all mahogany guitars are known for. This is further enhanced with Ibanez's open pore finish, which allows the wood to resonate fully and protect the instrument. The solid top is a serious attribute to the instrument and will continue to improve with age. Not to mention, it looks so freaking cool.
Awesome looks and all-mahogany construction make the AW54 one of the best cheat guitars out there.
Hear it in Action:
5. Epiphone PR-150 Acoustic Guitar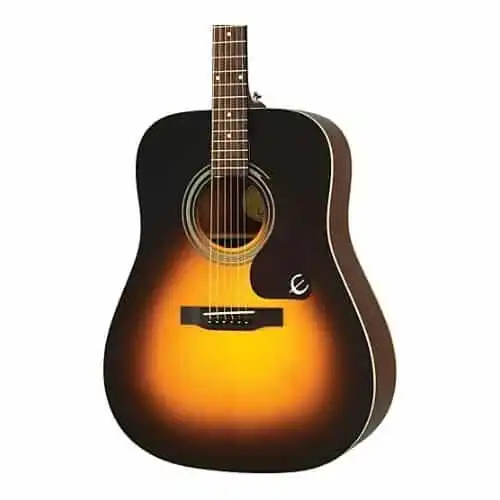 There's a reason countless songs have been sung about the Epiphone brand of guitars and the Epiphone PR-150 lives up to the reputation. The features on this acoustic beauty are comparable to the other budget values on our list.
The spruce top, mahogany back and sides, and a mahogany neck with rosewood fretboard make this a strong contender for one of the best affordable acoustic guitars. But it's the sunburst finish that gives this guitar the look of a much higher-priced model.
This guitar has a great sound and great feel, especially when you consider its low price. This is a perfect instrument to learn on, and it's good enough to grow with you. It can even hold it's own playing on stage at gigs.​
Hear it in Action:
5 More Great Cheap Guitars to Consider
Conclusion
There are many options on the market when it comes to the best affordable acoustic guitars. But less expensive does not have to mean lesser quality. Each of the models on our list of good cheap guitars come with solid wood tops, beautiful string action and deep, vibrant sound.
All of these instruments will grow with your musical abilities and keep you playing for years on end. While you can certainly spend a great deal of money investing in your instrument, here beginners and intermediate musicians alike will find a variety of models that will satisfy your musical needs.