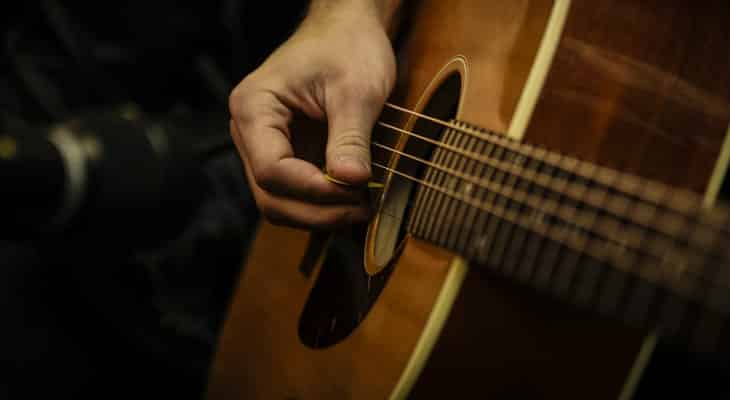 2017 Guide to The Top 5 Best Acoustic Guitars Under $1,000
If you want to produce that deep, rich and versatile acoustic guitar sound, you're going to need a quality instrument to show off your skills and help build new ones. Whether jamming with a group or accompanying a single vocalist, guitar players know that their strumming is the heart and soul of any melody.
As it turns out, picking up a quality acoustic guitar doesn't have to break the bank, and there are many models on the market in the sub $1000 category that can go toe-to-toe with more expensive models. Here we break down some of the best acoustic guitars under $1000 to help make buying your next guitar a little less overwhelming.​
Best Acoustic Guitars Under $1,000 Comparison Table
Image

Model

Top /

Back & Sides

Scale Length

Price

Rating

​

Solid Sitka Spruce /

Solid Mahogany

25-2/5"

$$$

Solid Cedar /

Wild Cherry

24.84"

$$

Solid Sitka Spruce /

Layered Rosewood

25-1/2"

$$$

Solid Sitka Spruce /

Solid Mahogany

25-1/2"

$$

Solid Sitka Spruce /

East Indian Rosewood

25-5/8"

$$$
The Martin Custom D Classic Mahogany Dreadnought Acoustic Guitar is an absolute steal and is easily the best Martin guitar under $1000. Martin is known for its classic sound, and this quality acoustic is perfect for rhythm work with its bright clear tones.
In this price range you'll be expecting solid tone wood construction and the Custom D delivers with a solid sitka spruce top and solid mahogany back, sides and neck. I love the mahogany choice on the construction since it tends to run lighter than other wood choices, making the Custom D very easy to handle for extended playing time whether sitting or standing. The Martin Custom D Classic is easily one of the best acoustic guitars for your $1000 budget.​
The Seagull original series are known for being outstanding values in the entry level guitar market and for being some of the best acoustic electric guitars under $1000. The Seagull S6 Original Q1 Acoustic Electric Guitar is no exception and epitomizes the Seagull brand's commitment to value and excellence.
A solid cedar top and wild cherry back and sides produce a clear and bright sound that rivals guitars more than twice the price of the S6. The same goes for the electronics on this beauty. The Godin EPM Quantum acoustic guitar system produces such a clear sound when plugged in, you'd swear they accidentally installed more expensive electronics in your acoustic. Overall the Seagull S6 Original is a great value and a great guitar in general.
I admit I have a soft spot for any Taylor acoustic, and the Taylor 200 Series 210 Deluxe Dreadnought Acoustic Guitar is the best Taylor guitar under $1000. Taylors are known for their clear projection and easy action. The 200 Series 210 Deluxe definitely lives up to the standard with a Taylor classic sitka spruce top and layered rosewood back and sides.
The electronics on Taylor's are also top notch, and the pickup on the 210 Deluxe plays clear and true whether unplugged or amped up. The neck size on the particular model is very comfortable for anyone with small to medium sized hands and fingers. Overall a great buy and a very versatile acoustic guitar.​
I'd be remiss if I didn't include a classic Epiphone on this list of best acoustic guitars under $1000. The Epiphone Masterbilt DR-500 features all solid tonewoods and traditional construction techniques. It outclasses guitars many times its price, and does so at a great value.
This guitar has great tone with a solid sitka spruce top and solid mahogany back and sides. It's tough to find another guitar in this price range that has solid wood construction and can compete with the DR-500 in sound and playability. Top it off with great electronics and the looks of a vintage classic, and you have a great guitar that you won't be able to put down.​
I'll admit that I've been known to purchase a sub-par guitar from time to time due to its gorgeous looks on the store's display stand. I've also been known to return those purchases when their lack of resonance and tone can't overcome the prettiness factor. But with the Blueridge Contemporary Series BR-70 acoustic guitar you can have both your looks and your great sound.
The gorgeous pearl inlay that outlines the body of this excellent acoustic will definitely turn heads, but it's the sound that makes this guitar shine. This guitar has a rich tone, great projection, and smooth action. We also love this Blueridge guitar for its projection in the studio due to the slightly smaller-than-average sound hole.​
Conclusion
When it comes to the under $1000 price category, there are wide variety of acoustic guitars and acoustic guitar brands on the market that will fit your budget and playing style. A quality instrument doesn't have to break the bank, and you can find a great value no matter your playing level.
The guitars on this list are some of the best acoustic guitars for $1,000 or under that we've found, and any of them should serve you well as a great strumming axe. If you've got $1,000 to spend on a guitar, you've got some great options out there. Now go get a new guitar and keep making music!​
Product images sourced from Amazon.com.